I am a social butterfly and I love having friends into my home, but I like to keep things as simple as possible. I don't think I've ever hosted a gathering that was as simple to put together (and to clean up afterward) as this one. Here's how to host your own Hot Cocoa Bar:
1.) Choose a color scheme. I chose red, white, and gold because, frankly, that's what was on sale at Target when I went right after Christmas. Just a few simple bowls and platters, a disposable tablecloth, some stir sticks, and paper cups for hot drinks were all that I needed.

2.) Purchase your cocoa stir-ins, like whipped cream, mini marshmallows, mini chocolate chips, toffee chips, and crushed peppermint. Flavored coffee syrups and creamers are great too, especially if you want to have coffee for the adults. If you are adding coffee, you might also want to add some sweeteners like sugar or stevia, or mix up some cinnamon and sugar.
(Note: We had a blast making the crushed peppermint by placing unwrapped Starlight mints in a zipper bag and taking turns with the hammer!)
3.) Set everything up. I kept things simple with mason jars, dishes I already had in my kitchen, and a few extra items that I ordered online. I used decorative buckets with a little ice in the bottom for the creamers and whipped cream.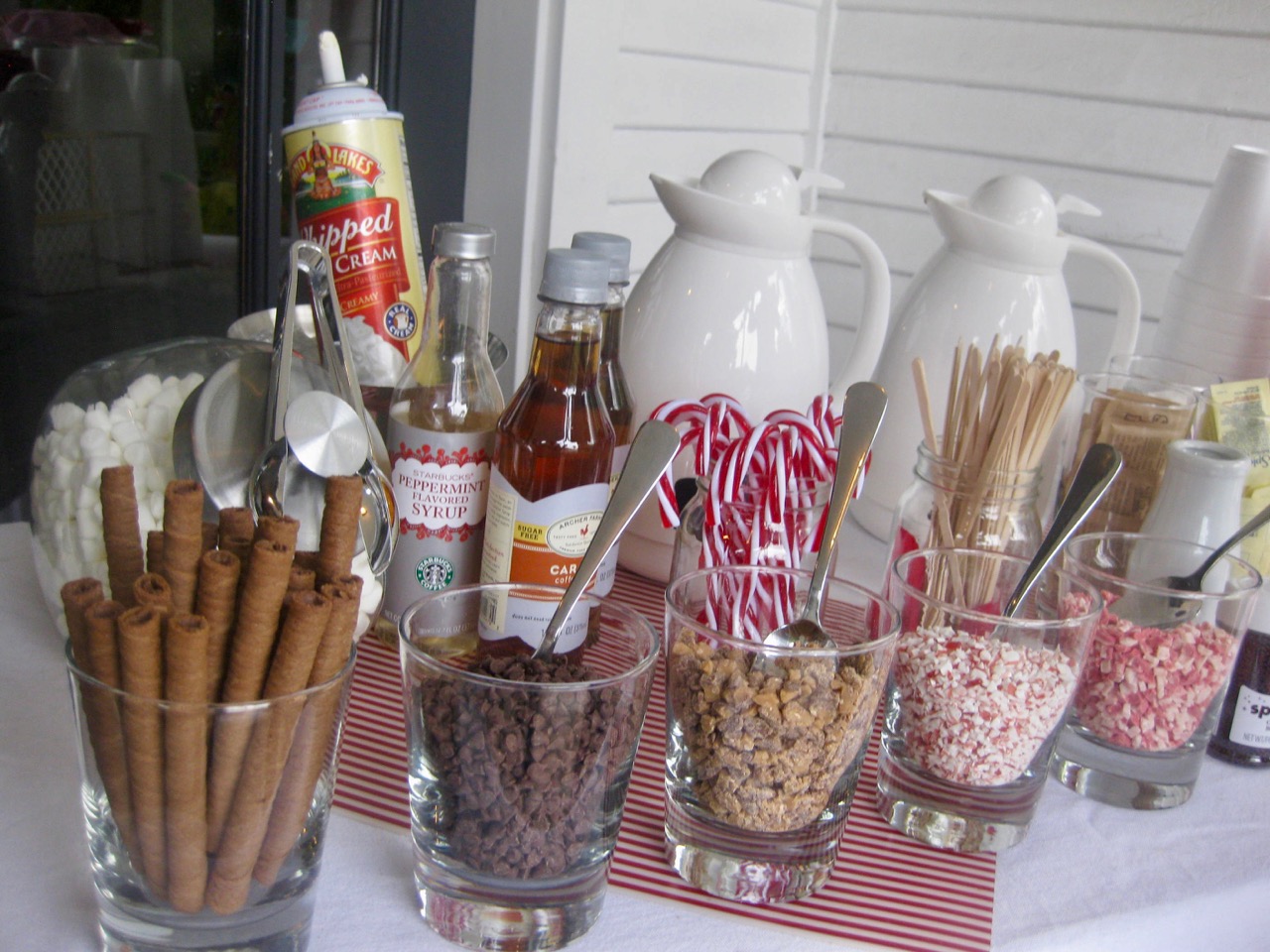 4.) Make the hot cocoa. I bought some gourmet cocoa and mixed it up about an hour before the party. I kept it in my slow cooker on warm, with a ladle resting in a large mug next to it. Brew the coffee (or order a to-go box from your local coffee shop) if you'll be serving that as well.

5.) Add some cookies if you'd like. The kids will be decorating their own, but the adults might appreciate a little snack as well. Snickerdoodle Blondies will make your whole house smell ahhhh-mazing if you have time to bake, or just pick up a variety from your local bakery.
Mexican Hot Chocolate Chex® Party Mix fits in perfectly with the theme and can be prepared in 15 minutes.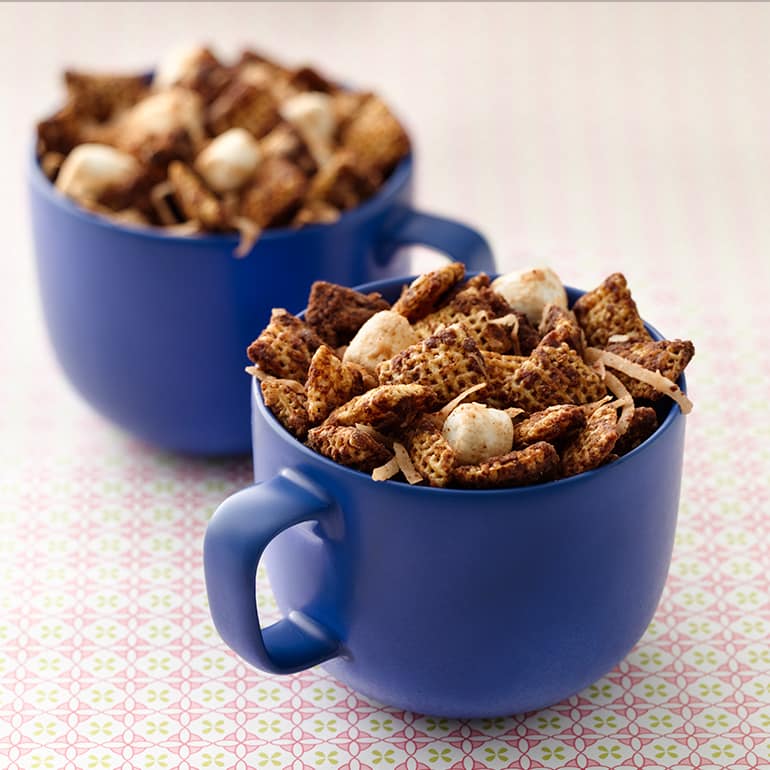 For your activity, decorating cookies is a hit with kids of all ages... and grownups too.
Decorating snowman sugar cookies was probably one of the best activities we have ever done at a party and also so easy to clean up. Here are my tips:
Use different-sized glasses to cut out pre-made sugar cookie dough and bake together to form snowmen.
To make your own icing, combine 1 cup powdered sugar, 1/2 teaspoon vanilla, 2-3 tablespoons of milk, and a few drops of food coloring if you'd like. This will yield about 1/2 cup of icing, which can then be divided into at least two containers. I added more milk than usual to thin out the icing because the kids were using large (new) paintbrushes to apply it to the cookie. Make as many or as few different colors as you'd like.
Buy small paper cups and fill halfway with colored sugar, sprinkles, nonpareils, mini M&M candies, mini chocolate chips, crushed toffee pieces, etc.
Lay a large sheet on the ground (we moved our kitchen table and chairs). Set the children around the edges of the sheet with the frosting and decorations near the plates. The more cups you have, the less reaching (and potential spills) there will be.
Place the prepared cookies on a paper plate, one for each child (be sure to have a few extras on hand).
Let the children decorate away ... the level of parental involvement needed for this depends on the ages of the kids, but our 3-year-olds required very little help.
Once your mini Macaronis are done decorating, they can eat the cookies. You can also put another paper plate on top (upside down) and staple the edges to make taking them home very easy. Be sure to put the child's name on the plate too!
Remove all the children from the sheet and toss the paper cups into the trash. With the help of another adult, grab up the four corners of the sheet and carry the sheet outside. Shake it out into your yard (I recommend the front yard so all your neighbors can enjoy your colorful snow), then toss the sheet into the laundry basket. Wasn't that easy?!?
Here are some past Macaroni Kid crafts and recipes that could easily be incorporated into the party as well: