Colorado Rockies
Coors Field, 20th & Blake Streets, Denver
Home Opener: Friday, April 8, 2022
DOWNLOAD the 2022 SCHEDULE

There is something magical about a baseball game that must be experienced in person!
Since it opened in 1995, Coors Field has been a league leader in attendance, and the popularity of the Rockies continues to grow. In 2007, the Colorado Rockies (AKA Blake Street Bombers) won 22 of their last 23 games to earn their first trip to the World Series.
Coors Field is an outdoor stadium, so dress accordingly and try to get seats on the third-base side if you're going to an evening game, so the sunset doesn't blind you. Look for the ring of purple seats on the highest deck, which marks the spot that is exactly 5,280 feet above sea level.
The Rockies mascot, Dinger, is a dinosaur because triceratops fossil remains were discovered on the property during the construction of Coors Field. When he isn't entertaining fans on the field, you may find him hanging around the small playground behind Section 147. A concession stand with child-size items is also near this playground.
---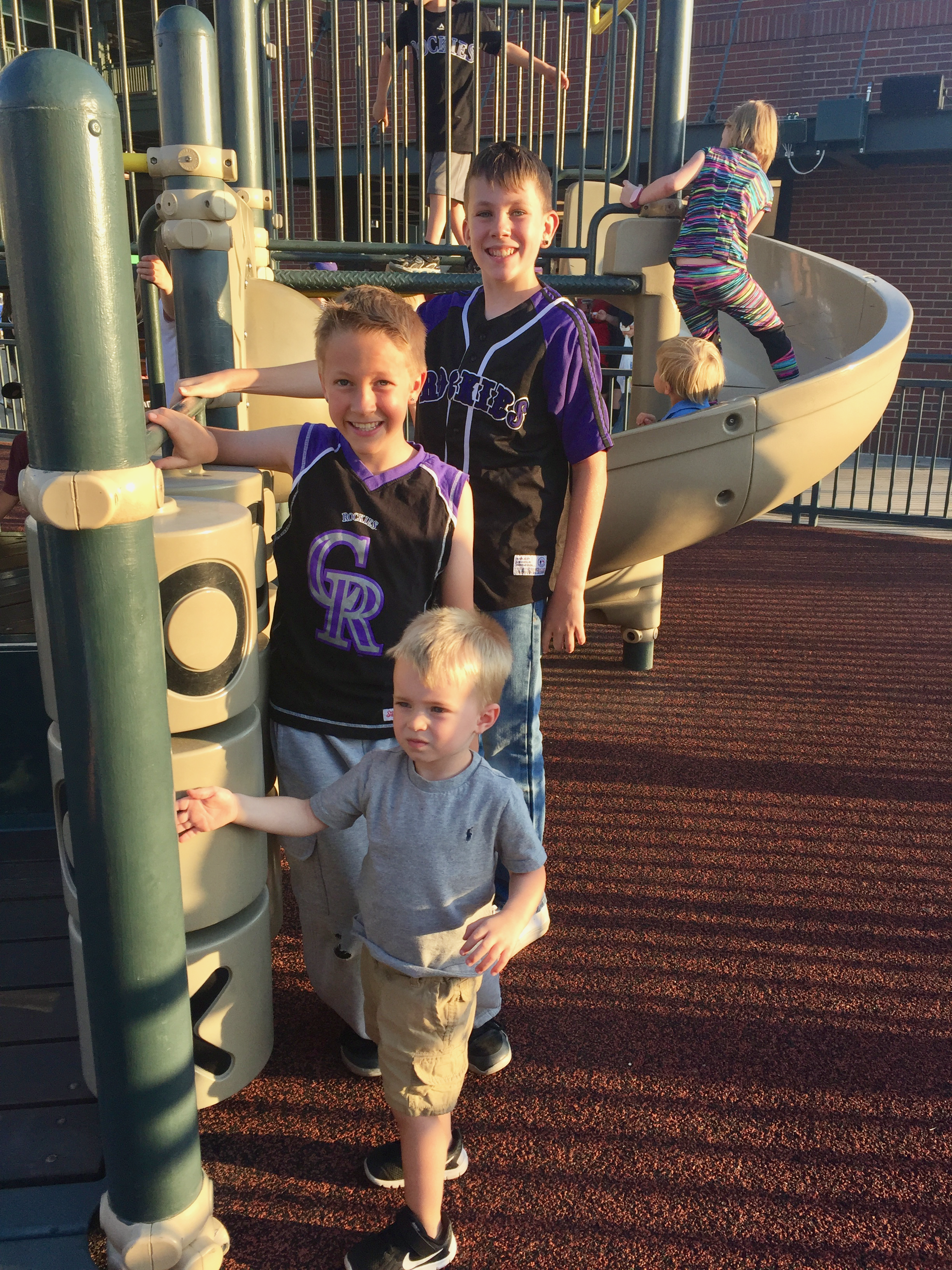 ---
Ticket Deals
Douglas County Schools Appreciation Nights: The Colorado Rockies and The Foundation for Douglas County Schools invite all students, family members, employees, and volunteers to enjoy an exciting game at Coors Field. Discounted tickets are $15-$62, with a portion going back to DC Schools and the Foundation's Opportunity Grant Program.
Saturday, April 16 at 6:10 PM vs. Chicago Cubs
Sunday, April 17 at 1:10 PM vs. Chicago Cubs
Saturday, May 14 at 6:10 PM vs. Kansas City Royals
Monday, May 30 at 2:10 PM vs. Miami Marlins
The Blake Street Steal has prices under $20 in lower level sections 110-117, 144-150, or 151-160.
Sunday, April 10 at 1:10 PM vs. Los Angeles Dodgers
Thursday, April 14 at 6:40 PM vs. Chicago Cubs
Monday, April 18 at 6:40 PM vs. Philadelphia Phillies
Saturday, April 30 at 6:10 PM vs. Cincinnati Reds
Wednesday, May 4 at 6:40 PM vs. Washington Nationals
$4 and $1 Rockpile tickets are available for purchase day of the game for most home games starting June 29, 2021, beginning two hours before game time at the Rockpile Ticket Office located near Gate A. Rockpile tickets are not available for Fireworks games (July 2, July 3 and September 24) and select other games throughout the season.
Season tickets and mini-plan packages are also available at a discounted rate.
---
Promotional Days
Enjoy great extras at one of the Promotional Days throughout the season! All promotions and event dates are subject to change and may be limited in number.
Giveaway items (bobbleheads, caps, etc.) on April 8, June 18, June 19, July 12, July 15, July 16, July 17, July 28, July 29, July 31, and August 13
$1 hot dog coupon to the first 10,000 fans on April 20, May 18, June 1, July 27, August 24, and September 22
Post-game fireworks on July 1, July 2, and September 23
---
Theme Days
April 20 – Math Day: The Rockies will provide a packet full of baseball-related math questions that teachers can use to craft a lesson for their students, with concepts appropriate for primary school through high school. Tickets start at $12!
May 5 – STEM Day: The Colorado Rockies and Steve Spangler are teaming up to launch the 11th Annual STEM Day with a pre-game interactive presentation incorporating physics, math, and meteorology into unique science experiments.
August 21 – Dinger Day: Celebrate Dinger's 28th birthday at the biggest birthday party of the year. With the purchase of this ticket package, fans receive a limited-edition Dinger t-shirt and the option to upgrade to a VIP package to attend Dinger's private birthday party!
---
Know Before You Go
Children under 3 who are sitting on an adult's lap do not need a game ticket.
Booster seats are available for younger guests from the Guest Relations Center behind Section 127.
Family restrooms are located in sections 124, 135, 149, 222, 311, and 339, and outside Suites 23 and 42.
The UCHealth Nursing Suite, located on the Main Concourse down the first base line behind Section 114, provides a quiet, relaxing place to breastfeed or pump.
Aerosol sunscreen is prohibited inside the park.
You may bring your own food in soft-sided, single-pocket bags and containers 16" x 16" x 8" or smaller.
Outside alcohol, glass, cans, and thermoses are prohibited. Water bottles must be sealed at entry or emptied.
Rocky Mountain Oysters are on the menu of some concession stands.
Visit the A to Z Coors Field Information Guide for additional information.