Fishing isn't just a fun hobby... it is an opportunity to teach valuable lessons while bonding. It gives families the chance to "unplug" and reconnect through quiet conversation.
Make your child's first experience a success. First, wait till your child is old enough to sit in one place for a couple of hours, usually around 7 or 8 years old. Second, make the day about your child. You want to take your kids fishing, not take your kids along while you fish. Finally, be patient. Be very, very patient.
Participate in one of these local events:
Introduction to Fishing (June 2 from 6:00–8:00 PM) Fishers of all ages will learn to bait, cast, tie knots, reel 'em in, and unhook the catch. Participants will receive a free rod. Highlands Ranch Residents are $10; Non-Residents are $12.
Kids' Fishing Day at Fly'n B Park (June 5 from 8:00 AM–1:00 PM) The Metro District invites youth anglers to join local experts for a day of reeling in the big ones. Fly'n B Park features a one-acre pond stocked with perch, bass, trout, and bluegill. The event is free but space is limited so pre-registration is required.
Colorado Free Fishing Weekend (June 5-6) You can fish in Colorado without a license on the first full weekend of June each year. All other rules and regulations still apply.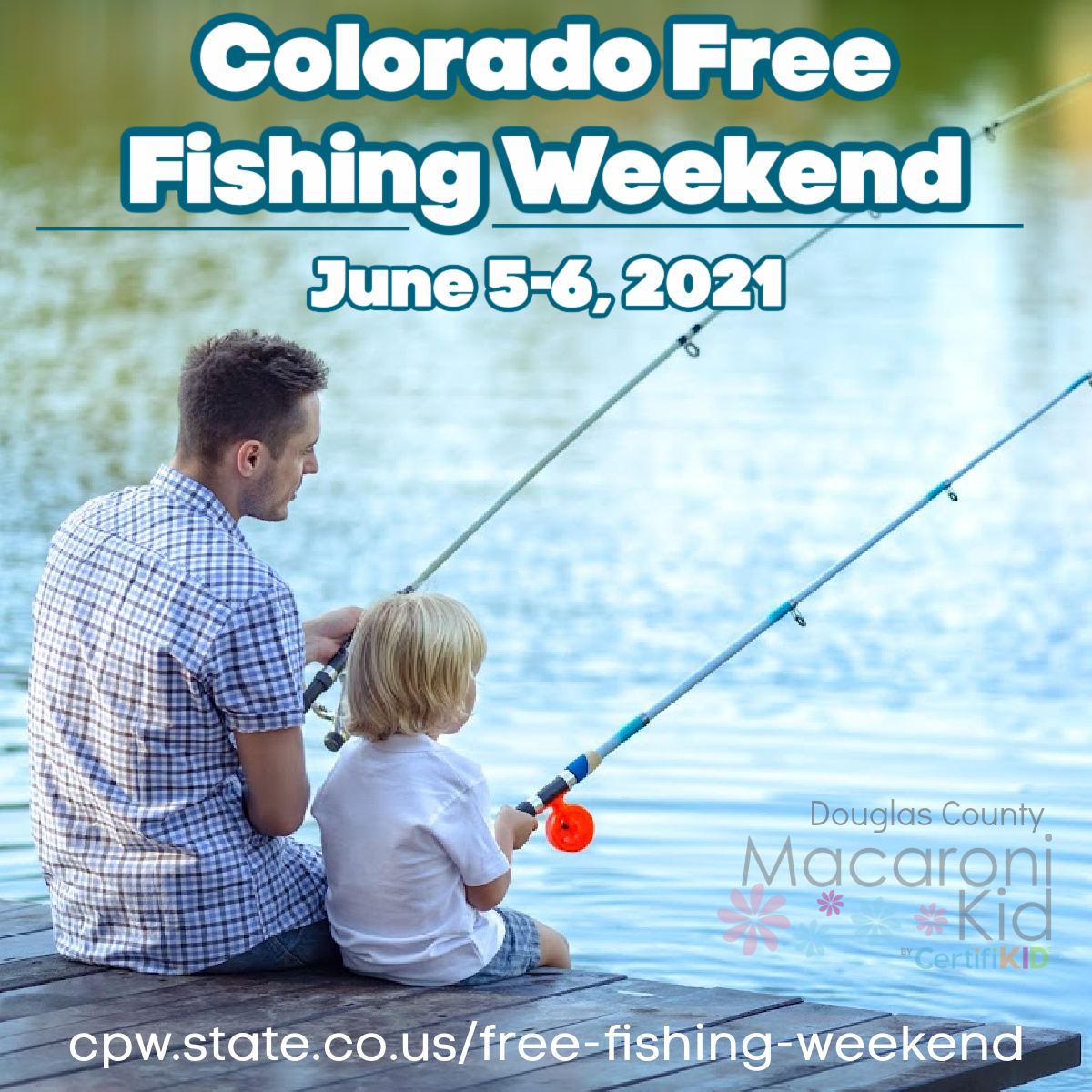 Can't make it to these events? Douglas County has several places for you to enjoy an afternoon of fishing with your kids whenever it is convenient for you!
Highlands Ranch Fishing Ponds:
Cheese Ranch Historic & Natural Area, located at 9191 Sugarstone Circle, is stocked with largemouth bass and bluegill.
Fly'n B Park, located at 2910 West Plaza Drive, is stocked with catfish, bluegill, and largemouth bass.
Johnny's Pond, located at 3187 Plaza Drive, is stocked with catfish, bluegill, and largemouth bass.
Spring Gulch Pond, located west of the Spring Gulch Equestrian Area, is stocked with bass, catfish, crappie, bluegill, and sunfish. It is "catch and release" only.
Parker Fishing:
Bingham Lake, 7740 Lakeshore Drive, is stocked with largemouth bass, black crappie, walleye, bluegill yellow perch, channel catfish, and wipers (hybrid white/stripe bass).
Local State and National Parks with Fishing:
Chatfield State Park in Littleton has fishing, including an accessible fishing area, as well as a wide variety of other aquatic and outdoor activities. The north entrance is located approximately one mile south of C-470 and Wadsworth.
Pike National Forest provides sites for Lake and Pond Fishing, River and Stream Fishing, and even Ice Fishing in the colder months!