Did you know the United States Postal Service has a list of romance-themed towns that participate in a Valentine's Day postmark program? Naturally, Loveland, Colorado — also known as the nation's Sweetheart City — is on that list!
For more than 75 years, the city and its volunteers have lovingly hand-stamped and re-mailed valentines through the Loveland Post Office Valentine Re-Mailing Program. The program has grown to be the largest of its kind in the nation, re-mailing hand-stamped cards to hundreds of thousands of people worldwide.
---
There are two ways to participate in Loveland's Valentine Program.
Option 1: Buy a predesigned card.
Loveland's official 2023 Valentine's Day card can be purchased online for $10 at the Loveland Chamber of Commerce's website. This option is only valid for cards mailed within the US.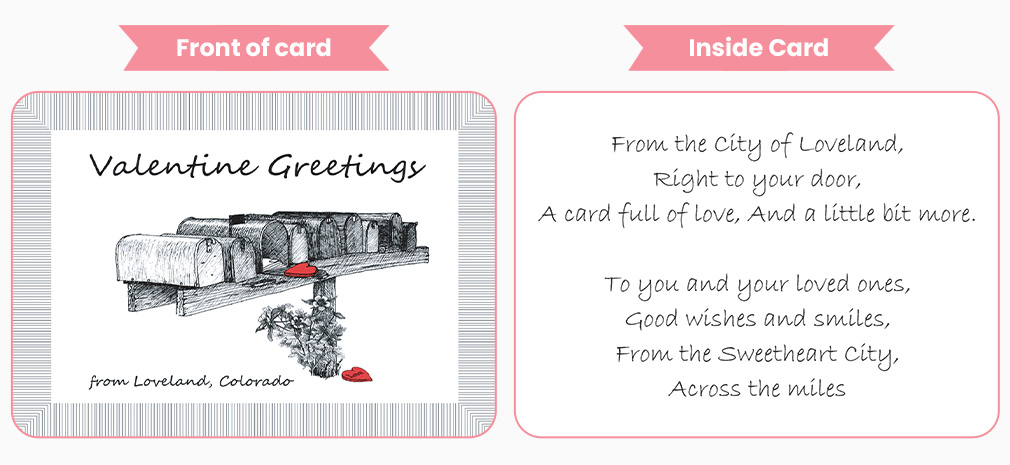 Option 2: Choose your own cards.
The Loveland Chamber of Commerce hosts an annual contest to create a new design that appears on the envelope next to the postmark. The 2023 cachet (as seen below) will adorn all the Valentine cards that come through Loveland's Valentine Re-Mailing Program.
To have cards and letters re-mailed with the Loveland postmark, properly stamp and address each Valentine, and put them all in a larger envelope. Mail them with proper postage to:
Postmaster - Attention Valentines
446 E. 29th St.
Loveland, CO 80538-9998

---
Important Dates:
To ensure delivery by Valentine's Day, the Post Office must receive your cards by the following deadlines:
February 2 for international mailings
February 7 for U.S.-destined mail outside of Colorado
February 9 for mail to be delivered within our state
Letters received after these dates will still receive the cachet but may not reach your loved ones before Valentine's Day.
Remember, your cards MUST have proper postage when they reach the Loveland Post Office, or they will be returned to you instead of being delivered to your recipient. Use one of the beautiful Forever stamps from the Love/Wedding section on the United States Postal Service website.
---
Naturally, Lovelanders are very proud of their program that sends a message of love around the globe. In fact, there is a waiting list for people who would like to be one of the 50+ volunteers who lovingly hand-stamp each card for the first two weeks in February.
Check out how much fun they have:
For more information about the Valentine program, visit the Loveland Chamber of Commerce website.