Helping homeless pets and horses is as simple as a walk in the park! The Dumb Friends League is hosting its 24th annual Furry Scurry dog walk on Saturday, May 6 in Denver's Washington Park to raise money for homeless pets and horses in our community.
Animal lovers and their dogs will enjoy a beautiful spring day while participating in the two-mile walk around Wash Park, followed by refreshments, food trucks, contests, dog demonstrations, and more than 150 pet-related vendors and sponsors at the Flealess Market.
The Dumb Friends League encourages individuals and teams to start fundraising now to help homeless pets. Registration and participation in the Furry Scurry help the Dumb Friends League care for more than 22,000 homeless pets each year. Funds raised at this event through registration fees and individual donations provide medical care to sick and injured animals, behavior training that allows pets to be adopted more quickly, investigations of animal neglect and mistreatment, and much more.
"As a local, independent nonprofit, the Dumb Friends League relies on events like the Furry Scurry so we can continue to open our doors to every animal in need," said Bob Rohde, president and CEO of the Dumb Friends League. "We are not affiliated with any national groups, and we don't receive government funding. What we do is possible only because of the generous people right here in our community."
The Furry Scurry is the Dumb Friends League's largest fundraising event, with this year's goal to raise more than $1 million for homeless pets and horses.
NEW THIS YEAR!
Kids ages 14 and younger have their own incentive items for fundraising and there is even a youth team they can join – the Pup Squad!
Registration is $50 for adults and $25 for kids. Register as an individual, join an existing team, or form your own. Register online at FurryScurry.org, at one of the Dumb Friends League shelter locations, or on event day starting at 7:00 AM ($5 more per person at the event). The walk begins at 9:00 AM.
Participants are encouraged to collect donations from friends, family and co-workers to help make an even bigger difference for homeless pets. Great gifts fit for pet lovers will be awarded to those who fundraise above and beyond their $50 registration fee.
Visit FurryScurry.org to learn more, including how to fundraise, form a team, or to get involved in other ways.
The 2017 Furry Scurry is sponsored by Hill's Pet Nutrition, HomeAgain, Amica Insurance, Subaru, 9NEWS, Heartgard Plus and Frontline Plus.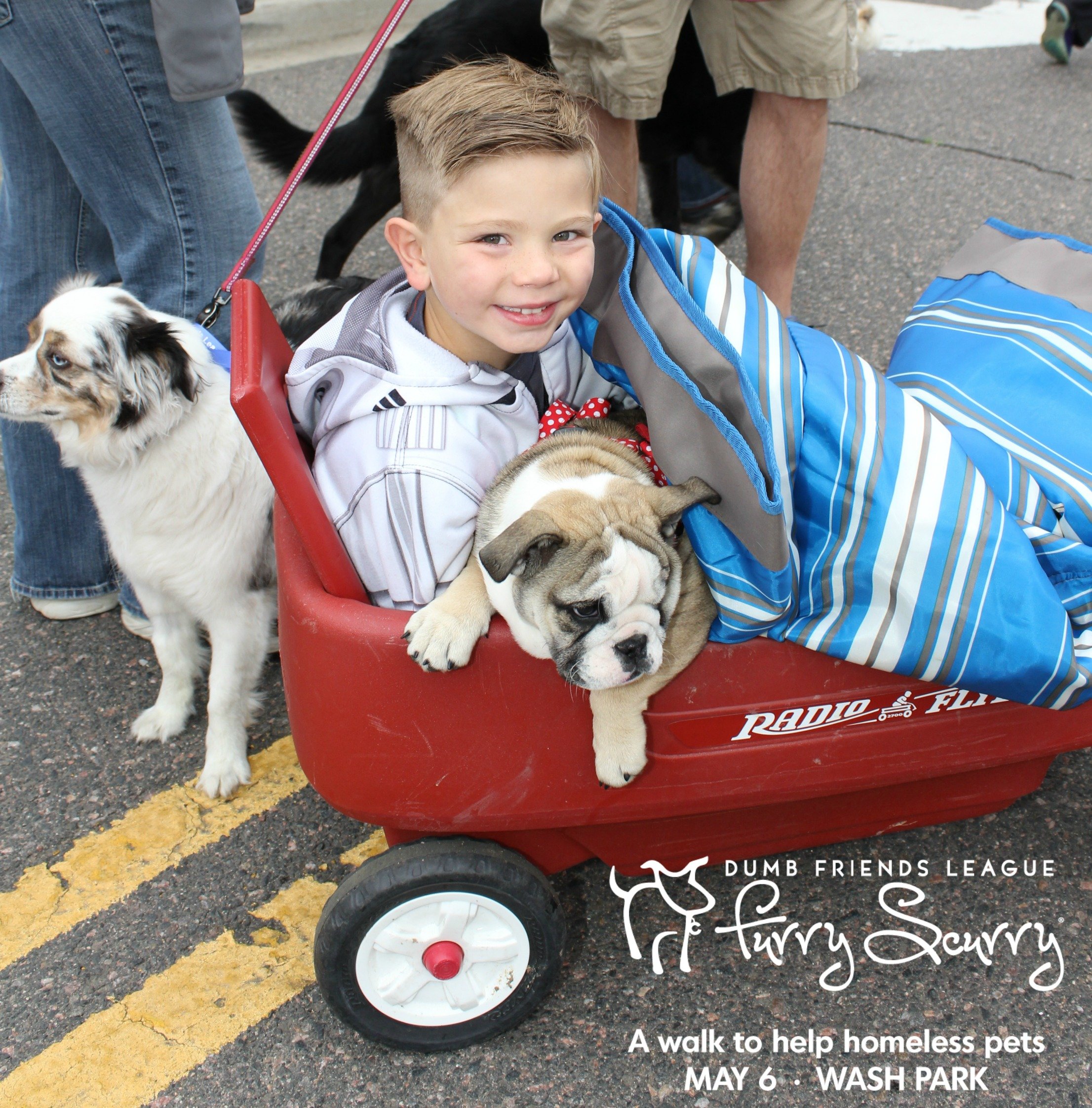 About the Dumb Friends League
Founded in 1910, the Dumb Friends League is the largest community-based animal welfare organization in the Rocky Mountain region, helping pets and people in the Denver metro area and beyond. The Dumb Friends League has shelters at 2080 S. Quebec St. in Denver and the Buddy Center at 4556 Castleton Court in Castle Rock, as well as the Dumb Friends League Harmony Equine Center™ near Franktown. For more information, visit ddfl.org or call (303) 751-5772.