The first reason that I love to head to the mountains is the drive. Crazy right? I-70 is not known for being relaxing but heading west on a weekday morning after rush hour is lovely – the view is amazing, as it is always changing with the seasons, and if you get lucky you can see the big-horned sheep around Georgetown.

Secondly, I have loved the outdoors and the mountains for a long time. As a Girl Scout, I loved the camp outs, walking around in the woods, and enjoying the creeks and waterfalls that we'd pass along the way during a hike. We are lucky to have the Rocky Mountains so close, and I want to enjoy them. My family started going to Vail in the summer when our son was 3. We have hiked, biked, fished, and rafted around this area.

And thirdly, what is a little adventure without a reward? People travel from all over the world to come to our Colorado mountains for wonderful experiences and great food. All in all, Vail is a happy place for me. A couple of weekends ago, I had the pleasure of joining a press trip to Vail with five Macaroni Kid publishers from around the country. Oh, what a lovely trip it was!
Thursday Evening: Checking In and Checking Out
Our lodging for the weekend was ideally located in Lionshead along the Gore Creek at The Antlers. All the accommodations are condos. The layout is perfect for families or groups. Both of the units for our group had bedrooms with individual bathrooms, a full kitchen, a large living space, and wonderful outdoor patios. All units are individually owned and decorated with a mountain flair, and some units are even pet-friendly. There is no air conditioning but the mountain breezes in the evening cool the places down nicely.

The family feel of The Antlers is intentional. The management and staff are like a family and this flows throughout the complex. Many have been staff members for years and you see and feel this in the personal attention given to the guests and their old-fashioned way of doing business. As a business they are very involved with the community (Veterans programs, employee literacy, and Pay It Backwards programs). And a biggie for us is the location. Located right on the creek and the path for a great walk or bike ride! Check out the summer specials; they have special month-long rates.

​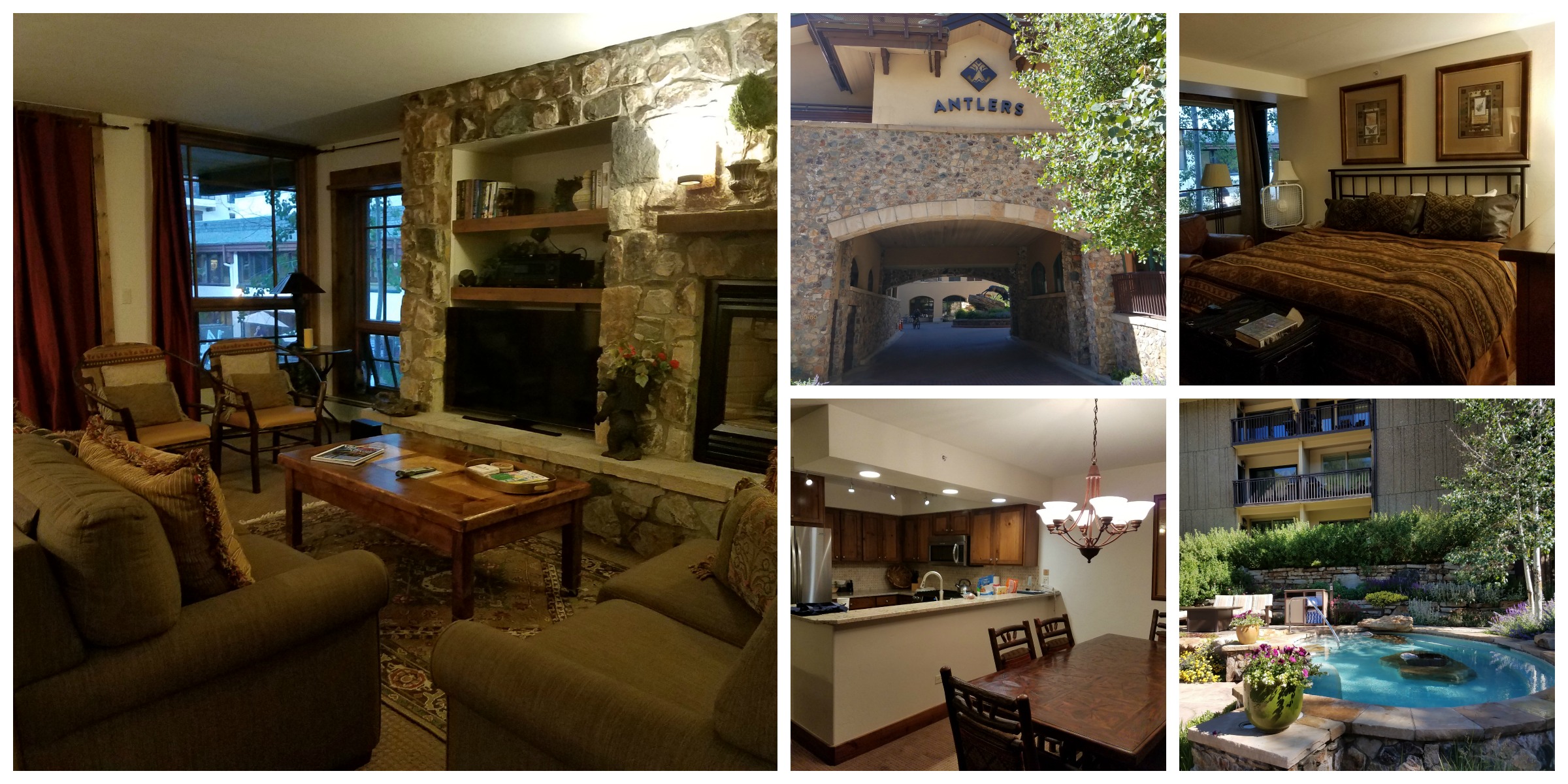 Thursday was our travel day. We enjoyed an early wine and cheese reception to get acquainted with each other and our hosts. It was also a great opportunity to check out of parent mode and review our girlfriends' getaway itinerary for the weekend.

Just a short walk away, we had a casual dinner at Arabelle's Tavern on the Square. The atmosphere was comfortable and slightly upscale with plenty of people in shorts and t-shirts. The food was very good and the service was fast, attentive, and friendly. We sampled salads, flatbreads, pasta, and ramen bowls. There were many inventive drinks options and a full bar available — although with the altitude, only a few enjoyed. The menu offered numerous gluten-free options, as well as a doggie menu that apparently the restaurant is known for. I hear that the breakfast buffet is great and that the Bacon Bloody Mary bar is not to be missed!
Friday: Our ZEN Day
We had an early morning pick up with Chad, Stephen, and Jesse from Gore Creek Fisherman for a fly-fishing trip down the Colorado River. After getting our fishing license at the Avon location, we headed towards Rancho Del Rio, which is on the way to Steamboat Springs. You can visibly see the terrain change from rocky snow-capped peaks to lower rolling hills with the river in the valley. After the boat put in, we traveled four miles downriver casting from side to side. These guys were professional fly fishing and river guides and, with Chad's expert guidance, I even caught a fish. And then I dropped him. I don't think this is what "catch and release" was meant to be but it was definitely a bucket list experience!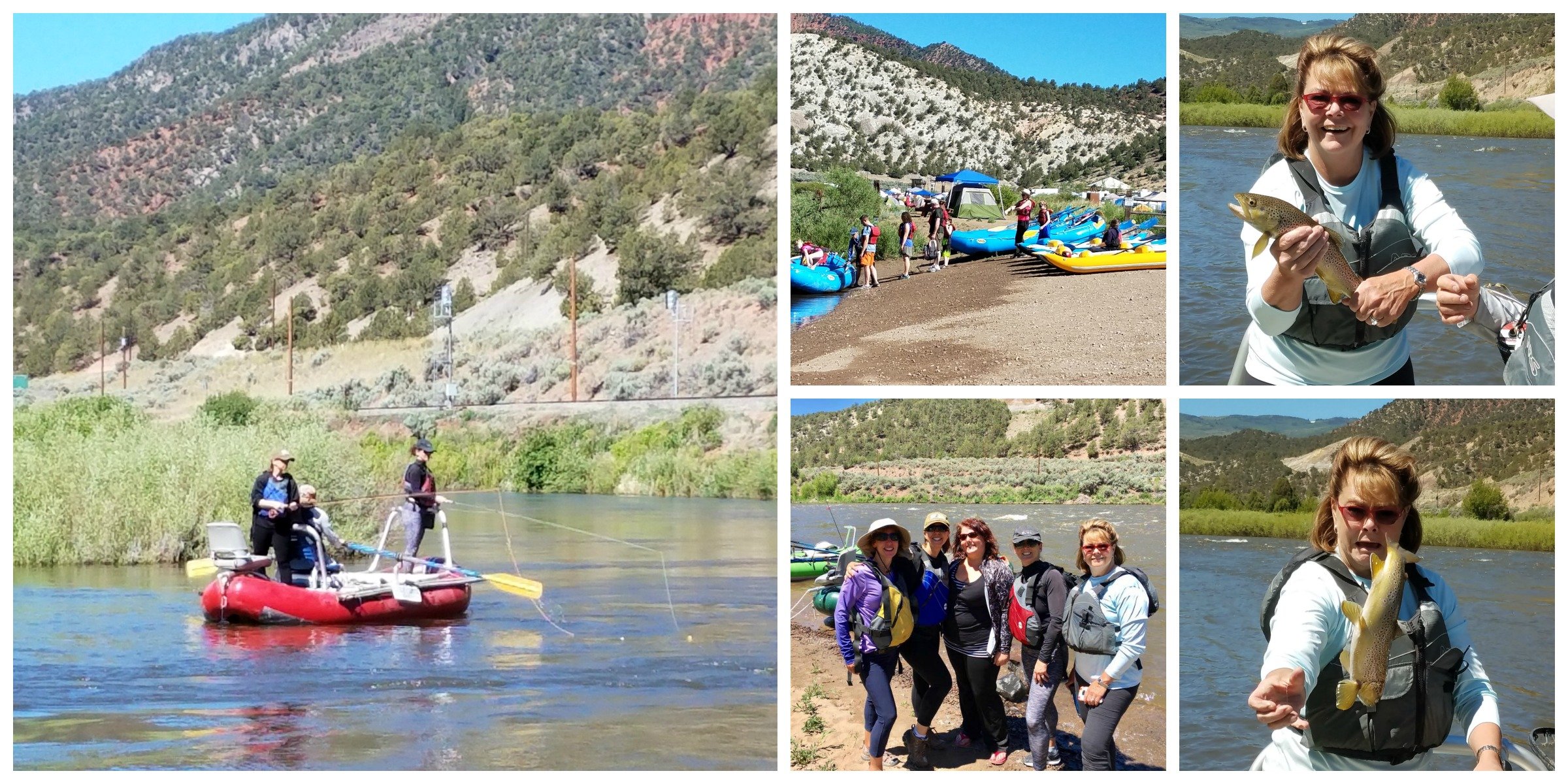 ​
That evening, we went into the village area of Vail for dinner at Mountain Standard. Known as a top-of-the-line dining experience, we were glad to have gotten to our table a bit early, as the restaurant was full by 7:00. We shared a few delicious appetizers: Sea Scallops, Wood Grilled Calamari, and Whole Wheat Flatbread. My Cast Iron Alaskan Halibut topped with a mix of green gazpacho, summer squash, cucumber, mint, and chickpea pistachio crumble was delicious. Not quite ready to head back to Lionshead, we took a leisurely after-dinner walk through Betty Ford Alpine Garden and Ford Park which contains a botanical garden, amphitheater, and a wonderful playground for kids. 
TIP: Make reservations and specify your table if you are a bigger party, as several of the larger tables are in the bar area making it difficult to talk among your table mates. 

Saturday: Adventure
On our last full day in Vail, we enjoyed Epic Discovery. Starting with a beautiful gondola ride to the top of Vail Mountain, there is literally a whole adventure park for big kids (read: adults) and little kids once you reach the summit. You can enjoy the Mountain Coaster, Adventure Courses, Ziplines, and even tube. I tried my hand at the Forest Flyer Mountain Coaster a few times and had a blast! This coaster winds its way 3,400 feet down the mountain and is fast! The Adventure Courses are also a worthy endeavor, with two courses to choose from: Holy Cross or Gore Range Adventure Course. The Pinecone Challenge Ropes Course is perfect for kids. The relatively new Game Creek Zipline Tour has 8 towers and 7 ziplines for about two miles of amazing zipping. Individual activity tickets or passes are available for purchase at the mountain base.


​
After a fun day on the mountain, we headed back into Vail Village to the White Bison for dinner, where we enjoyed a fabulous meal and wonderful service. The atmosphere was lounge-y and comfortable, located right by the creek for a lovely setting too. The manager greeted our table and recommended a variety of appetizers and salads that were perfect starts to our meal: Heirloom Tomato Salad, Grilled Caesar, and Walleye Crispy Tacos. My main dish, the Pan Seared Arctic Char, was amazing and just might be the best I have ever had in the mountains. The delicious shared dessert assortment, all made in house, was a great way to end a very nice girlfriends' weekend!


​
Two more Bucket List-worthy ideas: 

Goat Yoga is now available at Vail Stables. They also offer riding, summer camps, and even slumber parties with the horses.
Lunch with a Llama, where families can hike the mountain and learn more about these amazing animals as well as care for them during the trek. Lunch is enjoyed on the mountain.


DISCLAIMER: Accommodations were provided by Antlers at Vail and several activities and meals were provided by Vail for the purpose of this review. No other compensation was received. All opinions are 100% my own.