Since the Lone Tree Arts Center opened its doors in 2010, we have been impressed with both the variety and the quality of performances.
The children's programming, Seedlings and Passport to Culture, is as entertaining for us adults as it is for our kids and costs less than a movie ticket.
Tickets for the 2021-22 season are now on sale... call (720) 509-1000 or purchase online!
---
Seedlings
This family program for Toddlers through Kindergartners and their grown-ups engages young children in arts, culture, and science. Programs take place at 9:30 AM and 11:00 AM; admission is just $3.
These shows often sell out so get your tickets for the entire season now! The seats are so affordable, you can give the tickets to a friend if something comes up and you can't make it for one of the events.
---
Hunk-Ta-Bunk-Ta (October 5) Katherine Dines engages kids with movement, story songs, sign language, sing-alongs, percussion, zany props, and more!
Día de los Muertos Storytelling and Butterfly Craft (November 2) Join the Mexican Cultural Center for a reading of I Remember Abuelito: A Day of the Dead Story by Janice Levy, followed by an interactive butterfly craft activity.
Bug Safari (January 4) Join an educator from the Butterfly Pavilion to learn about invertebrates and why they are important in our world.
Top Hogs (February 1) Pigs will perform exciting tricks to music and the cues of their animal trainer. This crowd-pleaser has been thrilling audiences since 1991.
World Drumming and Dance (March 8) Journey around the world to learn about drums and dancing from diverse cultures.
Cleo Parker Robinson Dance (April 5) Drawing from their richly diverse and colorful repertoire, members of the acclaimed Cleo Parker Robinson Dance present an interactive kid-friendly movement workshop and performance.
Eric West's Music for Kids (May 3) With his guitar, banjo, and an antique trunk filled with unusual instruments, puppets, and dancing limberjacks, Eric gets the audience to sing and play along.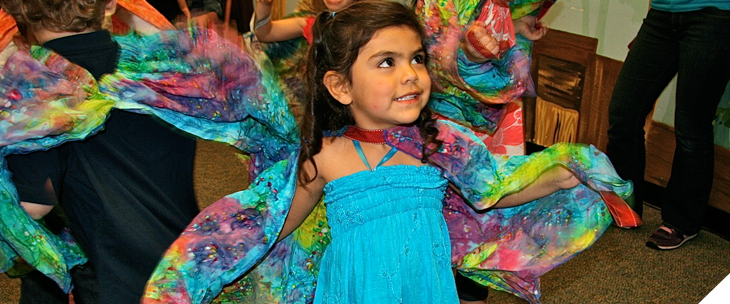 ---
Passport to Culture
Children 12 and under and their families can experience arts and culture outside the classroom and inside a world of imagination. Tickets are just $5 (children 12 months and under are free but still require a ticket; call the Box Office to reserve infant tickets). Most performances take place at 1:30 PM, with a sensory-friendly encore at 4:00 PM.
Pick up a "passport" keepsake for your child, where you can keep your ticket stub or receive a specially-designed sticker at certain performances.
---
Reid Belstock: The Jerry Lewis of Juggling (September 19) Watch Reid juggle three knives, perched on top of a tall unicycle, and spinning a trashcan lid upon his head in this unique, laughter-filled performance.
Seven Falls Indian Dancers (October 17) The Seven Falls Indian Dancers perform traditional dances, including the Hoop Dance, Eagle Dance, and Grass Dance, explaining the origin of each dance with a story.
Spoke N Motion (November 14) Using a unique art form called Integrated Dance, Spoke N Motion celebrates a passion for music and movement in a diverse population of dancers with and without disabilities.
Schoolhouse Rock Live! (January 30) Schoolhouse Rock Live! explodes onto the stage updated for a whole new generation with imaginative image projections and a rock'n'roll feel.
Nai-Ni Chen Dance Company (February 13) Celebrate the Lunar New Year of the Water Tiger with the sound of firecrackers, cymbals, and drums, acrobatic lion dancers, and more.
Fiesta Colorado (March 13) With its magnetic energy and vivacious choreography, Fiesta Colorado is a demonstration of how Mexican folkloric dance embodies the richest artistic manifestations of culture and tradition.
TBD (May 15) We don't know yet who the performer will be, but we do know the show will be awesome!