I'm always on the lookout for EASY crafts and projects that my kids can do and that keep them entertained for more than a millisecond. This week I'm whipping out one of my faves... and it's great for ALL AGES!
Kids love anything that makes NOISE, and these recycled instruments are sure to keep your musicians busy for at least long enough to enjoy the latest edition of the Mac Kid newsletter!
What You Need:
Empty tissue box
Empty toilet paper or paper towel tube
Rubber bands
Tape
Paper
Aluminum foil
Buttons, beans, or other small items (if you have little friends, use something bigger to avoid choking hazards!)
Stickers, ribbons, markers, crayons, etc - anything that your kiddos can use to decorate their masterpieces
What You Do:

Place rubber bands of varying thicknesses around the tissue box, over the hole. Voilà! Instant guitar!
Place buttons or other small items into the tissue box or toilet paper tubes. Use paper to cover any openings, and you have an awesome shaker!
Lightly squish up a long piece of foil, and place inside the paper towel tube. Add a few small items and cover up the openings. It's a RAIN STICK!
Have your budding musicians decorate their new instruments, and put on a show or parade with their siblings and/or friends... outside, of course.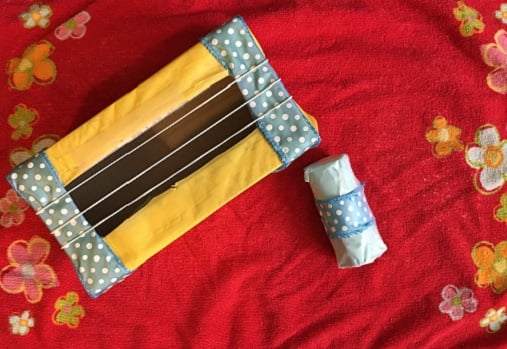 Our finished products!