We all need a break from time to time — a hiatus from the hustle and bustle of children's activities and family commitments. I took this advice to heart by rounding up some of my favorite people and heading over to Uncorked Kitchen for a Moms' Night Out.
As big fans of Southwestern cuisine, we selected a cooking class called New Mexico Favorites*. Our menu consisted of five flavorful dishes: handmade tortillas with calabacitas, chicken chili rellenos, frijoles con jamón, Spanish rice, and tres leches cake. Is your mouth watering yet? Every dish was as delicious as it sounds!
If you're anything like me, you probably envision a cooking class much like what you've seen on the Food Network: chefs lined up in their own little spaces, keeping to themselves as they create their meals. Contrary to this picture, classes at Uncorked Kitchen require interactive teamwork in preparation for the big feast.
There were plenty of opportunities for us to work individually, but for the most part, each person contributed a different role for each dish. Some people prepped ingredients, others measured and poured, and the remaining chefs-in-training mixed, flipped, or fried. I really enjoyed this style of cooking class because we could pick and choose our own level of participation.

While I don't think I'll ever deep-fry chile rellenos at home, I did take away four scrumptious recipes that are easy enough to replicate in my own kitchen. In fact, I've honed my new knife skills and have made calabacitas every week since that class!
I've been eyeing Uncorked Kitchen's events and classes calendar in anticipation of my next Moms' Night Out opportunity. Will it be an afternoon of Sweet Treats? Perhaps I'll select an evening of Cubano Dinner & Mojitos. Whatever the class, I look forward to learning more skills, dining on delicious grub, and making memories with friends.
* New Mexico Favorites ~ Translations:
Calabacitas: A veggie dish consisting primarily of squash, zucchini, corn, and green chile.
Chile Relleno: A stuffed chili pepper that is battered and deep-fried.
Frijoles con jamon: "Beans with ham" ~ just as it sounds.
Spanish rice: Rice cooked in tomato-based liquid rather than water.
Tres leches cake: "Three milk cake" ~ a sponge cake typically made with evaporated milk, condensed milk, and heavy cream.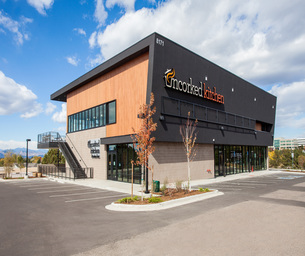 Uncorked Kitchen
8171 S. Chester St.
Centennial, CO 80112
(720) 907-3838
Disclosure: I was provided with store credit to facilitate this review. All thoughts are 100% my own.