Calling all adventure seekers! If you are looking for an adrenaline boost that comes with scenic views, the new Expedition Zipline Tour atop Peak 8 in Breckenridge awaits!
This half-day guided tour includes eight ziplines, an aerial bridge, and rappelling down the last tower. The longest zipline is nearly half a mile in length, and zippers will fly through the air while enjoying Breckenridge's gorgeous mountain landscape.
If you've never taken a zipline tour, it is quite an adventure. It can be especially challenging if you — like me — happen to have a fear of heights (or, perhaps it's a fear of falling). However, if you can summon the courage, soaring through the air on a steel cable at 40 MPH is an experience unlike any other!
Our tour began at 9:45 AM, the first tour of the day. We had seven participants and three guides. My biggest challenge was walking across the aerial bridge. The ziplines were easier for me, probably because once I step off the platform, gravity takes over. But I was 100% responsible for moving myself along the 200-foot bridge. Even though I was securely attached and completely safe, my brain tried to tell me otherwise.
This tour required a bit of active braking by each zipper at the end of the line. We wore leather gloves to protect our hands as we slowed ourselves down. Then the guides towed us in the final few feet. The ziplines got progressively faster and longer through the tour. My excitement and confidence in my abilities grew through the tour as well! It has definitely been one of the most thrilling days of my summer!
The experienced guides and all the other members of our group were totally supportive, patient, and encouraging. I wasn't the only one who had brief moments of anxiety, and even though most of us didn't know each other prior to the tour, the sense of camaraderie was immediate. Our tour ended with a sense of accomplishment and high-fives all around!
The Expedition Zipline Tour is one of several mountaintop activities at Epic Discovery's new Alpine Camp, located at 11,059 feet above sea level and just steps away from the top of the Colorado SuperChair. Your tour also grants you access to:
Alpineer Challenge Ropes Course: 15 different challenges will test your strength and agility.
Gold Summit Climbing Wall: Beginners and pros alike can tackle this 35-foot climbing wall with 16 different routes to the top.
Observation Tower: Offers a 360-degree view of the Continental Divide, Summit County, and the greater Rocky Mountains that took my breath away.
Interpretive Hiking Loop: This one-mile loop features informational displays with interesting facts and hands-on activities.
Zippers must be at least 10 years old and weigh at least 70 pounds (and less than 230 pounds). Close-toed shoes are required and long hair must be secured. Parking is limited. Your best bet is to park at the gondola downtown and enjoy a free scenic ride up to the base of Peak 8.
For even more adventures, your Expedition Zipline Tour also includes an Unlimited Adventure Pass to Epic Discovery's Peak 8 Basecamp that can be used the same day as your tour and the following day as well. Enjoy the Alpine Slide (my personal favorite), GoldRunner Alpine Coaster, bungee trampolines, a miniature golf course, a smaller climbing wall, a zipline designed for little ones, and a whole lot more!
Your Expedition Zipline Tour with Alpine Camp access and an Unlimited Adventure Pass is $189 per person, giving you a complete weekend of fun and adventure!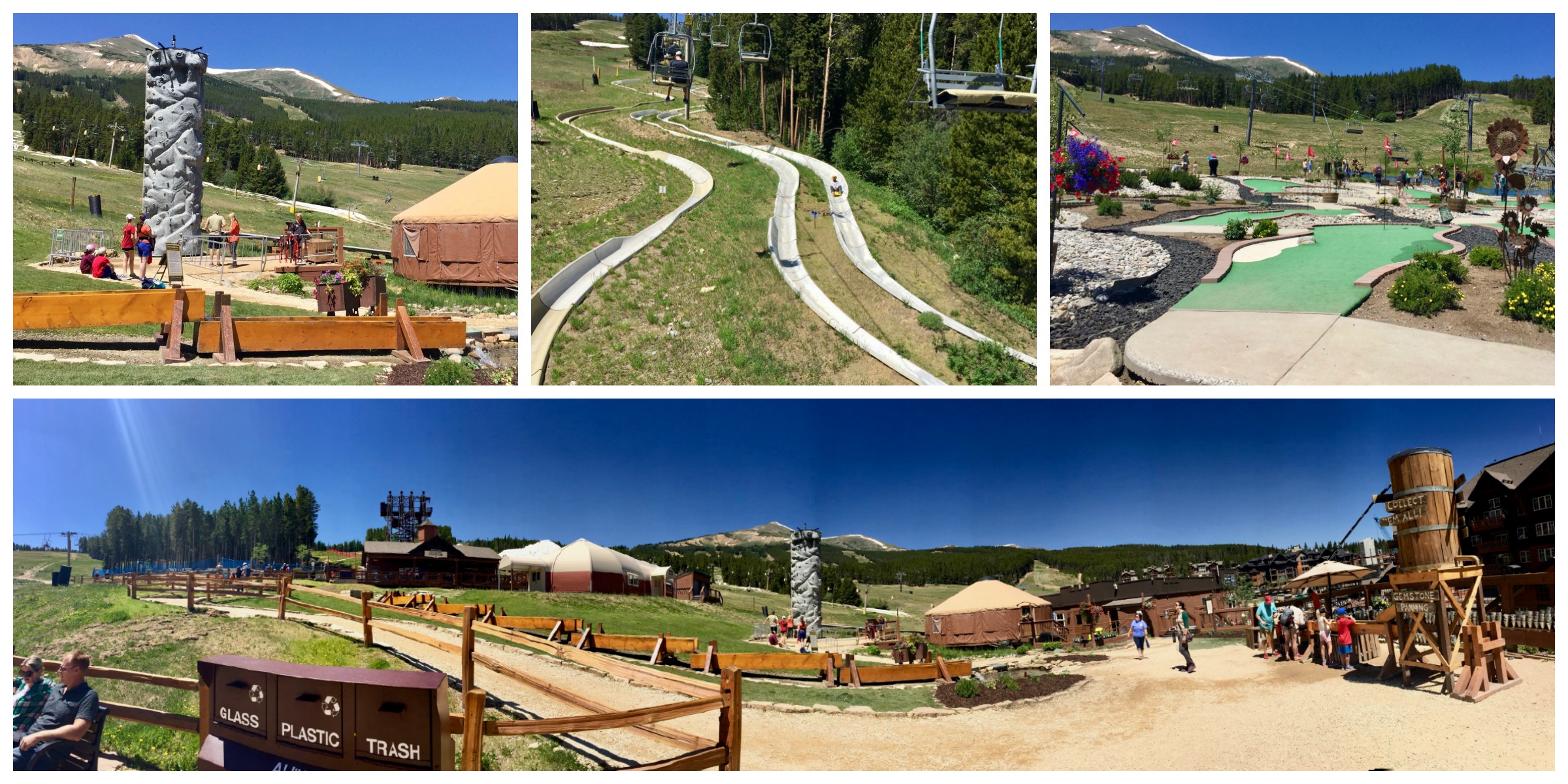 For more information about the Expedition Zipline Tour, Epic Discovery's Peak 8 Basecamp, and all the other incredible summer activities, visit www.breckenridge.com.


* * * * * * * * * * *
Disclaimer: I received two complimentary Expedition Zipline Tours for the purpose of this review. No other compensation was provided. The opinions expresses were 100% my own.