This is a family favorite! It tastes like something that I'd order at a restaurant and it looks pretty fancy, too, but it's actually really easy to make.
Bacon-Wrapped Garlic & Herb Pork Tenderloin
2 pork tenderloins
1 package of bacon (whatever kind you prefer)
1 head of garlic
Olive oil
Your favorite seasonings or herbs (I use a variety of thyme, parsley, rosemary, and sometimes a little basil)
Toothpicks
Salt & Pepper
1.) Preheat oven to 375˚F. Brown the pork tenderloins in a pan with olive oil, just until the sides are seared to a golden brown.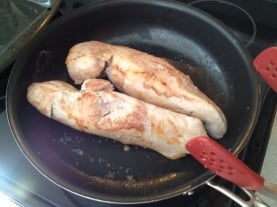 2.) Carefully transfer the pork tenderloins to a plate or cutting board (they will be hot). Cut slits about every 1-1.5" about halfway into the pork. Stuff each of these slits with a clove of peeled garlic. Sprinkle some of the herbs on top of the pork.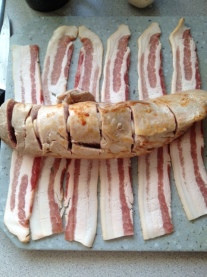 3.) Wrap the slices of bacon around the pork tenderloin, overlapping each piece slightly, and secure the ends of the bacon on top of the pork with a toothpick.
4.) Sprinkle the remaining herbs and salt and pepper on the top of the bacon.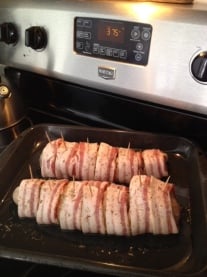 5.) Place in the preheated oven, and cook for about 20 minutes (meat should reach an internal temperature of 145˚F). Rest meat for 3-5 minutes; slice and serve.