We were recently invited to a high school graduation party. I thought long and hard about the perfect gift, but nothing seemed to top cold, hard cash.
I scoured the internet for creative ways to give the gift of money, but nothing seemed quite right. I wanted something special, but that hasn't been seen over and over again on Pinterest boards, so I noted a few ideas and came up with a great plan...
I designed an origami money "CONGRATULATIONS" banner that pulls out of a box.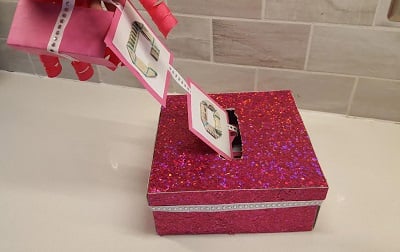 What You Need:
15 white paper squares (cut to 3 x 3")
15 colorful paper squares (cut to 3.5 x 3.5")
Ribbon for the banner
Ribbon/bow for the top of the box
Cardboard box (so you can easily cut a hole in the top)
Needle & thread
Glue
Money! (Each letter uses one bill. "Congratulations" has 15 letters)
A card (or use extra squares to make your own)
What You Do:
1. Decide on a word or phrase. Fold each bill to create a letter or number of your choice. I used YouTube tutorials from Simple Family Fun to get an idea of how to shape mine just right. Let the newly-folded letters sit under a heavy object until you're ready to add them to the banner.
2. Lay out the banner ribbon. Space out the colorful squares on the underside of the ribbon. Glue the white squares to the colorful ones on top of the ribbon. Be sure to leave enough room on one end of the ribbon to include the bow and a note about how to "open" your gift.
3. Sew the origami letters to the banner squares. (You can see the teal embroidery thread I used if you look closely in the photos above). Avoid gluing or taping the money. After all, it's meant to be used later!
4. Decorate the cardboard box and add a hole in the top. Insert the banner, leaving only the box bow and note exposed.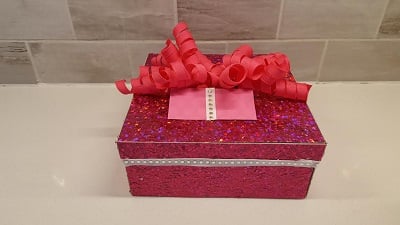 Your gift recipient will be completely impressed and totally surprised. With an endless possibility of words or phrases, this gifting idea can be used over and over without ever feeling tiresome.