Here's the thing. My kids are still too young for cell phones. But there are lots of times I wish I had a way to be connected to them when they're not with me, especially my first grader, and preferably without a screen.
Given that my six-year-old isn't bussed to school and is a walker, we found ourselves wishing for a simple way to get in touch with him should we need to.
A cell phone is not an option for us. In our opinion, he is far too young to have so much information and opportunity at his fingertips, not to mention we don't want strangers having access to get in touch with him. (Think about it: how many weird calls do you get on your phone?!)
When we found Relay, it really seemed like this could be exactly what we were looking for and we picked one up to give it a try.
Here are my top 8 reasons you need Relay in your life. (Make sure you scroll to the end to see the offer for 40% off your Relay purchase from Target!)


1.) It's easy to set up.
Setting up the device is super easy. You need an app on your smartphone, which you then pair with your device. In a matter of minutes, my kids' devices were set up and ready for them to use.




Why do I love this? Life as a mom is tough. I don't need more difficulty! I love having the app available on my phone, easy to open and communicate with my kids whenever I need to. I can also use the GPS tracker (more on that later!) to see where he is.



2.) It's a phone, but it's not.
I know, I know. Can I even be more confusing if I tried? It's actually pretty easy and very cool.

Relay is powered by 4G LTE (and works over WiFi!) so it works everywhere your cell phone would work, but it functions like a walkie-talkie. You can send voice messages to friends and family via the app, but there is not a phone number associated with the Relay and it cannot accept incoming calls or make outbound calls.




Why do I love this? Strangers cannot call him. He cannot call strangers. He can contact only people I approve who are signed into our family account. But I can reach him wherever he is provided there is a cell tower.

That means I can still chat with him while I am on a business trip or when he's at camp. I can tell him where we're waiting in the pickup line and let him know when it's time to come home from the neighbors' house.



3.) It's affordable.
Staying connected to my boys during the day is important to me but it's not in our family's budget right now to get cell phones for them. Relay is $49.99 for the device plus $9.99/month for the monthly service plan and is sold at Target and on Amazon.com, Target.com, and RelayGo.com.




Why do I love this? Saving money is a mom's dream, amiright? So being able to communicate with my kids at an affordable price point wins my heart! Plus, I am already shopping Target and Amazon on a weekly basis, so it's not an extra trip I have to make to a specialty store to get the devices for them. Saving time and money. Yes, please!



4.) It's easy to use.
Using Relay is so easy that even my four-year-old son has perfected it. There is one main round button. Push it, hold it, and speak. That's it! The other Relays paired with your phone and you will hear what your child said.

As the account holder, using the app to chat with my kids is just as easy. There is a "speak" button. Press, hold, and speak. My message goes to whichever device I've indicated. Easy peasy!




Why do I love this? When things are easy for my kids to use, it makes my life easy too. There's no figuring out what went wrong, who pushed the wrong button, or how to fix the rare error.



5.) It's tough.
While I wouldn't run it over with a car, our Relay devices have withstood some serious boy-play. My rough and tough kids rolled down hills with the device in their pockets, accidentally dropped it several times, and even got misted with the hose on one occasion. The Relays live on!




Why do I love this? I am not constantly replacing or fixing devices, nor am I constantly worried that my kids are going to accidentally break their Relays.



6.) I can tell exactly where my son is.
Relay devices each have a built-in GPS tracking system.




Why do I love this? I know where my boys are with a few quick taps on my phone. Is he still at school or has he left to walk home already? In the instance of an emergency, I can view his whereabouts.

Plus, Relay also has an SOS feature for emergency situations so that my boys can alert me of an emergency or if they need help. Using the GPS, I can get to them with assistance.



7.) There are several color options.
Relay comes in a variety of colors: light blue, dark blue, charcoal, gray, or red. Each of my sons has a different color device and are able to customize their Relay with the animal sticker of their choice.




Why do I love this? No. Fighting. Seriously! They each chose their own color and getting to choose made them so happy. If they're happy and not fighting, then guess what? I'm happy, too.



8.) It allows my kids to have more independence.
With a Relay device in their hands or pocket, they can walk to school, head to the playground across the street or to their friend's house two houses down while having a clear line of communication with me.




Why do I love this? I love that I can give my kids a little more space to gain some independence and still be able to chat with them if needed. They can walk to or from school with friends and I can feel comfortable that I can see where he is and speak to him when and if I need to... all without the dangers of a screen.

| | |
| --- | --- |
| | |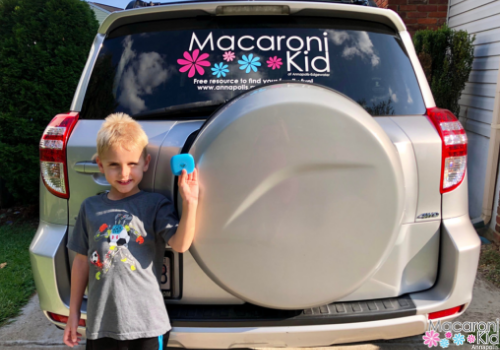 I love the peace of mind that Relay gives me as a parent. Now you can have that same peace of mind! Target is currently offering a SPECIAL Back-to-School promotion:

* Get 40% off on Target.com August 11, 2019, through September 14, 2019.

* Get 40% off at your local Target stores August 25, 2019, through September 14, 2019.

JUST USE THIS LINK!
I was provided with compensation and/or product for reviewing purposes. All opinions are my own.