Excitement about outer space has really exploded in our home since the launch of the SpaceX rocketship. I have tried to nurture that interest in my toddler by finding fun and engaging art projects to work on together at home.
Learning for young kids is about the experience, the textures, and the creative storytelling that happens as you work together. Don't worry so much about the actual science and facts when they're toddlers — it's far more interesting to hear what your toddler thinks and why!
I asked Rachel McMinn, an early childhood educator from Tribeca, New York, for ideas on space-related art projects. Here are three she loves in her classroom:

Soda Bottle Rocket Ship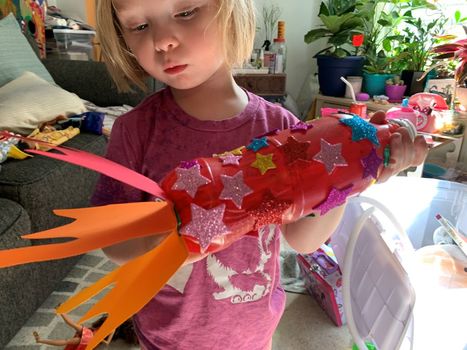 What You Need:
Empty and clean plastic soda bottle
Acrylic paint
Paintbrush
Star stickers
Construction paper (red, orange, yellow, or any of your child's choice)
Tacky glue
What You Do:
1. Peel off the label from the plastic bottle.
2. Paint the entire outside of the plastic bottle in a color of your child's choice. Allow it to dry.
3. Decorate the rocket ship with stickers and cut out red, orange, and yellow construction paper to look like flames. Add them to the bottom of the rocket ship with glue.
4. When everything is dry, blast your rocket ship off for creative play or hang it from the ceiling for decoration.

Splatter Paint Galaxy

What You Need:
Black canvas (you can paint a white canvas black, acrylic paint is best)
Neon paint colors, silver, gold, and white (IKEA mala paint is amazing)
Paintbrush
A garbage bag or washable mat to place under the canvas to reduce mess
What You Do:
1. Get your black canvas prepared and set up a workspace (we opted to go outside on the sidewalk). Put a garbage bag or mat you can wipe off underneath to reduce mess.
2. Dip your paintbrush into the white paint first. Either dribble the paint onto the canvas or flick it, Jackson Pollock-style.
3. Continue to add more colors in the same way. For added sparkle, you can sprinkle a little glitter too!

Earth Squish Painting

What You Need:
Blue, green, gold, and/or brown paint
A recycled plastic lid (large yogurt container size works!)
OR you could use a muffin tin and make many planets at once
White paper or canvas
What You Do:
1. Squirt a little bit of blue, green, and gold or brown paint onto the outside of the plastic lid or upside-down muffin tray (If you're using the muffin tray, you may want to use red and yellow as well to make a variety of different planets).
2. Turn the lid or tray over onto your prepared white paper or canvas. Squish it down and you can even turn it a little bit to swirl and mix the colors. Lift up the lid or tray and – voila! – your Earth or planets will appear.