It's always helpful to look for ways to lower your weekly or monthly grocery bill. However, it seems even more important with our world's recent change of events.
With your family spending more time at home, grocery bills are likely increasing. So let's talk strategy to help keep them in check! And, as an added bonus, there are lots of ways to get the whole family involved in planning and preparing meals — practical teachable moments!
1. Freeze, freeze, freeze.
Don't let those leftovers go to waste! Store portions in individual containers to enjoy at a later time and reduce your grocery needs the following week or two.
This can also be a great meal prep strategy to have meals ready to go for whatever life throws at you. You can keep leftovers stored in the freezer for up to six months, so this can be really helpful in getting your money's worth out of your already prepared meals.
2. Plan ahead.
Although it's easy to head to the store and wing it sometimes, meal prepping can really help to keep your spending in check. Have a simple game plan for breakfast, lunch, and dinner for the week and stick to the plan as much as possible!
It might be helpful to utilize a grocery list app, such as "Cooklist: Grocery List Planner." This app allows you to enter your grocery list and it will organize according to the type of meal and area of the grocery store. It can also help you with meal prep inspiration, allowing you to save recipes for later too. Score!
3. Get creative.
Take inventory and think outside the box! Make it a challenge to come up with dinner using ingredients already in your pantry. This is a great way to get the kiddos involved and let them in on the action. Who knows what your family will come up with for dinner using on-hand ingredients?
Need some inspiration? Check out these Macaroni Kid EATS! recipes using 5 ingredients or less.
You can also:
Whip up a soup or salad!
Get out your waffle iron for some breakfast for dinner!
Pizza dough on hand? Get creative with toppings!
Got some soy sauce and rice? Add some veggies and you have the makings for a stir-fry!
4. Experiment with meatless.
Meat can take up a large chunk of the grocery bill! Challenge your family to go meatless once or twice a week and utilize protein sources like beans, tofu, yogurt, eggs, high protein pasta, high protein tortilla shells/wraps, and nut butter!
Below are some meatless dinner ideas:
5. Don't let produce go to waste.
Freeze fresh fruit and vegetables in a single layer on a cookie sheet, then store in a freezer-safe bag or container to use later (think soups, smoothies, and baking). If you can't throw it in the freezer, try these ideas to prevent wasting that produce:
Chop up some veggies and add to your favorite egg bake or quiche recipe.
Throw together an "everything but the kitchen sink" salad. Add some nuts and a little dressing for a complete meal!
Make a homemade veggie pizza.
Use both fruits and veggies in a smoothie! It's easy to hide a little spinach, kale, or even cauliflower in a fruit smoothie.
Put out a hummus tray to eat up some extra veggies for an afternoon snack with the family.
6. Cut it up yourself.
The cost of pre-cut produce can be almost twice the original price! Spend a few extra minutes and cut up the fruit and veggies yourself. This could be a great activity to teach your kids how to cut up different varieties of produce and let them help in the kitchen if they are ready to handle a knife. Remember, a sharper knife is a safer knife!
Kids not ready for sharpening their knife skills? Knife-less ideas include tearing up lettuce or greens yourself, breaking cauliflower/broccoli heads apart, husking corn, picking grapes off the vine, or balling a halved watermelon.
With a little bit of planning, a little bit of creativity, and a little sense of adventure, great things can happen in the kitchen. Saving money, eating healthy, spending time as a family, and teaching kids valuable life-skills all sound like winning ideas to me!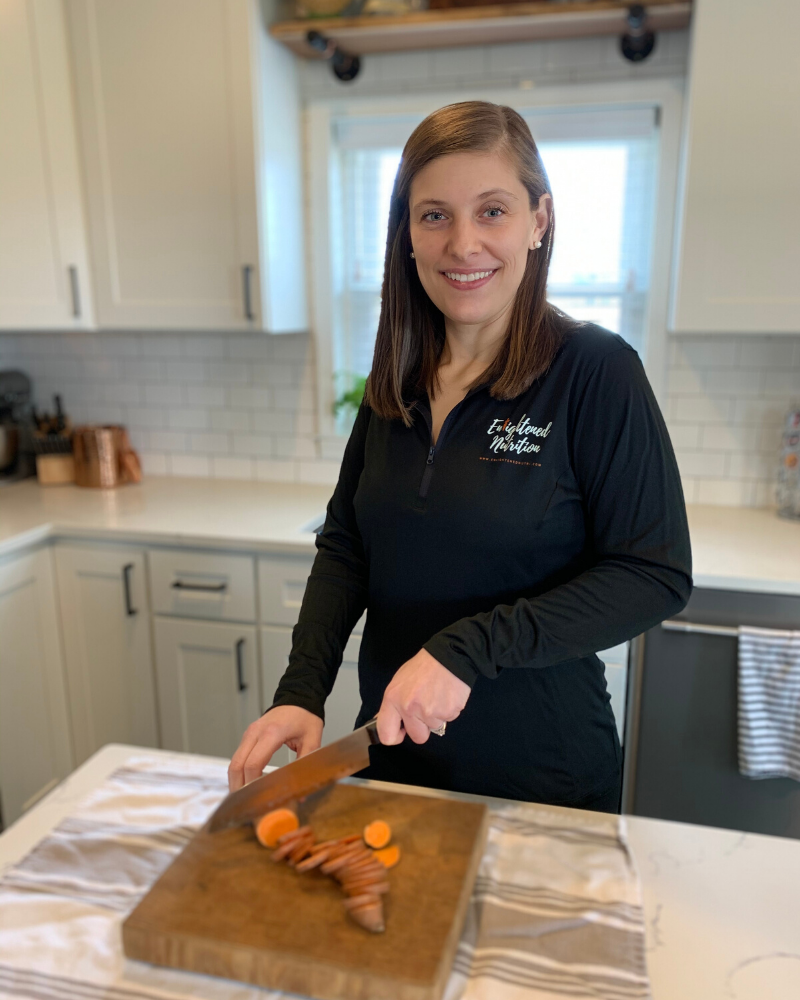 Thank you to Elle Merrill of Enlightened Nutrition for sharing these practical ideas. Elle is a Registered Dietitian inspired to help you on your health and wellness journey. A version of this story originally appeared in Macaroni Kid Grand Haven-Spring Lake-Muskegon, Mich.