When kids are involved in the preparation of family meals, they not only learn culinary skills but also grow in confidence and create stronger, healthier relationships with food and those with whom they share it. With a little help from Uncorked Kitchen, your kids can get right to work in your own home, learning how to craft delicious, nutritious meals.
Uncorked Kitchen is expanding their virtual offerings to include a 3-week online cooking class for your teen or tween. Guided by a professional chef, the class meets online one day each week for a 60-90 minute session. Students will prepare a 3-course meal using fresh ingredients supplied the day before each class.

Your junior chef will learn from the chef's demos during class, cook along with them, and get to see each other cooking while virtually chatting with other students about how their dishes have turned out. For those days when you can't make it to the live stream session, a full recording of the class will be available to fit your schedule.
Skills learned:
Knife skills; chopping, mincing, slicing and dicing
Grilling, sauteing, baking
Time management
Safe food handling; handwashing, sanitation, hygiene, temperature
Multitasking, organization, clean-up
The series, "Taco-Bout a Fiesta" will run on Wednesday evenings, September 9-23 at 4:30 PM. Meal kit pick-up is available on Tuesdays from 3:00 to 5:30 PM (the day before their class).
Menu:
Sept 9: Lime Chicken Tacos, Taco Seasoning Roasted Sweet Potatoes, and Mini Dessert Tacos
Sept 16: Korean Beef Tacos, Asian Guacamole with wonton Chips, and Cinnamon Spiced Brownies
Sept 23: Grilled Shrimp Tacos with Sriracha Slaw, Fiesta Succotash, and Churro Cheesecake Bars
NOTE: Menus are subject to change based on product availability.
Price:
The program costs $190 for the 3-week session. This includes a chef-prepared meal kit (serves 3-4 people), access to the weekly live stream, class recording, recipe cards, and Uncorked branded apron.
---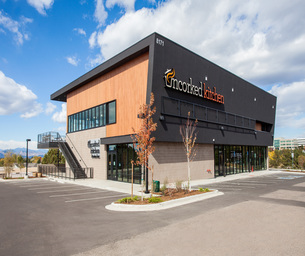 WEBSITE • EMAIL • FACEBOOK • TWITTER • INSTAGRAM • PINTEREST
---