For the past several weeks, my corner of the internet has been buzzing with memes, questions, frustrations, encouragement, jokes, and practical solutions surrounding this unique school year.
We are starting our fourth year of homeschooling, so schooling at home isn't new to my family. While virtual public school and homeschooling are very different forms of education, there are many similar challenges that families in both scenarios are facing this year. That means I've been able to offer some reassurance, advice, and tips to family and friends who will be schooling from home for the first time this school year.
One of the most frequent questions I get asked is how to create a school space at home conducive to learning. Designing and organizing our homeschool space always helps me feel motivated and refreshed at the start of each school year.
I'm sending everyone all the positive vibes this school year, whatever it looks like for you! Know you're not alone in the struggles — and the rewards! — at-home schooling can bring. Here are six of my top tips and ideas to creating a space to encourage learning, creativity, and fun:
1. Keep school, office, and craft supplies in one place.

We have lived in three different homes since our homeschool journey began, and in each home we have thrived by having a dedicated area for our school books and supplies. This area is often merged with our craft supplies, board games, and office supplies to keep things organized and in one place.

2. Label book boxes.

I store our regularly-used school books in these boxes. I keep them organized by subject for each individual child, books we use as a group, resource books, etc. Organizing them means my kids won't get distracted spending long minutes searching for them on a bookshelf.

3. Keep a student log of school work.

As my kids get older — they are now 7 and 9 — they take ownership of their studies a little more each year. To give them independence but still keep them on task, each Monday morning I give them a weekly plan for the lessons they're expected to do by the end of the week. This gives them a visual of what needs to be done as well as a little bit of independence with the "how" and "when" things get done.
The expectation in our home is that the lessons will be completed by Thursday so we can enjoy Field Trip Friday!

4. Sort bins of manipulative materials, small games, and activities by subject or theme.

We have always had a few "anytime" bins available for the kids to use as they need. Our math bin contains base-10 blocks, flashcards, a felt clock, counters, and brain games. Our Geography/Exploration bin has all sorts of maps, Brain Quest cards, and books on different regions. Our art bin has paints, pastels, smocks, and brushes. Having it organized makes it easy for the kids to grab a bin and get to learning and creating.

5. Repurpose jars, boxes, and containers to organize supplies.

Flower pots, jars, or recycled cans make great organizational solutions for things like glue, scissors, pencils, crayons, and markers. Smaller containers or magnetic jars are great for paperclips, small erasers, rubber bands, and binder rings. Shoe boxes or photo boxes are great to store stickers, stencils, rubber stamps, and simple craft materials. You don't need to spend a lot of money on fancy containers to keep your space organized!

6. Save favorite school work samples in a file folder by grade level.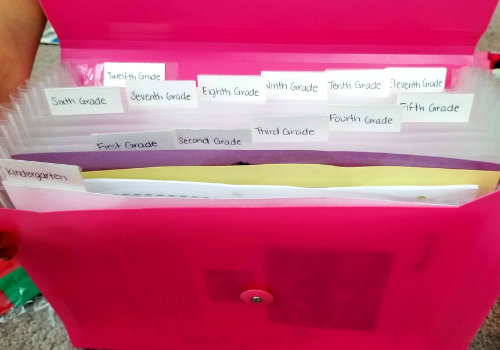 I saw this idea online several years ago and decided to give it a try. I love this system because it forces me to choose only a sample of work each year, but gives me one easy-to-store place for all their school years. I'm not the most sentimental mother around, but I do feel compelled to keep my favorite art pieces, writing samples, and test scores in one place to look back on later in life and share with the kids as they grow up.