Uncorked Kitchen — an interactive dining venue and wine bar — announced two new digital offerings to supplement its ongoing in-person cooking classes.
---
My Uncorked Kitchen offers curated monthly, pre-recorded virtual cooking classes lead by Uncorked Kitchen's talented instructors. Members will have the opportunity to watch and learn 8 new recipes each month — 4 appetizers and 4 entrees — and mix and match depending on what they are in the mood to cook.
Each instructional video comes with a recipe, a well-organized shopping list (with substitutions for dietary restrictions), and prep instructions.
Members also get exclusive access to the Uncorked Kitchen Skills Library, which will provide helpful tips and tricks in the kitchen and for entertaining such as knife skills, how to prep for Thanksgiving, and more.
Anyone who signs up for an annual membership before November 1, 2020 can save $100 and pay $590.


Starting November 1, monthly memberships will be $69 a month or $690 for a year.
---
Uncorked Kitchen's Live Stream Meal Kits bring the same fun and excitement that happens within the walls of Uncorked Kitchen to participants' homes. This is a great option for virtual get-togethers, holiday gatherings, family reunions, and more.
Class themes can be customized and range from Mexican to Italian and steakhouse to southern and menus can be modified to accommodate dietary restrictions. Classes are 60-90 minutes long and can be tailored based on the group size and needs.
Live stream with meal kit pickup for locals (pickup at Uncorked): $75/meal kit, serves 2 people, plus tax


Live stream with shipped meal kit: $150/meal kit, serves 2 people, + shipping
---
"With everything going on right now we're really excited to bring Uncorked Kitchen into our guests' home kitchens," said Katie Robbins, co-owner of Uncorked Kitchen. "My Uncorked Kitchen is a great option for anyone who is getting tired of weekly meal planning and wants on-demand cooking inspiration at home. As travel right now is difficult and even small in-person gatherings are becoming more restricted, our private Live Stream Meal Kits are a great option for people looking to see and connect with coworkers, family, and friends over a great meal and cooking experience."
For more information about Uncorked Kitchen, visit www.uncorkedkitchen.com.
---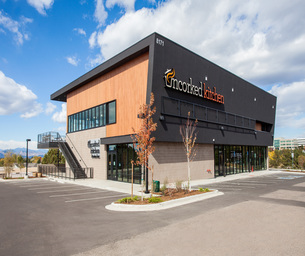 WEBSITE • EMAIL • FACEBOOK • TWITTER • INSTAGRAM • PINTEREST
---
ABOUT UNCORKED KITCHEN
Founded in 2015, Uncorked Kitchen is an interactive dining venue and Wine Bar located in the Park Meadows shopping area (8171 South Chester Street, Suite A, Centennial, CO 80112). The venue offers a unique hands-on dining experience where guests get to be a part of the creation of their meal from prep to plate. Uncorked Kitchen hosts events for adults as well as kids, so there's something for cooks of all ages and skill levels. Guests can also take a seat at the Uncorked Kitchen Wine Bar for a glass of wine, craft beer, or cocktail along with a selection of appetizers.
---