Living in a pandemic is taking a toll on everyone, and parenting in a pandemic is especially tough!
We are all experiencing a range of emotions. Your reaction, whatever it is, is completely understandable and natural; it is the situation we are all living through that is abnormal.
The Colorado Spirit program offered by AllHealth Network provides free psychological support for this stress. We can support people of all ages.
Colorado Spirit is a team of counselors who can provide individual or group support by phone or video. While we do not diagnose or treat mental health conditions, we are here to listen and help connect with resources.
You might want to connect with us just once to vent to a listening ear, or maybe you want help finding a good therapist for more long-term care. We've got you covered. And, have we mentioned? Everything we do is FREE!
What Can Colorado Spirit Do for You?
Having someone to talk with can make a difference in your day and may help you tap into your resilience. We understand that sometimes you may be worried about how your kids are doing. You may have questions swirling in your head about how you can support them, day after day and month after month.
Colorado Spirit counselors and our Child Specialists can help! Connect with us for:
Tips for sleeping better
Ways to manage stress, worry, sadness, or feelings of loneliness
Suggestions for how to support the important people in your life — kids, teens, parents, and friends
Locating community resources
We offer virtual group connections such as a weekly parent support group on Zoom and training in Psychological First Aid (PFA).
You may have heard in the news about how learning PFA strategies can help people feel safe, connected to others, calm, and helpful as you learn how to help yourself and others who may be struggling. It's a user-friendly class with no experience required to participate.
Our webpage has a full calendar of events.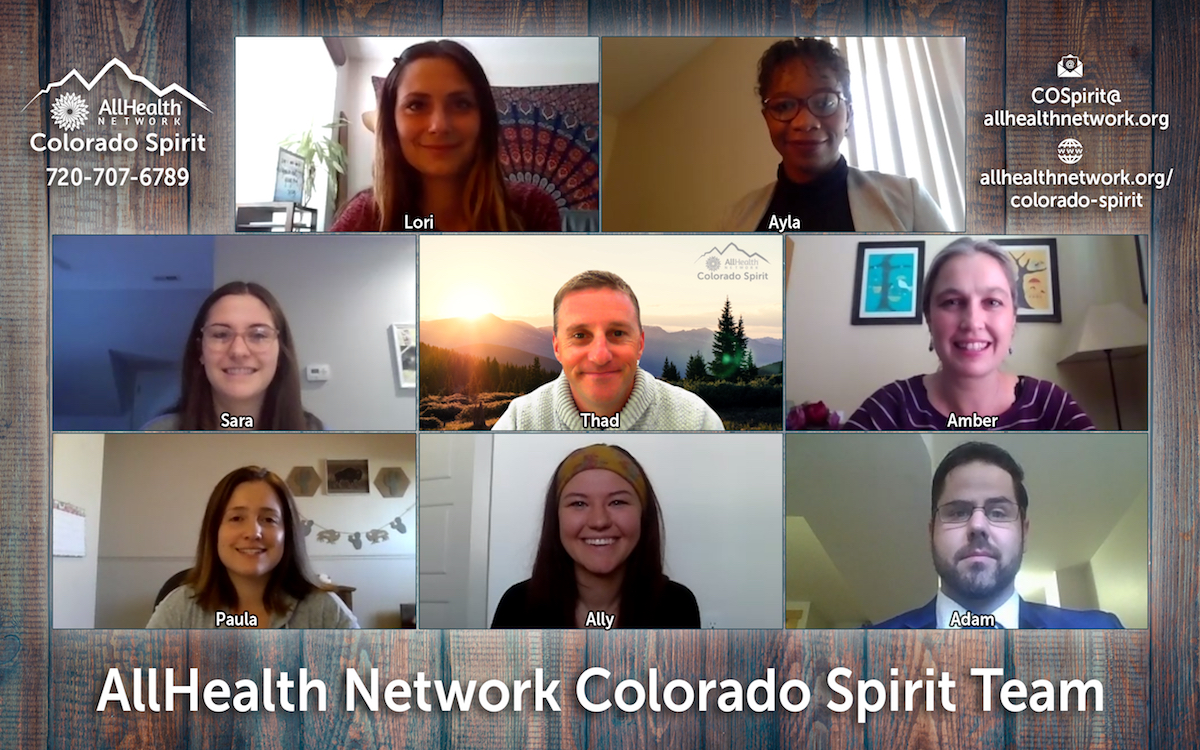 Need Support at Work? We've got you covered!
Many workplaces want to offer support for their communities by hosting panel discussions, support groups, or educational presentations about how to promote wellness and self-care when times are tough. The Colorado Spirit team can help with that too! Our staff can design a training specific to your workplace.
Other Ways to Get Support
Not everyone will want to talk directly with one of our team members. We get it! Sometimes it's helpful to gather information, read an article, or watch a video. We've got a great list of options available for all groups on multiple platforms.
Colorado Spirit's web page offers tips for reducing stress and anxiety. We also write a weekly blog called the Well-Being Connection. Our posts cover important topics, such as:
Our Facebook page is updated daily with articles and resources. We also host Facebook Live events. Check out some of our recent events:
We Are Here For You
While our team does not have an official motto, we want to convey the message that no one is alone. We are here to be of service to you without your having to worry about the cost of care and connection. We hope we can connect with you in whatever way you prefer.
Connect with Us
Reach out to us. Use the resources on our website. Help us spread the word about our free support. Please share the Colorado Spirit webpage, our contact information, and our Facebook page with your family and friends.
The Colorado Spirit team knows there are no easy solutions right now to the worry, sadness, grief, isolation, exhaustion, and anger you may be feeling. We hope connecting with us can help this time of uncertainty feel a little more tolerable.