Every Christmas Eve we set out milk and cookies for Santa, carrots for the reindeer, and we say goodbye to our Elf. It's a tradition we have done every year since our kids were born, much like decorating the house and sending Christmas cards. We even have special holiday mailboxes we leave the cookies and carrots in, right next to the fireplace.
Did you know the tradition of leaving cookies and milk for Santa and carrots for the reindeer became an American household tradition during the Great Depression? It was a way for kids to show their gratitude for the gifts they received on Christmas.
In those days, families would stuff stockings with goodies for Santa, then hang them by the chimney as a welcoming gift. Over the years, the tradition has turned into families hanging stockings for Santa to fill, but many children still leave Santa a treat near the fireplace to say "thank you."
This year, at our house, we are changing up Santa's treat and we are going to leave him cookies and milk fudge. This treat is yummy and super simple to make. Here's how: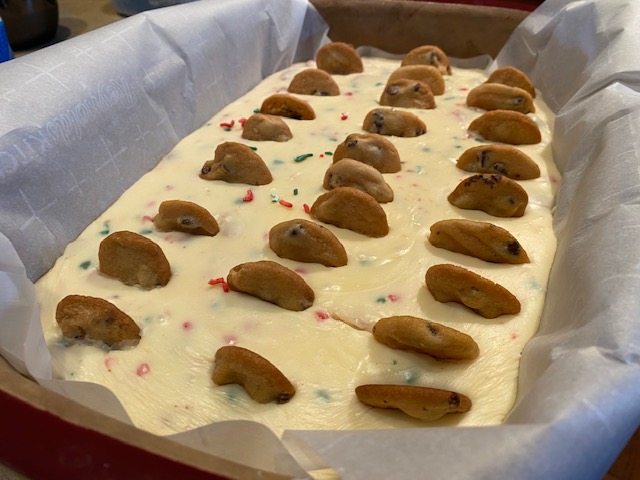 Cookies and Milk Fudge
1 package of refrigerated cookie dough, cut into quarter-size circles
14 oz. bag of white chocolate chips
8 oz. package of cream cheese (room temperature)
½ teaspoon salt
1¼ cup powdered sugar, sifted
5-6 Tablespoons assorted sprinkles (not colored sugar)
Cooking spray


1.) Roll cookie dough into quarter-sized balls, then bake on a cookie sheet according to package directions. Let cool. About a dozen of the cookies will be crumbled to add into the fudge; the rest can be used to "dunk" into the fudge.
2.) Spray a 9x13-inch casserole dish with cooking spray, then line with parchment paper leaving a 2-3 inch overhang on each side.
3.) Melt white chocolate chips in medium sauce pot over medium heat.
4.) Once melted, add the cream cheese and salt. Incorporate completely.
5.) Add the powdered sugar a little at a time, and mix in completely before adding more. Once all powdered sugar is melted, remove from heat.
6.) Crumble about a dozen cookies and stir into fudge, along with sprinkles. Mix well.
7.) Pour the fudge into the prepared casserole dish, and smooth out, making sure to spread it into the corners evenly.
8.) Dunk the whole cookies into the fudge in rows.


9.) Let cool completely, then refrigerate for two hours.
10.) Bring out of the fridge for 10 minutes before eating to soften. Cut into 1x2-inch pieces and serve!