Now more than ever I find myself strapped for time in the mornings, which often leaves me cutting corners when it comes to eating a healthy, flavorful breakfast. Meal-prepping is one way to solve this problem, and I've found a yummy, mix-it-up kind of dish that can evolve each week as my cravings change.
Meet my new favorite breakfast: The bell pepper omelet boat.
This also makes an excellent "breakfast for dinner" type of entree too!
Bell Pepper Omelet Boats
4 eggs*
2 bell peppers
2 Tablespoons milk
Salt and pepper
Your favorite omelet fixings! (For my basic omelet boat, I like mushrooms, onion, green chili, and cheese.)
* I used small peppers and lots of veggies, so 4 eggs was plenty. You may need more or less depending on your egg to veggie ratio.
1.) Preheat the oven to 400˚F.
2.) Cut the bell peppers in half and clean out the seeds. Note: Be sure to keep the stems attached to prevent the egg mixture from leaking.
3.) Add a splash of water to barely fill the bottom of a glass baking dish, then add your peppers cut-side up. Bake the empty peppers for 7 minutes.
4.) While the peppers are in the oven, saute your meats and veggies on the stovetop. This is a great time to dig through the fridge to use whatever leftover produce you can find. I typically saute 2-3 different kinds of vegetables together. My husband prefers bacon in his omelet boat, so I cook a few slices in the microwave to quickly make them deliciously crispy.
5.) Lightly whisk your eggs, mix in some milk, and stir in your prepared omelet fixings. Add salt and pepper.
6.) Pour the omelet mixture into the bell pepper vessels.
7.) Cook for approximately 40 minutes or until your egg mixture is set.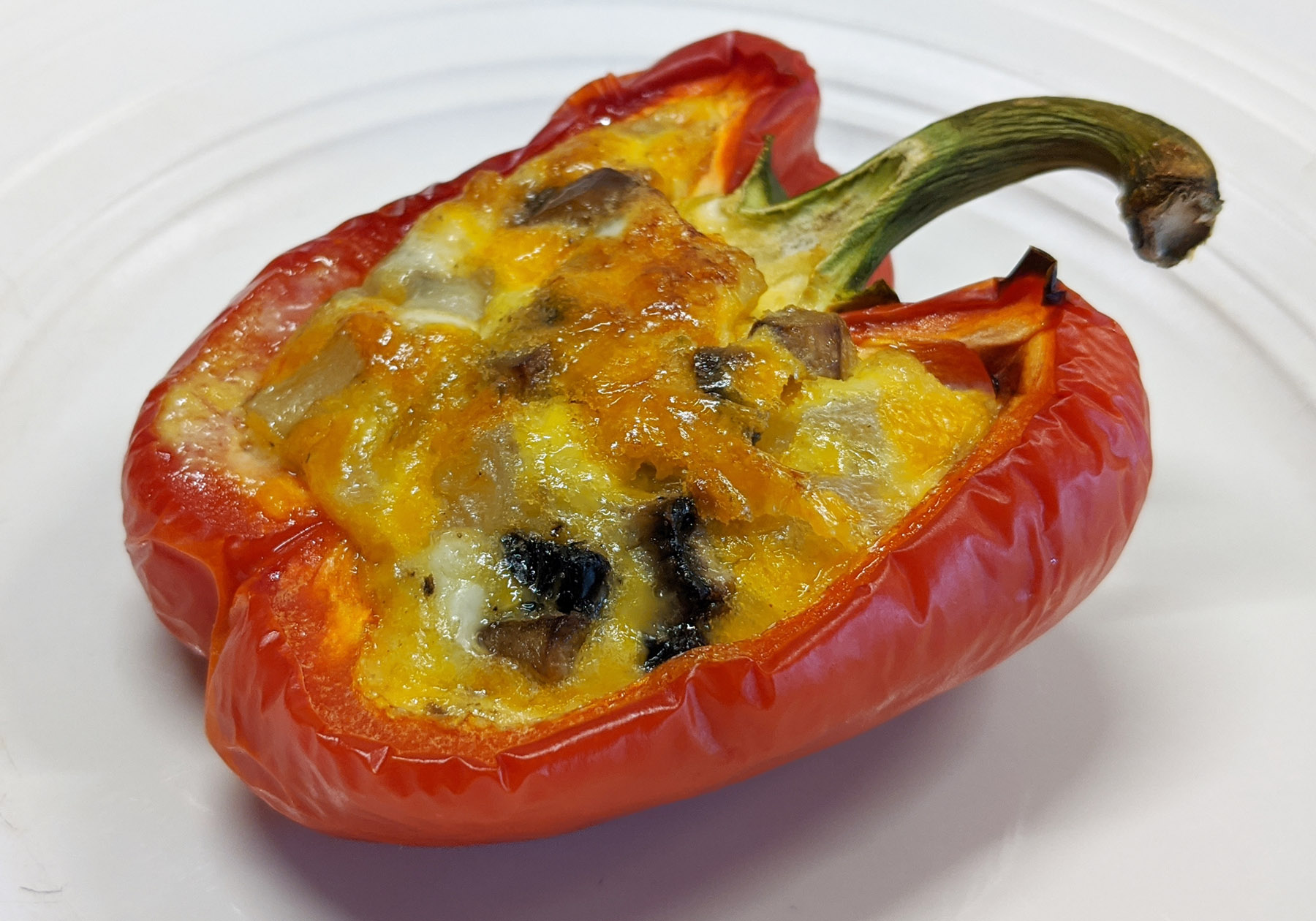 ---
Meal prepping notes:
Not eating your bell pepper omelet boats right away? You can store your cooked omelet boats in the fridge and then reheat for about 90 seconds in the microwave for a warm and satisfying meal.
I don't advise freezing, My own experience has shown me that bell peppers tend to lose their shape if they're stored in the freezer and then thawed.