Macaroni KID Douglas County proudly serves parents in Castle Rock, Highlands Ranch, Lone Tree, Parker, and surrounding areas (including Castle Pines, Elizabeth, Franktown, Larkspur, Roxborough, and Sedalia).
Our Summer Camp Guide will be shared with nearly 14,000 subscribers and is expected to receive approximately 600,000 web impressions during the six-month run over the summer camp "season" (February–July 2023).
We make it easy for families to find great summer camps and activities for their kids — no searching dozens of websites because we put everything in one place! There is no better way for local parents to find great summer camps for their kids!
DID YOU KNOW? When you list your summer camp online, search engines use this data to rank your website. Joining the Macaroni KID Douglas County Summer Camp Guide can help your camp's SEO.
Join the 2023 Summer Camp Guide, and you will receive:
An individualized listing in our Summer Camp Directory with a complete description of your camp, reviews, contact info, social media links, and pictures/video.
Inclusion in our Summer Camp Guide, delivered right to each subscriber's inbox every week from February-July.
Our Summer Camp Guide receives front-page placement on our website and prominent placement on our Events page, Directory page, and Guides page for easy 24/7 access.
Heavy Social Media promotion on our Facebook, Instagram, and Twitter channels.
Access to great discounts for additional marketing opportunities.
---
---
The 2023 Macaroni KID Douglas County Summer Camp Guide
Our Summer Camp Guide is an excellent opportunity to reach your target market! Our listings focus on hyper-local day-camp adventures and overnight camps. We would be honored to share your summer camps and programs with our local community.
Each week, we send our e-newsletter to more than 14,000 families who live, work, and play in Douglas County. The 2023 Summer Camp Guide rate covers the entire 6-month stretch of advertising (February 1-July 31), including promotion in 26 weekly newsletters (with an estimated reach of more than 350,000 emails) and frequent posts on our social media outlets.
Macaroni KID Douglas County and Macaroni KID DTC are partnering to help small businesses like yours reach more families in Douglas County and the south Denver metro area at deeply discounted prices. Choose the package that best fits your needs and budget!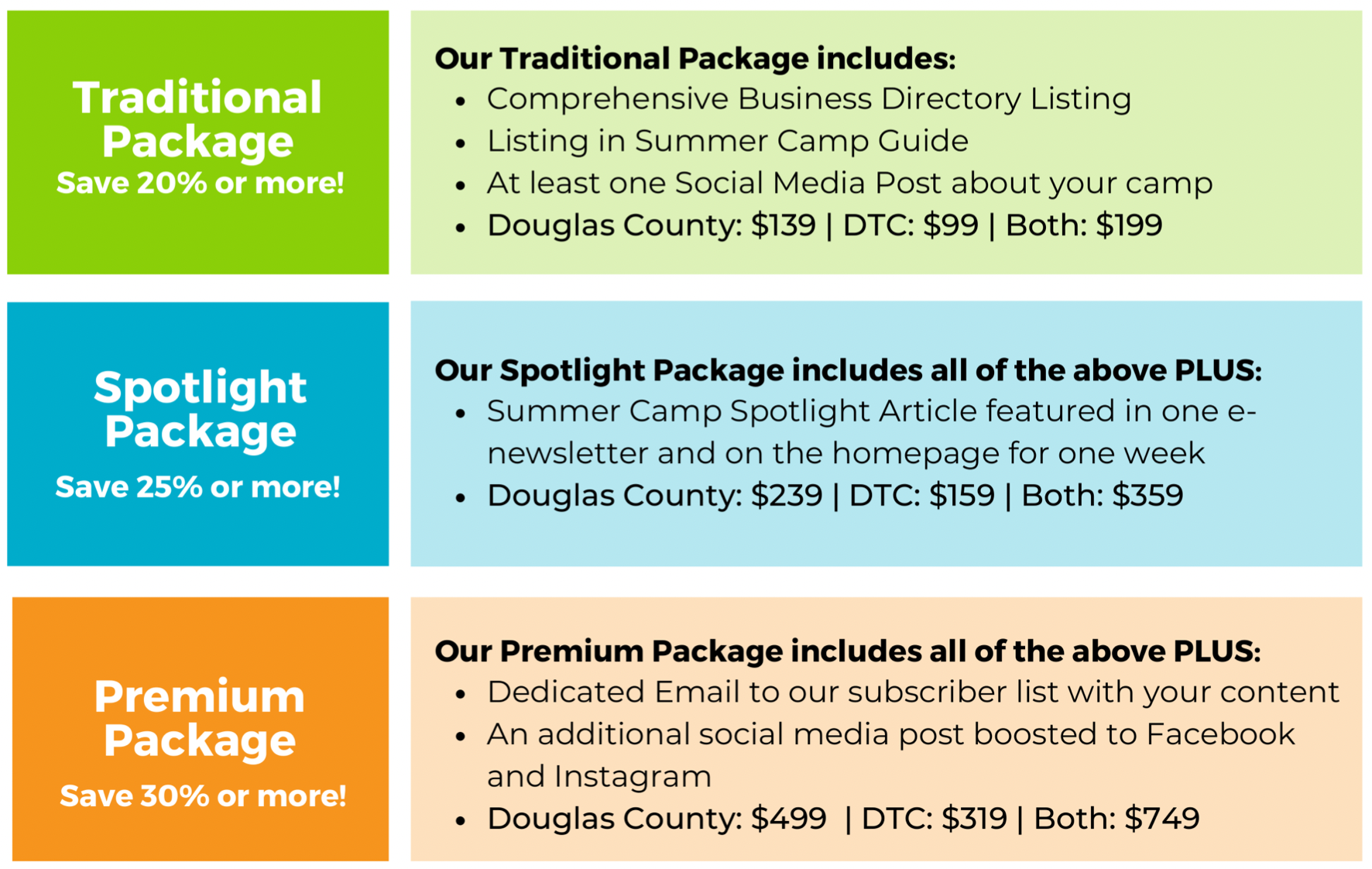 ---
---