April is such an odd month in Colorado! Our mud mat is usually covered with a variety of snow boots and flip-flops too. We'll go from t-shirts and shorts one day to a snow day from school the next. Still, when I see the tulips peeking up out of the ground or spot my first red-breasted robin of the season, I just feel like celebrating!
We've found 10 other reasons to celebrate this month! Print out your calendar and place it wherever you'll see it as a reminder to celebrate both the serious and the silly this month.
Simply click on the image or CLICK HERE to download and print!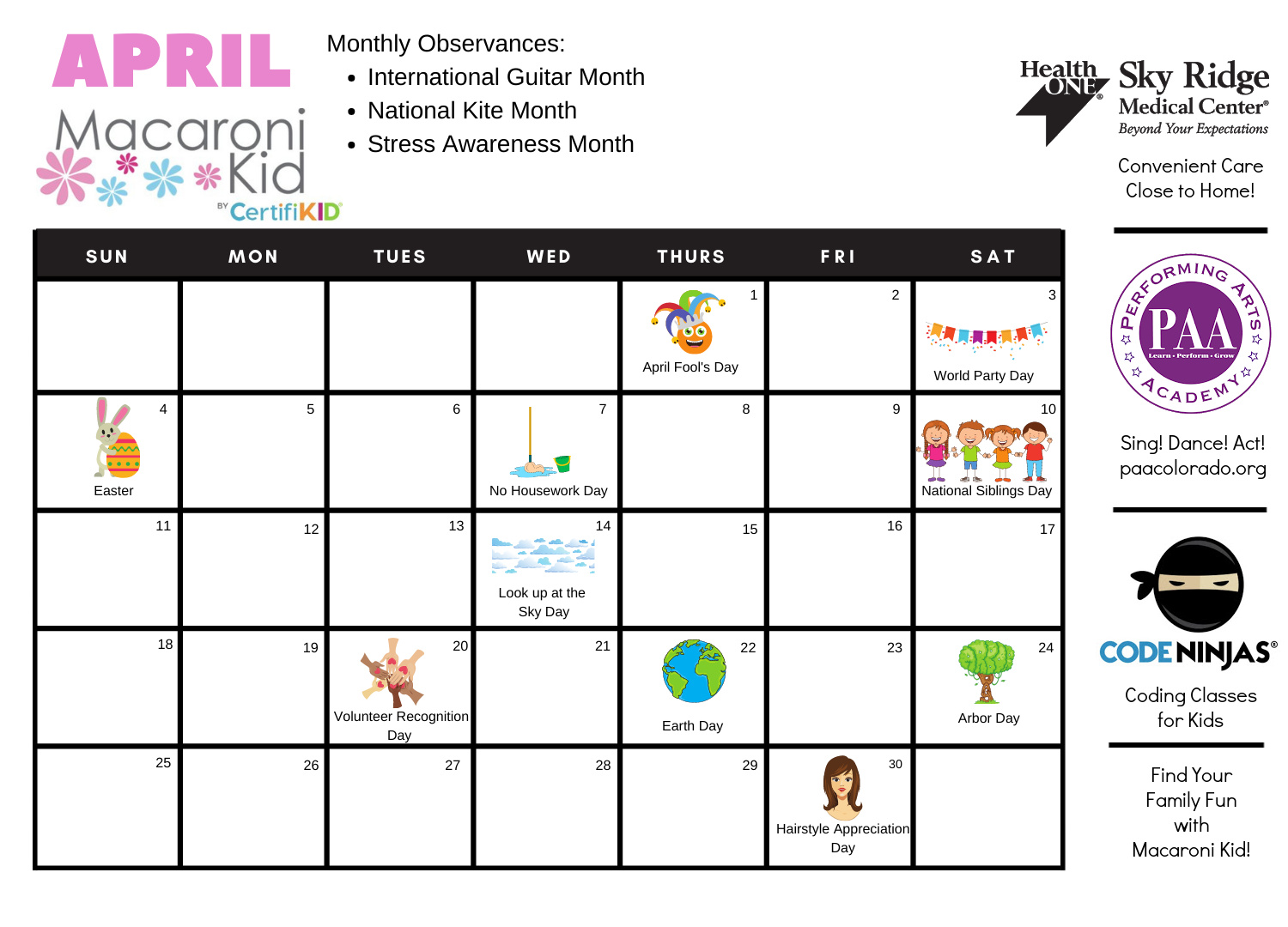 ---
MONTHLY OBSERVANCES
INTERNATIONAL GUITAR MONTH
Whether or not you play the guitar, you can always bring some music into your home! Need ideas? Try our at-home agenda to turn up the volume for music and sound play.
Need some inspiration? Watch this!
NATIONAL KITE MONTH
What better way to spend a windy afternoon than with a kite-flying family outing! You'll find plenty of variety in all the stores right now, but it's even more fun when you make your own kite!
STRESS AWARENESS MONTH
This pandemic has brought more than physical issues. If you're struggling with managing stress, you aren't alone. The Colorado Spirit Team at AllHealth Network (a Macaroni Kid sponsor) offers FREE mental health support. No time to call? Try these tips to recharge.
---
APRIL HOLIDAYS AND WAYS TO CELEBRATE
APRIL 1: APRIL FOOL'S DAY
You've probably been too focused on Passover or Easter. Don't let April Fool's Day slip by! We've got 22 Tricks to Play on Your Family!
APRIL 3: WORLD PARTY DAY
Ready to plan a party? Our Birthday Party Planning Guide is full of local businesses — from party entertainers and venues to sweet treats and photographers — to help your next special occasion one to remember!
If you're more of a DIY party person, our last Awesome Birthday Issue is full of tips, tricks, time-savers, and recipes!
APRIL 4: EASTER
For the second year in a row, Easter will look a little different. That doesn't mean it can't be special!
APRIL 7: NO HOUSEWORK DAY
As Phyllis Diller said, "Housework can't kill you, but why take a chance?"
But seriously... skip the chores for just one day and do something fun for yourself. When you resume on April 8, be sure to get your kids to help! They can do more than we often give them credit for.
APRIL 10: NATIONAL SIBLINGS DAY
Your siblings have the best sibling in the world! Give them a call and remind them how lucky they are! 😜
If you've got a toddler at home and a baby on the way, we've got time-tested tips from seasoned moms to prepare your toddler for the arrival of a new sibling.
APRIL 14: LOOK UP AT THE SKY DAY
We spend so much time looking down at our phones, this is a great day to put our heads in the clouds! Lie on the grass to see what shapes you can see in the sky. You can also:
APRIL 20: VOLUNTEER RECOGNITION DAY
"Everybody can be great... because anybody can serve. You don't have to have a college degree to serve. You don't have to make your subject and verb agree to serve. You only need a heart full of grace. A soul generated by love." –Martin Luther King Jr.
Want to volunteer? You can find a number of diverse opportunities to share your time and talents at VolunteerConnectDC.org. You can specify your area of interest, geographic location, and even a preferred organization, or you can search by keyword according to your specific interests.
APRIL 22: EARTH DAY
Celebrate Mother Earth! Conservation efforts not only help the environment, but they can save us money too!
APRIL 24: ARBOR DAY
Planting a tree is like planting a little bit of hope! If you want to learn more about how to plant, prune, and care for your trees, attend the Arbor Day Celebration at Discovery Park on May 1.
APRIL 30: HAIRSTYLE APPRECIATION DAY
Hair seems to be the one thing that no one is ever satisfied with. My curly-haired friends wish they had straight hair... I envy their luscious locks! Just for today, love yourself and your hair (or lack of it) just the way you are.
---
---
Get a FREE kid-friendly event calendar for Douglas County, CO full of festivals, fairs, activities, events, and more!
Sign up by
CLICKING HERE
!
---