Hang on to your hats and secure all loose articles – the thrills are back at Colorado's only combination theme & water park!
Elitch Gardens Theme & Water Park has been approved by City and State officials to open for the 2021 season with new health and safety guidelines. Elitch Gardens will open to Season Pass holders on April 24th and 25th and to the public on May 1st. Reservations will be required.
"After having to be closed all of last season, all of us at Elitch Gardens are extremely excited to be able to once again deliver the kind of outstanding family fun we've been known for over the past 130 years," said David Dorman, Elitch Gardens General Manager.
---
Did you register for a Pre-K Pass in 2020?
Due to very limited capacity at the park this summer, registration for the Pre-K Program has been suspended for 2021.
However, anyone who registered for 2020 Pre-K passes, including 5-year-old kiddos who would have aged out of the program, will be extended through the 2021 season. Pre-K members will still need to activate their pass in 2021 by the activation deadline of June 27, 2021, by showing valid proof of age.
This is a one-time-only extension to those who had already registered for a 2020 Pre-K pass.
Learn more about the Pre-K Pass Program.
---
Elitch Gardens Season Passes
Adult guests can purchase their 2021 Season Pass for the best price right now. For a limited time, passes are only $69.99 and include unlimited visits to the theme and water park, free parking, free tickets for friends, and much more!
Season Passes are available ONLINE.
---
The fun begins for pass holders on April 24th and 25th and for the public on May 1st!
---
A Message from Elitch Gardens:
Here at Elitch Gardens, we understand that it is a difficult and uncertain time for all. We want to bring the fun back in a big way in 2021. We also want you, our pass holders, to have peace of mind when purchasing your season pass. In the unlikely event the Park does not open at all for the 2021 season, your 2021 season pass will extend for the 2022 season.
Pass holders who experience a COVID-19 health-related change or concern which prohibits them from visiting the Park for the season may also move unused passes to the 2022 season.
For those who had purchased a 2020 Season Pass, your pass has been automatically transferred to the new 2021 VIP Season Pass. This special VIP pass will also extend to the 2022 season should the Park not open at all for the 2021 season.
---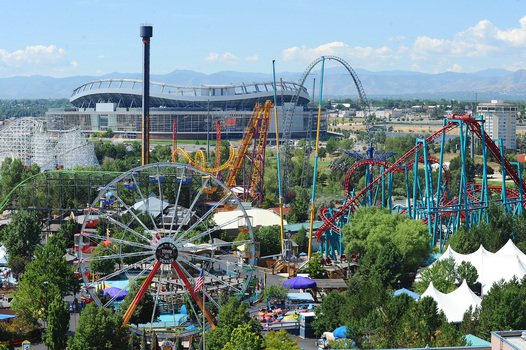 What to expect this season
At Elitch Gardens Theme & Water Park, our top priority is the safety and well-being of our guests and our team members. Our new safety and sanitation protocols will be in place to prevent the spread of COVID-19 and keep you and your family safe.
This plan is designed to meet or exceed any and all guidelines set forth by the city and county of Denver, the state of Colorado, the World Health Organization ("WHO"), Centers for Disease Control and Prevention ("CDC"), Occupational Safety and Health Administration ("OSHA"), and respected industry organizations to ensure the park is a safe place to be and have fun.
Find more about Elitch Gardens' comprehensive safety guidelines.
For the safety of all our guests and team members, we have increased all health and safety measures at Elitch Gardens Theme & Water Park. You must follow all posted instructions and instructions given by our team members while visiting.
---
ABOUT ELITCH GARDENS
Located in the heart of Denver and celebrating 130 years of fun, Elitch Gardens is Colorado's only world-class combination theme and water park. From thrilling roller coasters to pint-sized adventures and a splashin' water park there are thrills for all. The park is open from May through October.