I'm ready for all the fun that May brings: my birthday, Mother's Day, my younger child's birthday, the end of school... and probably another snowstorm (or two!).
We've found 10 other reasons to celebrate this month! Print out your calendar and place it wherever you'll see it as a reminder to celebrate both the serious and the silly this month.
Simply click on the image or CLICK HERE to download and print!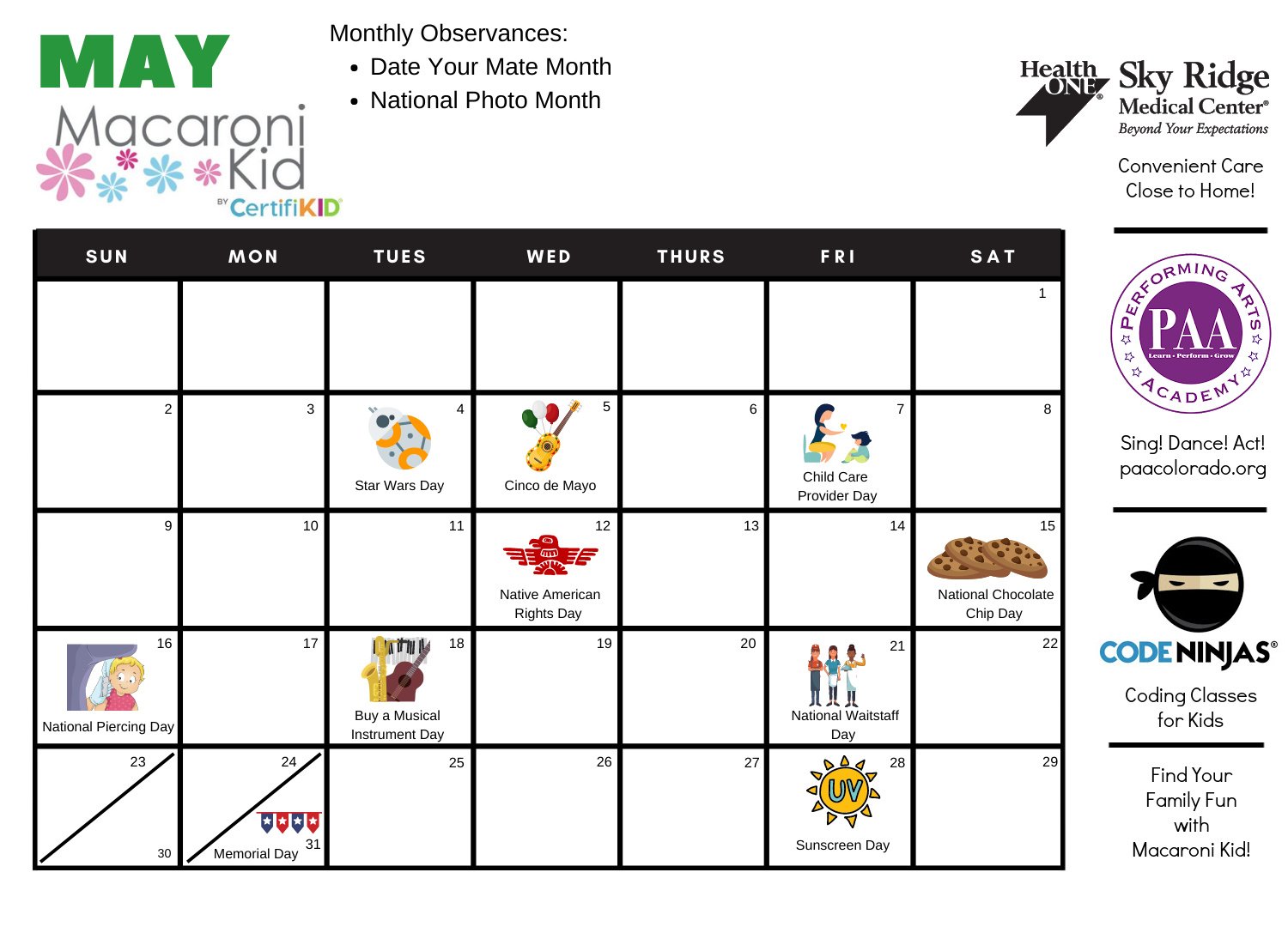 ---
MONTHLY OBSERVANCES
DATE YOUR MATE MONTH
Since the pandemic began, you've probably gotten quantity time with your mate, but how about quality time? If it's been a while since you've had a special night together, we can help!
NATIONAL PHOTO MONTH
Make a photo challenge for yourself this month, with a new and different photo each day! Or challenge your family and friends to a Photo Scavenger Hunt (printables included!).
---
MAY HOLIDAYS AND WAYS TO CELEBRATE
MAY 4: STAR WARS DAY
May the Fourth be with you! Celebrate with Baby Yoda Deviled Eggs and begin a family movie marathon.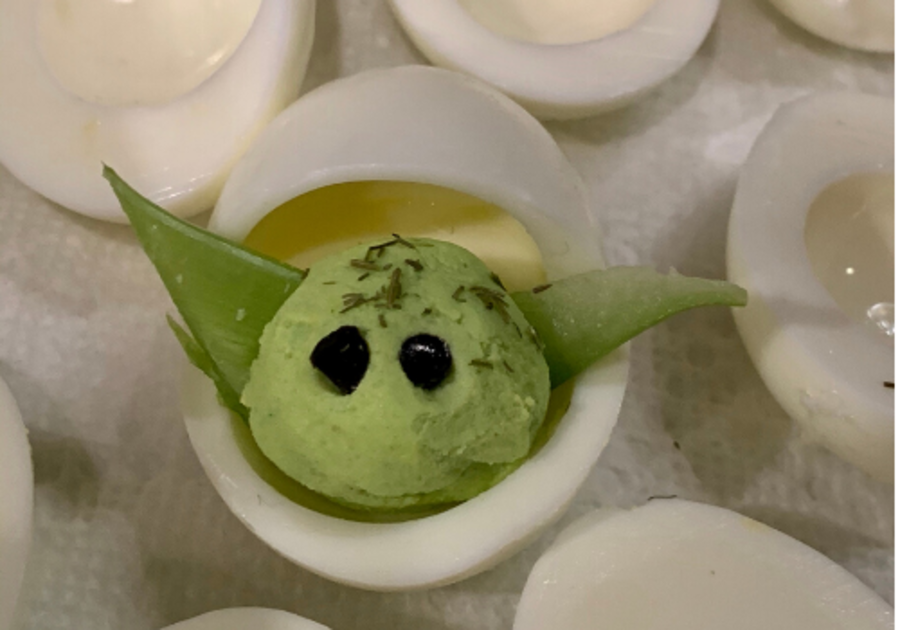 MAY 5: CINCO DE MAYO
This holiday celebrates the Mexican victory over France at the Battle of Puebla in 1862. We have some delicious ways to celebrate and fun crafts to make at home.
MAY 7: CHILD CARE PROVIDER/DAYCARE PROVIDER DAY
It takes a village, right? This special day is always the Friday before Mother's Day because these ladies give you much-needed support. Here are 5 Ways to Say Thank You to the women who have your back.
MAY 12: NATIVE AMERICAN RIGHTS DAY
Gone are the days when we celebrate and learn about Native Americans by donning a paper feather headdress. So how do we respectfully teach our children about America's Indigenous Peoples? Start here: Land Acknowledgement: How to Teach Our Kids about Native Americans.
MAY 15: NATIONAL CHOCOLATE CHIP DAY
As if you need another reason to bake a batch of chocolate chip cookies! For something a little healthier — but just as delicious! — try our No-Bake Peanut Butter Oatmeal Chocolate Chip Bites. If you've got leftover packets of hot cocoa mix in the back of your pantry, you could make our Hot Chocolate Chip "Ice Cream"!
MAY 16: NATIONAL PIERCING DAY
Thinking of getting your child's ears pierced? Here's what you should know first.
MAY 18: BUY A MUSICAL INSTRUMENT DAY
If you've been thinking of purchasing an instrument and beginning music lessons (for you or your child), now is a great day to start. Not quite ready to make that kind of commitment? Here are Four DIY Musical Instruments Your Kids Can Make.
MAY 21: NATIONAL WAITSTAFF DAY
The last year hasn't been easy on anyone, but waitstaff has been especially hard hit. Why not head out to dinner and leave an extra-generous tip?
If you've got younger kids, let them get creative by Setting Up an In-Home Restaurant.
MAY 28: SUNSCREEN DAY
The weather is getting warmer and that means more time outside. Here are some tips, facts, and suggestions to enjoy the sun safely while getting your daily dose of Vitamin D.
MAY 31: MEMORIAL DAY
Memorial Day Weekend is the unofficial start to summer. Between the end of school, opening day for local pools, and backyard barbecues, it's easy to lose sight of the reason for the holiday. Please take just a moment to honor and remember our fallen soldiers.
---
---
Get a FREE kid-friendly event calendar for Douglas County, CO full of festivals, fairs, activities, events, and more!
Sign up by
CLICKING HERE
!
---