Momentum Athletic Center is the proud home to 13-time national All-Star Cheer Champions. A Divisional Two program at Momentum's newest dedicated cheer and ninja facility in the heart of downtown Parker, programs include Elite (full year) and Prep (half-year) All-Star Cheer programs.
Momentum also offers developmental cheer programs, tumbling classes for boys and girls, and several skills clinics throughout the summer and school breaks.
Locally owned by Marlene and Kevin Warr, Momentum's philosophy is that kids come first, and every child is treated and met at their level.
At its core, this is a family-oriented gym. Their objective is to develop athletes and young people while shaping their instruction based on healthy progression and skilled coaching while instilling values and character qualities to last a lifetime.
All-Star and Developmental Cheer program managers Megan Wolf and Seth Colliver bring a wealth of experience to Momentum's cheer and tumbling programs.
Megan Wolf, the head coach, came to Momentum from Illinois and Nebraska. She competed nationally for ICE and Neuqua Valley, then coached Cheer Xpress's premier Worlds team. Megan brought Momentum Cheer to life in 2019 in hopes of giving the Parker community a family-oriented cheer program. Since then, she's coached Momentum teams to 13 national championship titles and continues to expand the program's offerings.
Seth Colliver cheered for the University of Missouri for four years before teaching International Cheer in Korea, China, and Nigeria. A 10-year UCA staff alum. Seth is also the Events Manager for Momentum Athletic Center. His latest project, MyMomentum.Fit, an instructional app for cheer stunting and athletic training, is set to launch this summer. As Events Manager, he strives to bring fun events that bring local businesses together while raising money and awareness for various local charities.
If you are interested in joining an All-Star Cheer program, please take a minute to read over their tryout packets. All-Star Elite tryouts are May 21 and 22, 2021, at 10831 S. Crossroads Drive in Parker. Walk-in athletes are welcome. Prep tryouts are August 21, with an informational meeting on July 16, 2021.
For many students, Momentum Athletic Center's successful All-Star program begins in their developmental cheer and tumbling classes.
The Warrs have always recognized that children who want to compete at a high level should have the opportunity to do so. Still, development, safety, and a love for the sport continue to be their priority. Their developmental programs give children a recreational outlet and the athletic skills and foundation that cross over to many other sports.
Momentum's developmental cheer programs range from Mini Cheer at age 4 to high school prep classes. Their beginner classes are meant to introduce the fundamentals of cheer, stunting, and tumbling to anyone, with no experience required!
Try a class without a commitment. Your first class at Momentum is always free!
---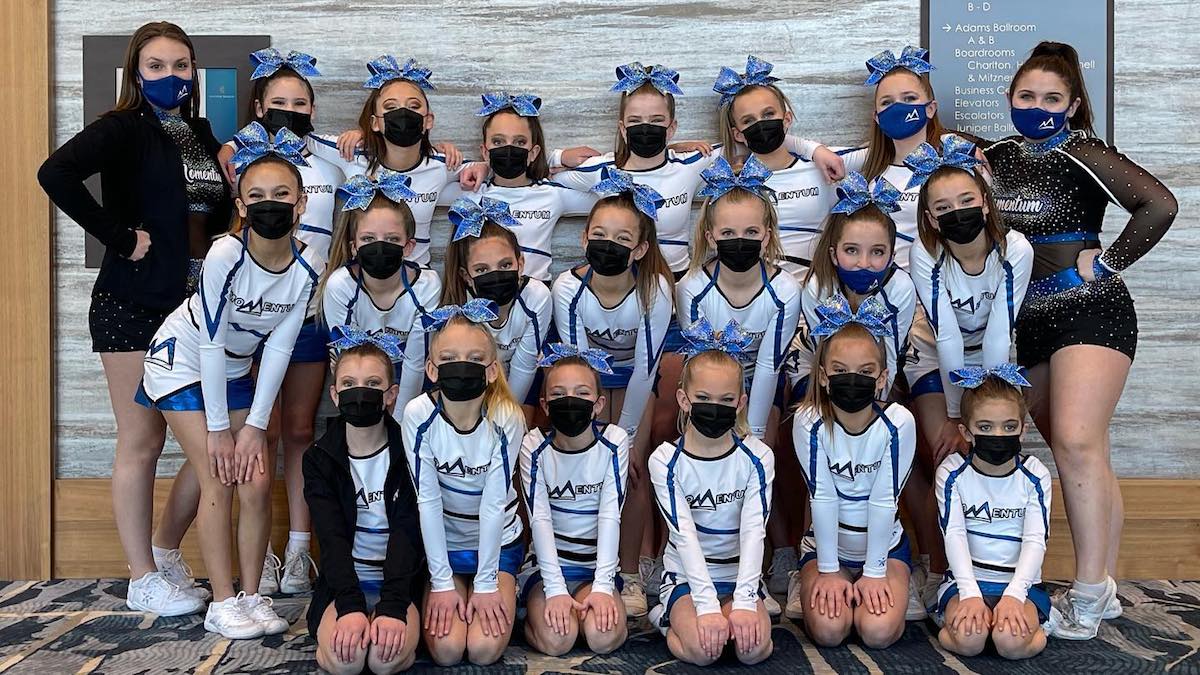 Momentum Cheer
10831 S. Crossroads Dr., Parker
(720) 745-6656