Fly'n B Park
2910 Plaza Dr., Highlands Ranch
Hours: 5:00 AM-11:00 PM
I wasn't quite sure what to expect when I pulled up to the Fly'n B Park. We pulled into the parking lot next to what looked like a big forest with a trail running through it. This park has been advertised as a passive park for picnics, social gatherings, experiential play, and fishing.
The first thing we noticed when we got out of the car was the gravel trail off to the right. My boys went running up the winding trail. At the top was a gorgeous view of the mountains. A bench sits in this area that would be the perfect spot at sunset.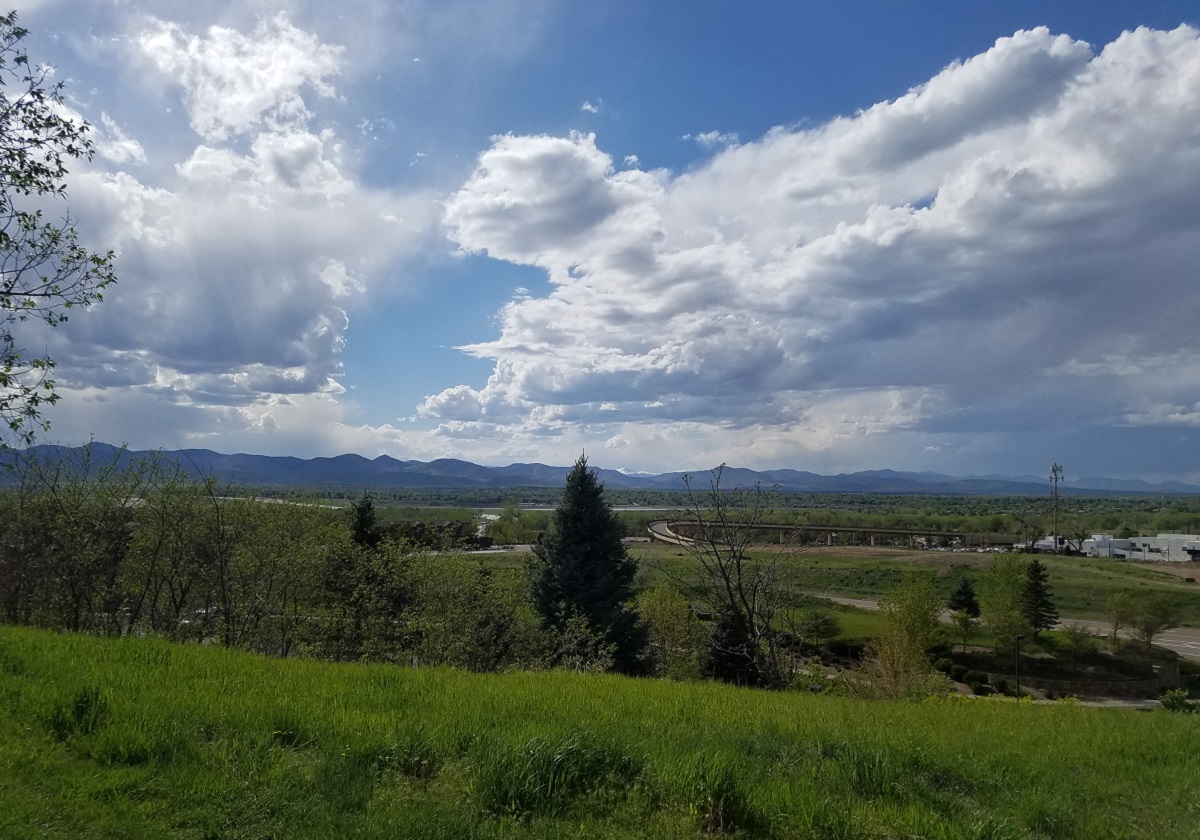 Next, we decided to search for the pond. On our way, we found a cute bridge parallel to a large fallen tree! This tree was perfect for crossing the river. It was large enough that you wouldn't fall easily but small enough that it felt exciting and dangerous to a 7-year-old. After we each took a trip across and back, we continued on the path.
Following the stream that ran under the bridge, we came to a few rocks that made a small waterfall. Who can resist jumping from rock to rock over a stream?
I was starting to understand the appeal of this park with all its natural features including old trees, ponds, and wildlife. The trees are huge with dense thick grasses and bushes in between, great for critters to hide in.
The pond is hard to miss. It's a fairly large scenic pond with clear water stocked with Black Crappie, Pumpkinseed, Largemouth Bass, Bluegill, Catfish, and Green Sunfish. It is a catch-and-release pond so that it can be enjoyed for years by many families.
---
DID YOU KNOW? Every year, the Highlands Ranch Metro District hosts a FREE Kids Fishing Day at Fly'n B Park! This year, the event is Saturday, June 5 from 8:00 AM–1:00 PM. Registration is required; CLICK HERE to sign up!
---
On the east side of the pond, there is a pier and pavilion with multiple picnic tables, trash cans, recycle bins, and charcoal grills. Just off to the north is a clean outhouse with a pit-latrine toilet and urinal.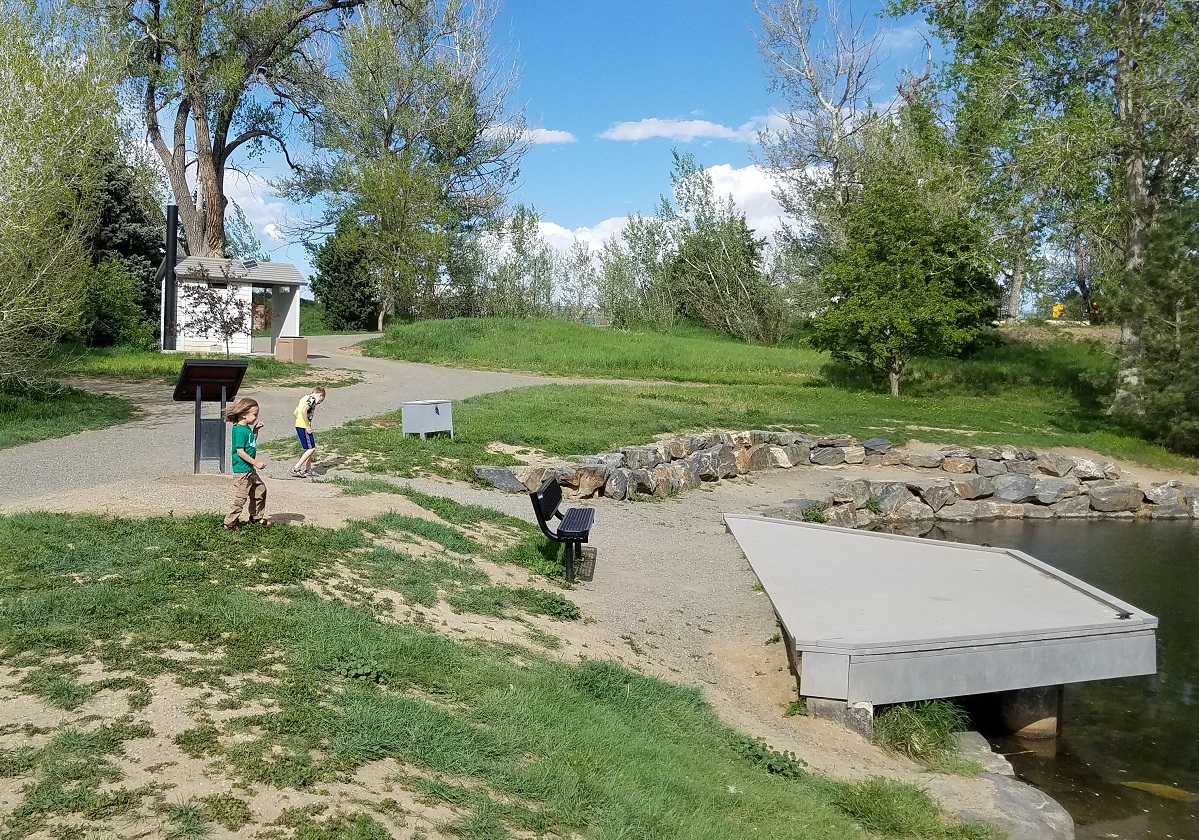 We continued north until we reached a large white boarded-up house. The Fly'n B house was built in 1906 by Matthew Plews who ran a greenhouse truck garden. In 1937 he sold it to O.E. "Smiling Charlie" Stephens, who ran an illegal gambling operation there until 1944. It passed through a number of families and businesses after that until 2006 when the house and surrounding five acres were acquired by Highlands Ranch Metro District.
Next to the house is a small parking lot and a small wooden stage. We were able to spy a hula hoop dancer videoing herself on the stage. What a great background for a fun video! There were a number of photographers taking portraits at the house and the surrounding area. I would imagine that this is a favorite place to take senior, graduation, engagement, or family photos.
Further to the north, we ran into the end of the High Line Canal Trail. This trail runs through the east and south edges of the park, all the way north to Green Valley Ranch in Denver. At the end of the trail is a tunnel that is dug under Plaza Road. This tunnel connects the High Line Canal Trail to the C470 Bike Trail.
Finally, it was time to head back toward the car. We found a clearing in the woods with two picnic tables. These tables back up to a beautiful watery area surrounded by lilac trees. We turned around and realized we were already at the eastern side of the parking lot!
This 5-acre park is packed full of things to see if you take the time to slow down and look.
FEATURES
Catch-and-release fishing pond with two piers
Large old trees
Local wildlife
Small trail bridge
Fly'n B house
Performance stage
High Line Canal Trail
SEATING
Shelter/Pavilion
Picnic tables
Multiple benches
AMENITIES
Charcoal grills
Drinking fountain
Electrical outlets
Outhouse
Bicycle racks
26 parking spaces with 1 handicapped spot
NEARBY SWEETS AND TREATS
For a delicious Cajun meal, check out Nono's Cafe, a couple of blocks away. For a sweet treat, Gelato & Co. Cremeria Italiana is just a mile and a half to the east of Plaza and Lucent. For something a bit more delicate check out Honey B's Macarons, 2.5 miles east off Plaza Dr.
---
Want more local family-friendly info like this?