Prairie Sky Park
9381 Crossington Way, Lone Tree
Hours: 6:00 AM–11:00 PM
This park is one of my personal favorites. We visit every chance we get. Located just west of the Lone Tree Rec Center, the park has a nice-sized playground with a large grassy field. Parents can sit in the pavilion or on a blanket in the grass and have a great view of the entire playground.

The playground on the west is made for children ages 2-5. It has a cute ladybug on a giant spring as well as a grasshopper. These have been favorites of my children since they could sit up by themselves. The swing set has two infant swings and an ADA-accessible swing great for young children or parents holding infants.
The play structure has a variety of stairs and ladders so the young ones can practice different ways to climb. Underneath the structure is a window which is fun for pretending it's a kitchen or store counter. My children love serving me french fries and hamburgers made out of wood chips.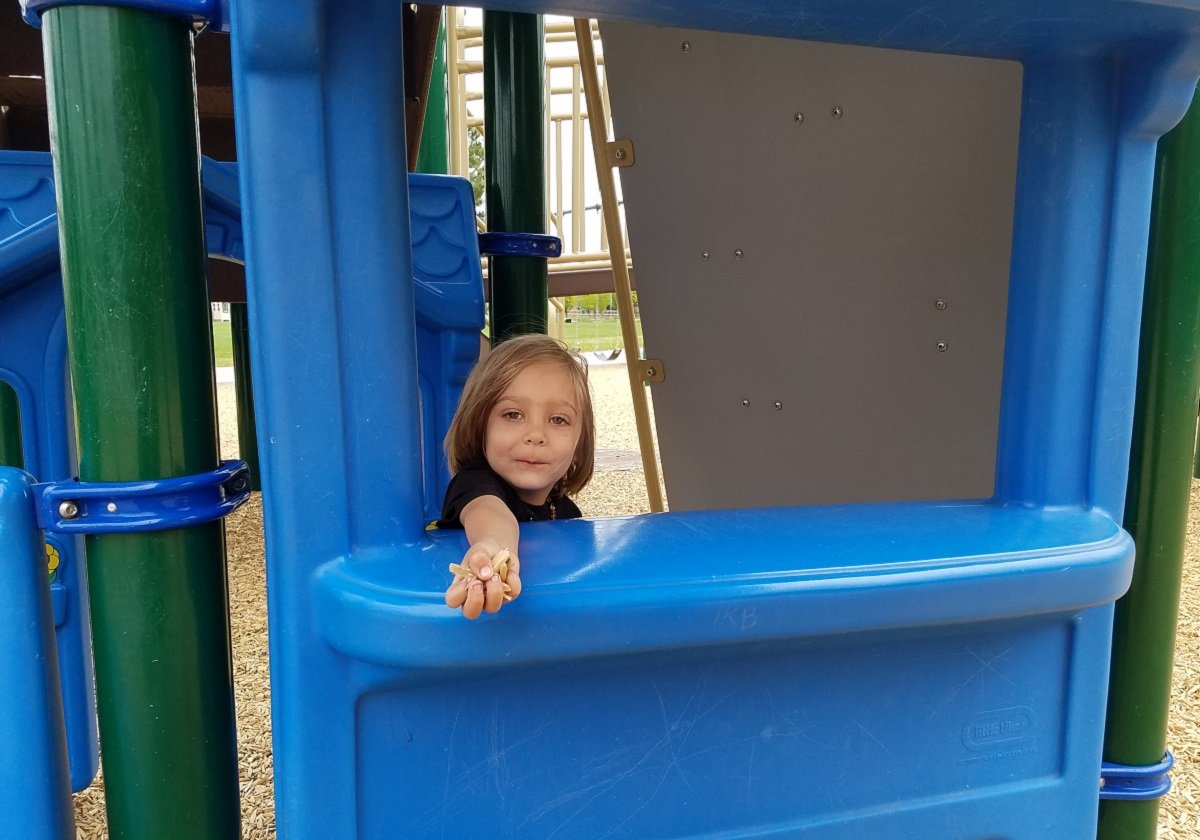 The other playground is made for ages 5-12. There is a swing set with two regular swings and an ADA-accessible swing. The play structure has large slides, a climbing wall, and a rope net for climbing. There are large trees that have low branches that are just the right size for children learning to climb trees.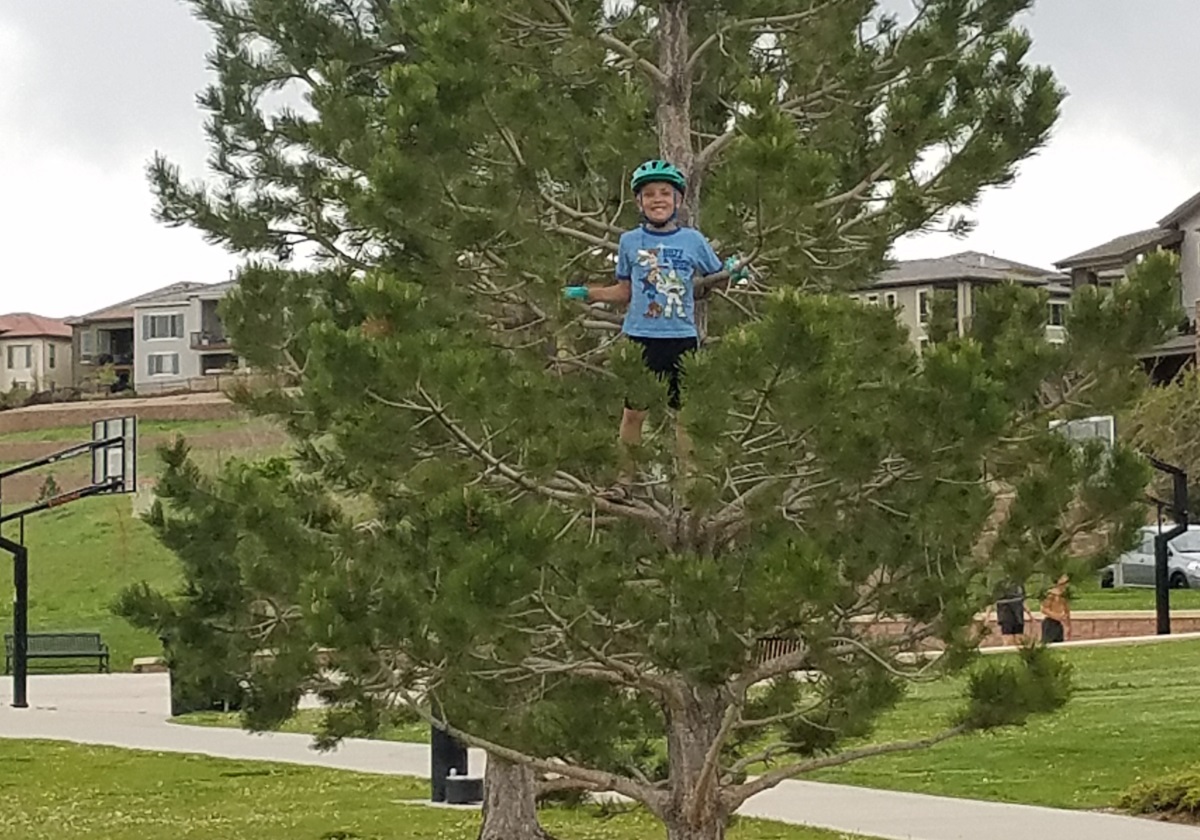 The two structures together make an area large enough for playing tag, Among Us, groundies, or any other game they want to play. Nearby is a basketball court with four basketball hoops. Bring your own ball for a fun pick-up game.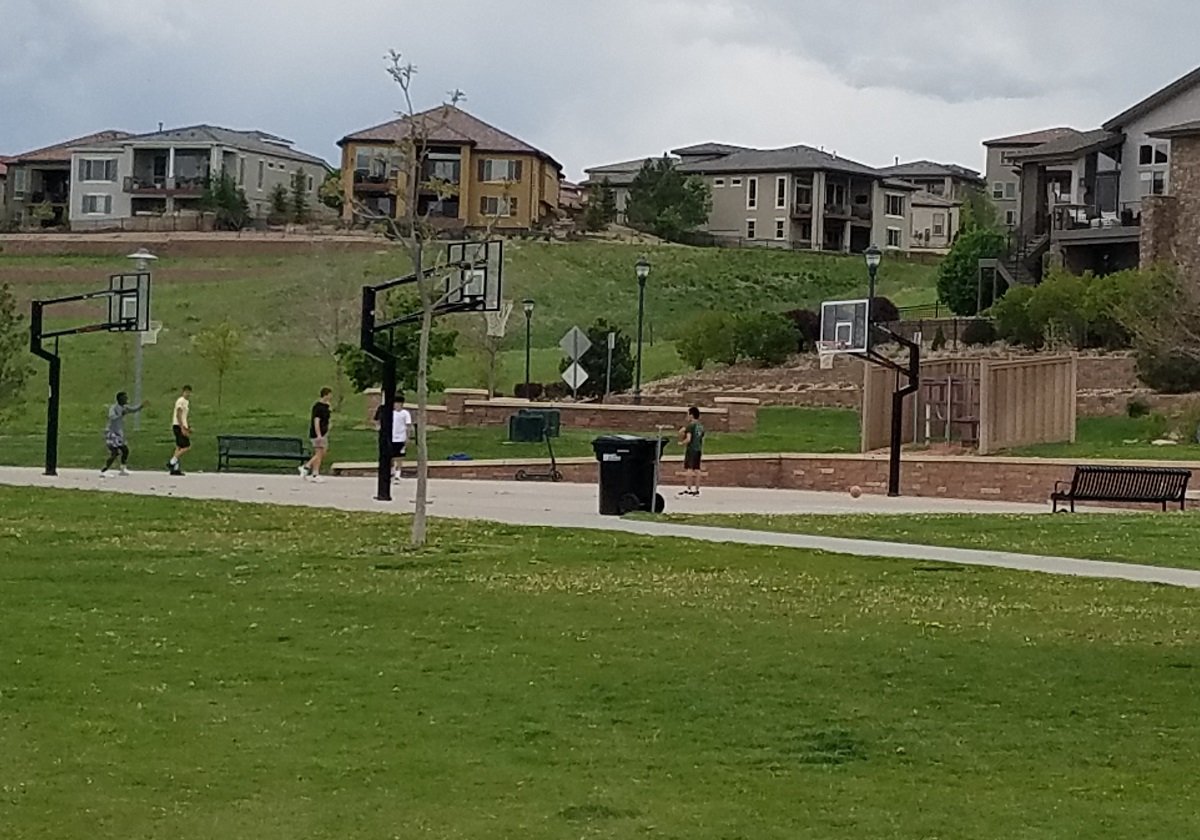 My husband likes to go to the park with the kids so that he can fly kites and remote control airplanes over the huge grassy multi-use field. Adults and children in the park, or even people driving by like the policemen in the photo below, love to stop and watch him fly.
There is a large enclosed ball field. When teams are not using it, it's a favorite of local dog walkers. The city allows the dogs to run free in the field as long as the owners clean up after their dogs, and control them if they are aggressive.
We don't own any dogs, but we love to go meet the dogs and play with them. I have taught my boys to ask the owners if they can pet the dogs before they walk up to the dogs. It has been a great place to get my children comfortable with being around dogs while learning to respect them.
The playgrounds and the grassy field are surrounded by paved sidewalks. It's a perfect spot to learn to ride bikes, scooters, and skateboards. Moms like to take their strollers on a walk around the loop surrounding the field while their older children play.
FEATURES
Two playgrounds, designed for ages 2-5 and ages 5-12
Multi-use ball field
Multi-use ball court with four hoops
Multi-use turf field
ADA-accessible and stroller-friendly
SEATING
Shelter/Pavilion (Reservable)
Picnic tables
Multiple benches
AMENITIES
Charcoal grill
Portable restroom
Two multi-level water fountains
Located to the west of the Lone Tree Rec. Center
NEARBY SWEETS AND TREATS
Just down the hill to the north of the park is a delicious frozen yogurt shop called Yogurtini. Stop by and fill a bowl with your favorite flavors and toppings! For a delicious lunch or dinner of Neapolitan pizza and modern Italian fare head on over to Via Baci Modern Italian Kitchen + Bar. Make sure to try their house-made fresh mozzarella.
---
Want more local family-friendly info like this?