Are you ready for all the fun that June brings? With the end of the school year, warmer weather around the corner, Father's Day, and family vacations, there is plenty to celebrate this month!
We've found 10 other reasons too! Print out your calendar and place it wherever you'll see it as a reminder to celebrate both the serious and the silly this month.
Simply click on the image or CLICK HERE to download and print!
---
MONTHLY OBSERVANCES
AQUARIUM MONTH
When's the last time you visited the Downtown Aquarium? They've got tons of fun on their calendar, including Summer Family Nights (wth discounts on kid's meals and discounted admission with restaurant receipt) and a special Father's Day event!
CANDY MONTH
As if our kids need a designated month to ask for candy, candy, and more candy. Take them to a local candy shop and watch their eyes get as big as... a giant jawbreaker! Here are a few to try (and please let them know that Macaroni Kid sent you):
PRIDE MONTH
Books are a great way to launch a discussion with your kids about LGBTQ rights and what it means to be an ally. The Anti-Defamation League (ADL) offers these LGBTQ literature recommendations for families: 9 Pride Month Book Suggestions for Kids and Young Adults.
FRESH FRUIT AND VEGETABLES MONTH
One of my favorite things about summer is the incredible variety of fresh produce available! Next time you're in the grocery store, look for a fruit or vegetable you've never tried before and give it a taste. Better yet, visit a local Farmers Market or Pick-Your-Own Farm!
---
JUNE HOLIDAYS AND WAYS TO CELEBRATE
JUNE 1: FLIP A COIN DAY
First, use a little science to clean your pennies. Then, learn a little bit about odds by flipping a coin to see how often it lands on heads and how often on tails.
JUNE 3: WORLD BICYCLE DAY
Biking is a great activity that the whole family can do together, and Douglas County is full of wonderful trails and bike paths! If you plan to get out and cycle this summer, be sure to review these bike safety tips for kids.
Want to have some extra-special biking fun? Sign up for one of these fun local events:
JUNE 5: HOT AIR BALLOON DAY
Have you ever ridden in a hot air balloon, or even seen one up close? Colorado has several Hot Air Balloon Festivals this summer. It might just be your favorite family staycation!
JUNE 8: WORLD OCEAN DAY
Can't take the kids to the ocean? Bring the ocean to them when you make an Ocean in a Bottle. This fun and easy craft doubles as a science experiment, and small children especially will be mesmerized by the resulting creation.
Want to help protect our oceans? Here are 11 amazing nonprofits you can support.
JUNE 10: HERB & SPICES DAY
Do your tastebuds a favor and add some flavor! This recipe for Bacon-Wrapped Garlic & Herb Pork Tenderloin is a family favorite.
JUNE 11: NATIONAL FLIP-FLOP DAY
Who says wreaths are just for Christmas? Pick up some flip-flops from the dollar store and give your front door some summery flair! Get the instructions for our Flip-Flop Wreath here.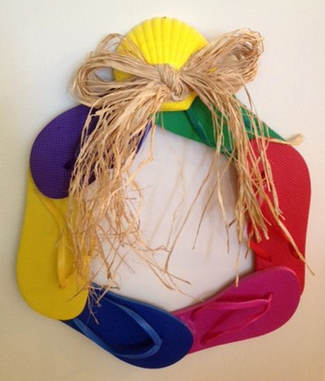 JUNE 16: FRESH VEGGIES DAY
Got a picky eater? This Veggie Flatbread is a delicious, shareable snack that is kid-tested and -approved!
---
See Also: Healthy Eats – The Dirty Dozen™ and the Clean Fifteen™
---
JUNE 18: GO FISHING DAY
Fishing isn't just a fun hobby... it is an opportunity to teach valuable lessons while bonding through quiet conversation. Here are three tips to make your child's first experience a success.
1.) Wait till your child is old enough to sit in one place for a couple of hours, usually around 7 or 8 years old.
2.) Make the day about your child. You want to take your kids fishing, not take your kids along while you fish.
3.) Be patient. Be very, very patient.
Get your kids "hooked" on fishing this summer.
JUNE 19: JUNETEENTH
Juneteenth is a celebration of the end of slavery in the United States. It commemorates June 19, 1865 — the day the end of the Civil War was announced in Texas. It is known as our country's second Independence Day. We've got 4 Ways to Celebrate with Your Children.
JUNE 24: INTERNATIONAL FAIRY DAY
Mix together a child's imagination with a little bit of pixie dust and you'll end up with a fairy! To celebrate this special day, Create a Fairy Garden or Build a Tiny Fairy or Gnome House, then watch or read Peter Pan or A Midsummer Night's Dream.
JUNE 29: CAMERA DAY
Challenge your family and friends to a Photo Scavenger Hunt (printables included!).
---
---
Get a FREE kid-friendly event calendar for Douglas County, CO full of festivals, fairs, activities, events, and more!
Sign up by
CLICKING HERE
!
---