Salisbury Equestrian Park and Sports Complex
11920 N. Motsenbocker Rd., Parker
Hours: 6:00 AM–11:00 PM
Salisbury Park is one that I have heard about ever since I moved to the area 11 years ago. I knew it was a large field where people gathered to watch fireworks, but that is all I knew. I had never gone here to view the fireworks because it was always crowded, which didn't sound like fun. We decided to check it out for ourselves on a day when it wasn't quite so busy.
We noticed signs pointing to the equestrian park and the sports complex as we drove in. The fact that signs were needed made me think there was more to this park than I expected.
We stopped first at the equestrian arena grandstand. The equestrian park was funded in part by the Colorado Great Outdoors through funds from the Colorado Lottery. The building holds an office/ticket area, restrooms, a judges'/scorers' observation room, and a patio with picnic tables. It was stunning.
I don't know too much about equestrian arenas, though Parkerrec.com says there is a lighted arena, warm-up arena, and a renovated dressage arena. The bleachers next to the lighted arena seat about 80 people comfortably. Parker Parks and Recreation takes excellent care of the fields and the buildings.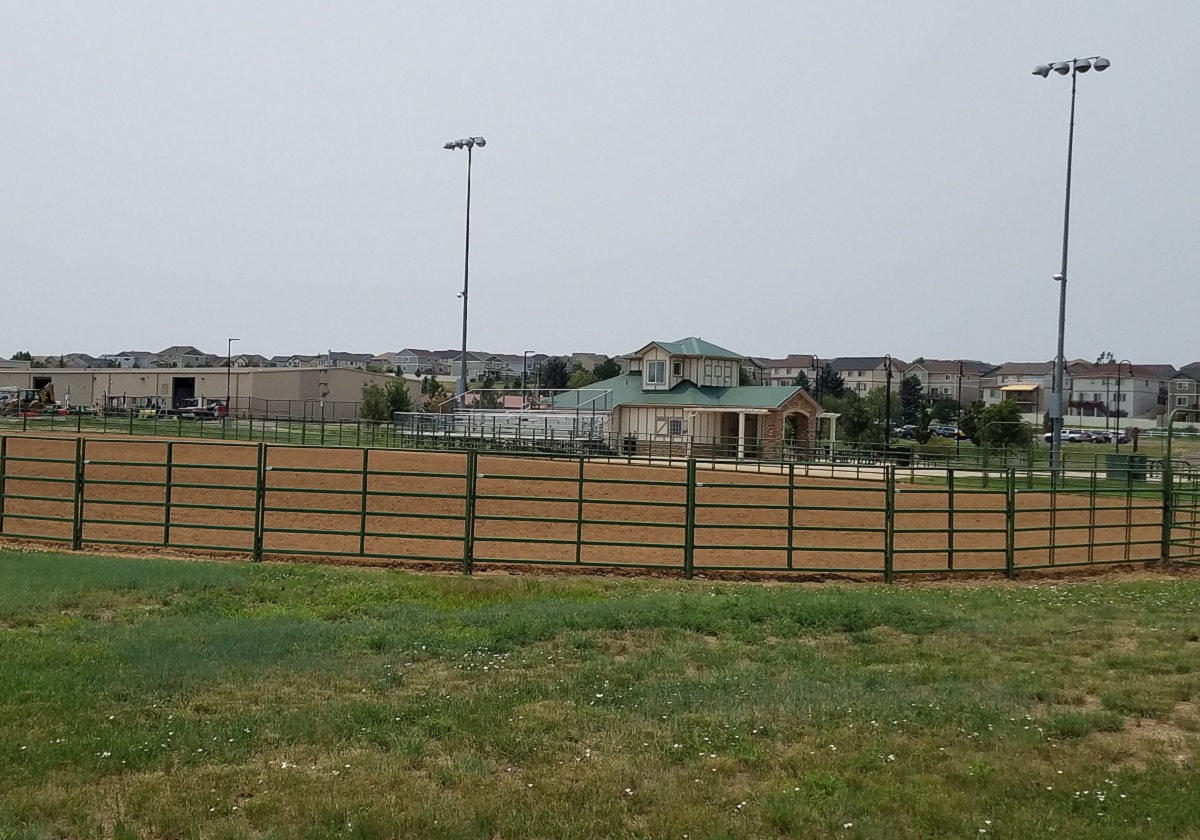 ---
DID YOU KNOW? The Parker Trail Riders hold many clinics and competitions at Salisbury Park. The Rose-Taylor Arena is named after founding members of the Parker Trail Riders. They are always excited to welcome spectators.
---
Next, we went to the closest playground. It is a fully ADA-accessible playground, wide enough for a wheelchair to go all the way up the structure. The structure is red, white, and blue with police and fire elements. There are interactive features, including Spanish to English panels, multiple steering wheels, finger mazes, and more. A pavilion with a picnic table and horseshoe pits is next to the park.
My 3-year-old could play here for hours. In fact, he insisted we come back while his brother was at camp!
The Miracle Ten Spin is quickly becoming one of my favorite toys. You can stand on the footholds while spinning the top. Your children sit in the scooped seats, and everyone gets to have fun together.
Across a large multi-use field is another playground with a pavilion. This non-traditional modern playground has swings, a playset, jungle gym, slackline poles (bring your own slackline), Kompan Supernova, and Kompan Spica (swivel poles). There is something for everyone!
To the north are four ball fields, a nice concessions stand open for most ball games, restrooms, and picnic tables. Between the ballfields are batting/pitching cages.
There is a large pond to the east where you can catch fish such as largemouth bass. This pond is clean, as it is the last chain in the city's wastewater treatment system. Non-motorized hand-launched watercraft are allowed on the pond. It would be fun to spend a day fishing and relaxing on a boat in the pond.
In this 160-acre park, 30 acres are undeveloped open space. I now know that my reservations about the fireworks being too crowded would be unfounded. This park has more than enough room and parking for everyone. We will be back.
FEATURES
Arena grandstand with bleacher seating (Reservable)
Lighted arena (Reservable)
Polo field (Reservable)
Four ball fields (Reservable)
Batting/pitching cages
Horseshoe pits
30 acres of undeveloped open space
Modern playground area (for ages 2-5 and ages 5-12)
Fully ADA accessible playground (for ages 2-5)
Multi-use field (Reservable)
SEATING
Shelters/pavilions (Reservable)
Benches
Picnic tables
AMENITIES
Electrical outlets
Public restrooms
Two BBQ grills*
Two concession stands
Box office
Drinking fountains
Bike racks
*Please Note: Grills are only available when allowed as per fire code.
NEARBY SWEETS AND TREATS
Looking for something sweet? Try a maple bacon donut from Hurts Donut. For a delicious meal, try a Philly Cheesesteak wood-fired pizza from Artisan Pizza.
Get outside and play more! Visit the Parks and Playgrounds section of our directory to learn about other Douglas County parks.
---
Want more local family-friendly info like this?