Elk Ridge Park
7005 Mira Vista Ln., Castle Pines
Hours: Dawn–Dusk
Elk Ridge Park has long been one of our favorite parks. We have been to their annual Party in the Park, Summer Concert Series, and Movies in the Park. This summer, they also have a weekly Food Truck Thursday. The 12-acre park is a place for the community to come together. It is a place for all ages to relax and enjoy the outdoors.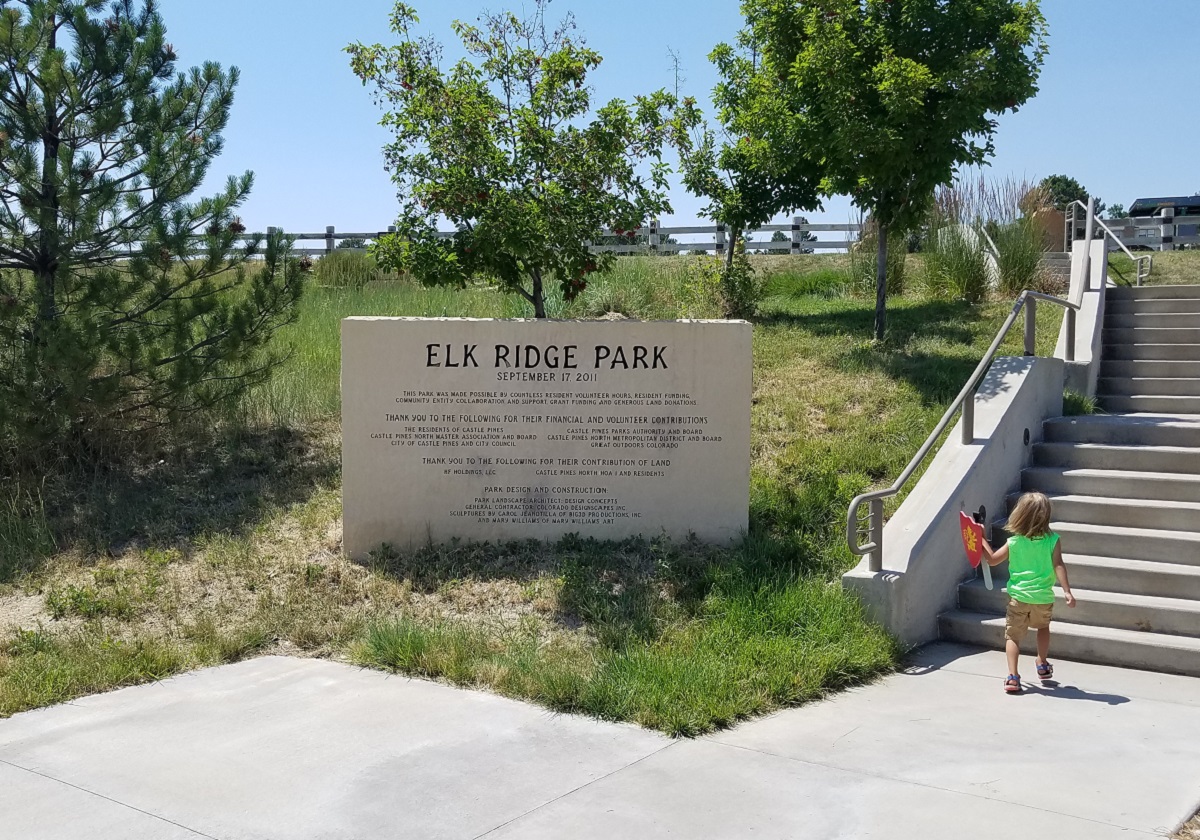 As you walk up the path toward the playground, you'll see a pillar with an inscription. It is the introduction to a fun scavenger hunt that uses way-finding, riddles, symbols, and rhymes to guide you throughout the park.
To the southwest, there is a large synthetic turf field. This area is excellent for gatherings as well as sports and games. A building next to the field has indoor bathrooms open to the public, and there are portable toilets near the parking lot.
To enter the playground, designed to blend into the natural surroundings, you will have to go through or around what looks like an ancient adobe house. You will see clues and symbols along with a maze. My kids can't help themselves here; they always try to find their way through the maze no matter how often we visit.
On hot summer days at Elk Ridge Park, you will most likely find me on the eastern side of the playground, where the splash pad is. Multiple streams shoot from the ground with a hidden waterfall in the back — a great way to stay cool! A grassy area shaded by trees surrounds the splash pad. I like to camp out on the grass and relax while the children play. There is also a picnic shelter nearby.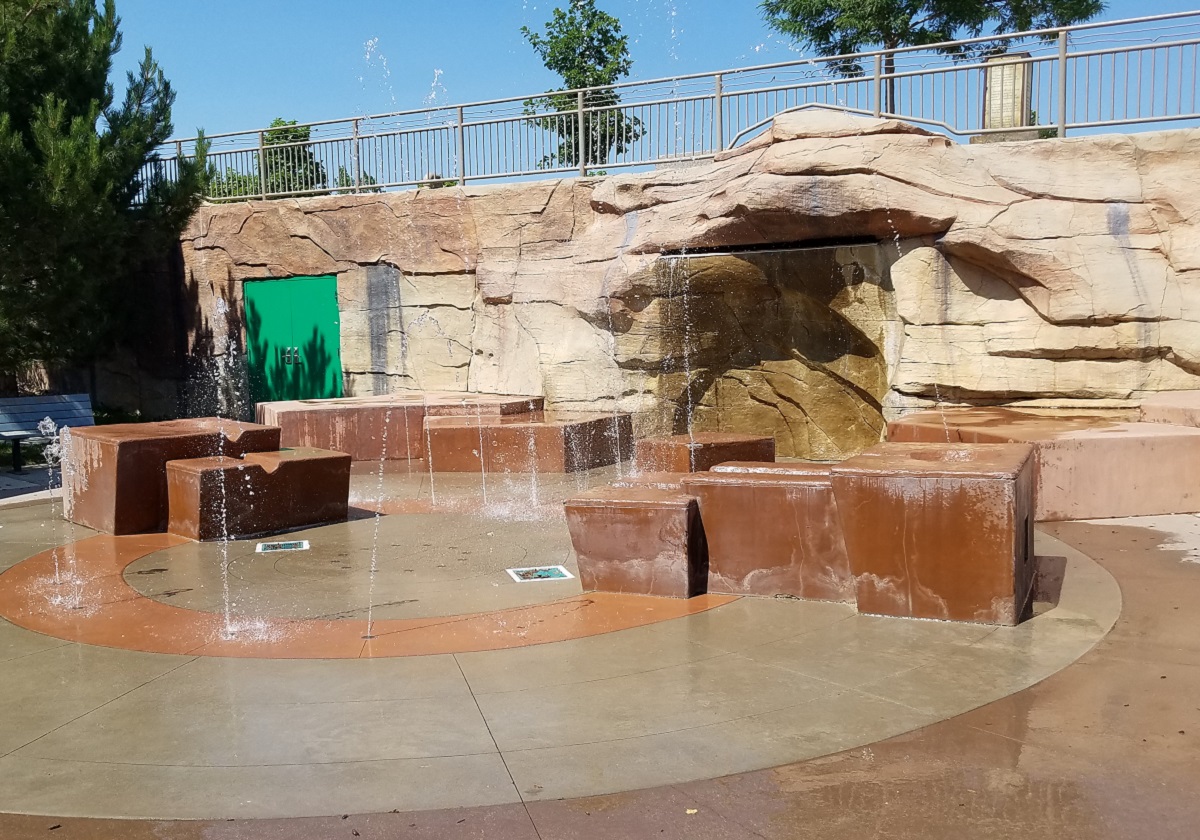 ---
DID YOU KNOW? At Elk Ridge Park, persons 21 years and older may consume "fermented malt beverages or vinous alcohol (wine)" during regular business hours.
---
The southwest area of the playground is for ages 2-5. The playset has a swinging bridge and a slide that is perfect for my 3-year-old. He climbs over everything, learning balance while having fun. There is also a corkscrew spinner pole. Both of my children love to spin on it.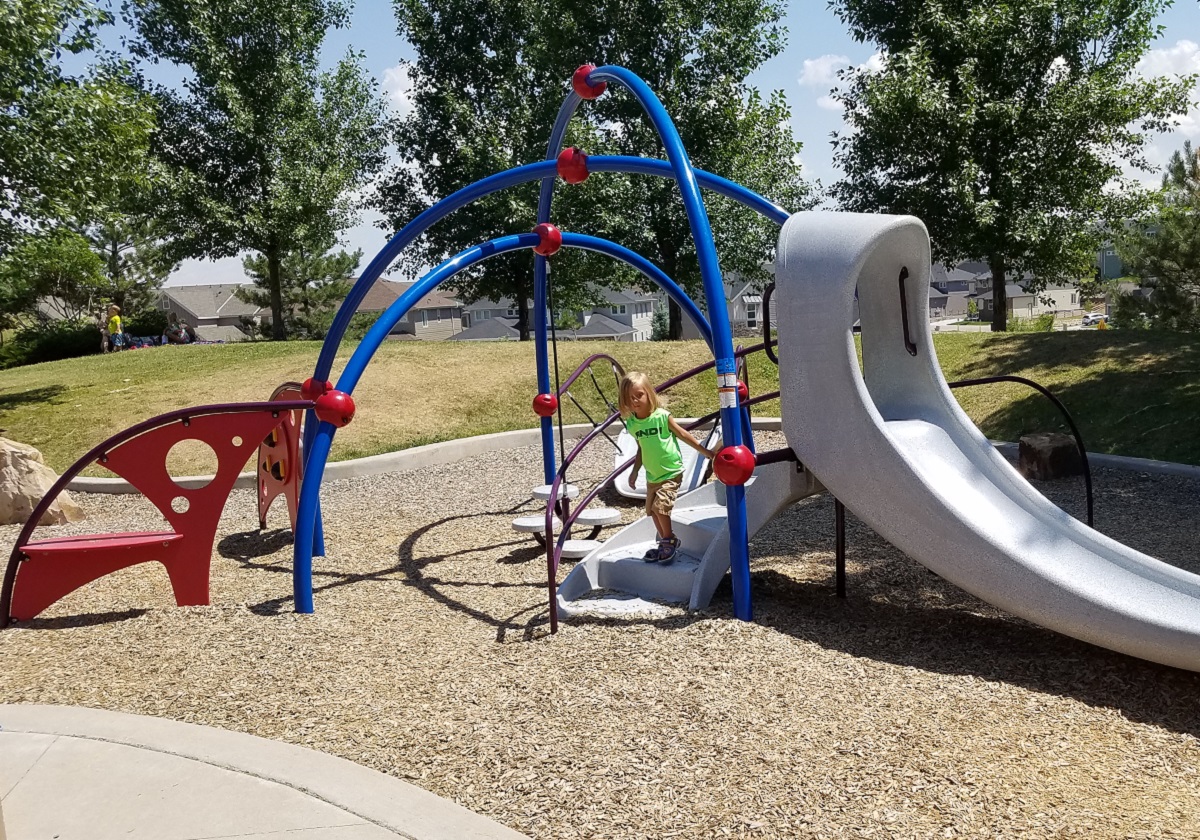 The main area of the playground is best for ages 5-12. There is a large climber playset, a sit-n-spin, and a couple of surfer balance boards. There is a merry-go-round net climber that can hold a ton of kids! This is a favorite of my 7-year-old. I get my exercise pushing him around on this. He would stay on it all day if he could.
The north side of the playground has a giant covered slide. There are a couple of ways to get to the top of the slide. The most fun way is to climb the rocks to the top. You can also climb a staircase built into the side of the hill. Underneath the slide is an adobe structure with a musical area that includes drums and chimes that you can ring.
At the top of the stairs is a mesa with a sculpture garden, a perfect place for outdoor yoga at sunset or sunrise. The sculpture garden is peaceful and a lovely place to reflect and meditate. It holds a great view of the playground, splash pad, and the vistas below.
Between the restrooms and the giant slide is a tunnel that takes you into a valley with plenty of open space, natural hills, and vistas. There are three rentable picnic shelters here.
Whenever we visit Elk Ridge Park, we all go away exhausted. It truly is a place for a great time for all generations.
FEATURES
Multi-use field (Reservable)
Playground
Mesa with sculpture garden
Tunnel
Splash pad (Open 10:00 AM–5:00 PM)
Natural open space
SEATING
Shelter/Pavilion (Reservable)
Playground shelter (Not reservable)
Picnic tables
Multiple benches
AMENITIES
Drinking fountain
Electrical outlets
Public restrooms
Portable restrooms
Bike racks
Stroller friendly paths
NEARBY SWEETS AND TREATS
Right down the road from Elk Ridge Park is Ziggi's Coffee. Stop and treat your children to something yummy on the KidZone Menu like a Cotton Candy Blender or Unicorn Punch. For a delicious meal, check out The Berg Haus. Their Angus burgers on brioche buns are irresistible. Finish your meal off with a sweet pretzel dipped in caramel sauce.
Get outside and play more! Visit the Parks and Playgrounds section of our directory to learn about other Douglas County parks.
---
Want more local family-friendly info like this?