Redstone Park
3280 Redstone Park Cir., Highlands Ranch
Hours: 5:00 AM–11:00 PM
As I was trying to decide which park to visit for this week's Douglas County Parks Series, someone suggested we visit Redstone Park in Highlands Ranch. I had heard the name before but had never had the chance to check it out. We decided to head on over.
This 53-acre community park has it all! In addition to the playgrounds and pond, there are a few large multi-purpose fields, ball fields with concessions stand, batting cages, practice fields, a tennis center, Shea Stadium, and a skate park.
Redstone Park was dedicated in 2000 but received an update to the playground in early 2018. When we drove up, my kids and I were in awe. Not only was it huge, but it was also beautiful. The playground color pallette is light purple and green with really unique-looking structures.
One of the things I'm starting to appreciate about Highlands Ranch parks is that the playgrounds near busier roads and parking lots have fences around them. These fences do not keep people out but keep wandering children inside and safe.
Redstone Park has two playgrounds, one designed for kids ages 5-12 and the other designed with toddlers and preschoolers in mind.
My older son loved the fun playset with what looked like wings made out of stained glass. The different stairs, monkey bars, and slides just dare you to have fun! There is a table with seats and a cutout window for imaginative play underneath the playset.
My son's favorite piece of equipment was the rope merry-go-round. It's at the perfect height so a child spinning the ropes can run and then lift their feet to swing around in the air. There's also a swing set with a round plate-like swing that can seat about two children comfortably.
The smaller playset has manipulative play features like spinners and finger mazes. Balance structures are a key part of this set, great for children learning to walk and building their core muscles. It also features a spring bike and a spring teeter-totter.
There is a smaller structure called Xscape Art. I was a bit perplexed with this one. I think it's designed for imaginative play, but most kids were just climbing onto the roof.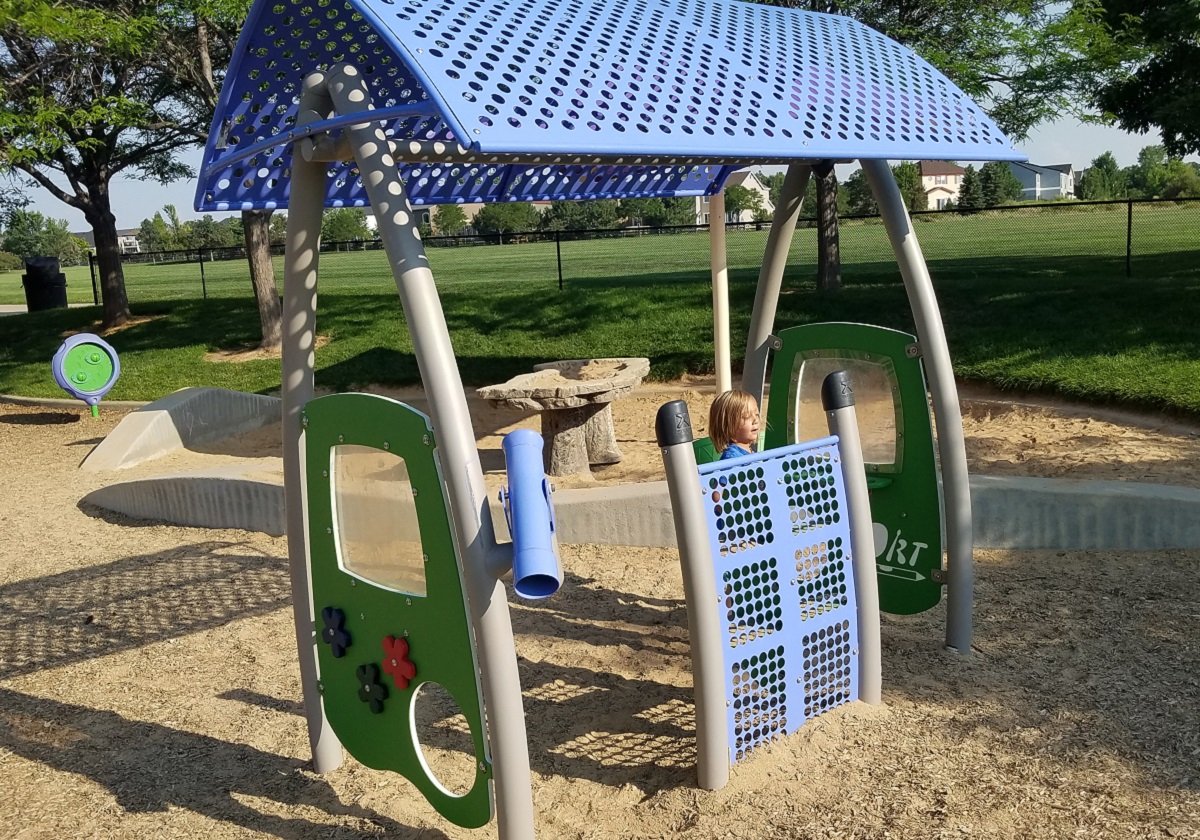 On the far side of this playground, you'll find a sand play area with a large dino dig sand table. Bring your own paintbrushes to dust them off, or use your hands. We filled our water bottles from the drinking fountain and poured them on the sand to make sandcastles.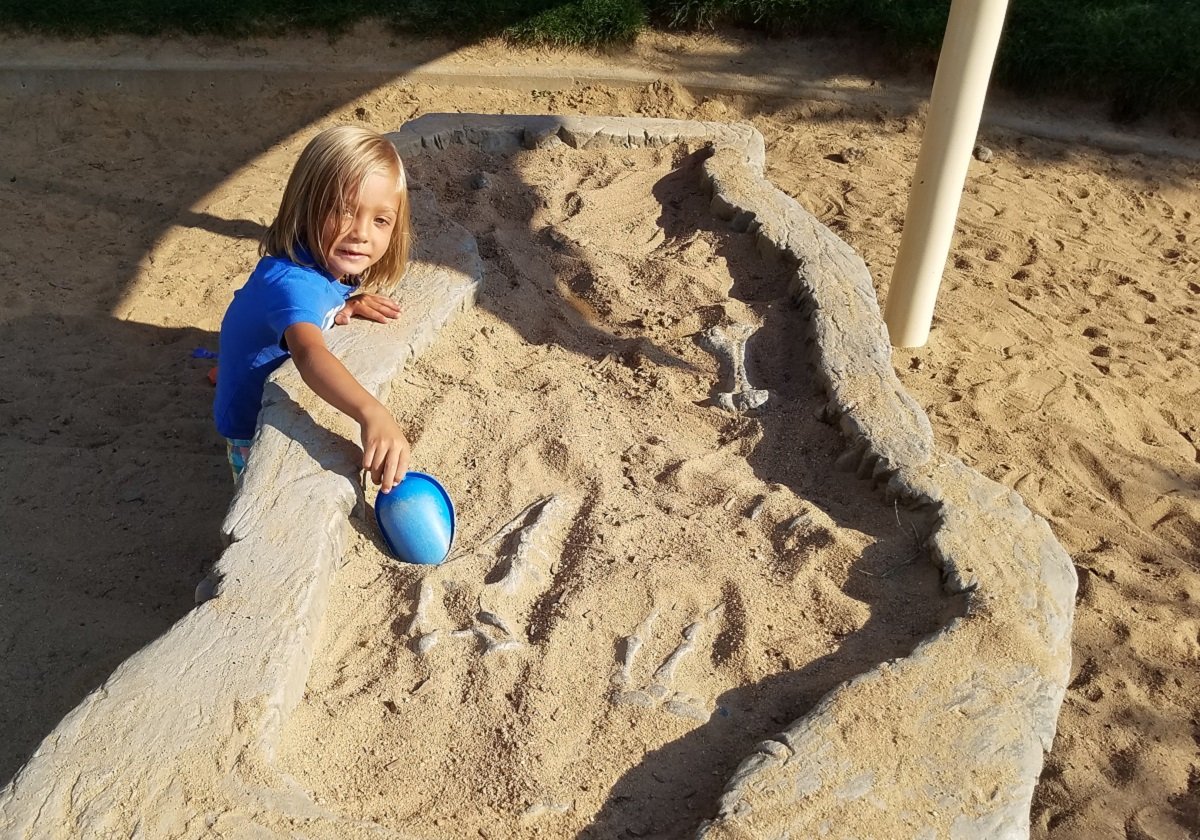 Just when we thought the playground couldn't get any better, I glanced up the hill and spied another play area between two shelters, with picnic tables, grills, electricity, and bathrooms. This area has a squiggle pole spinner and a climbing playset, a jungle gym for all ages.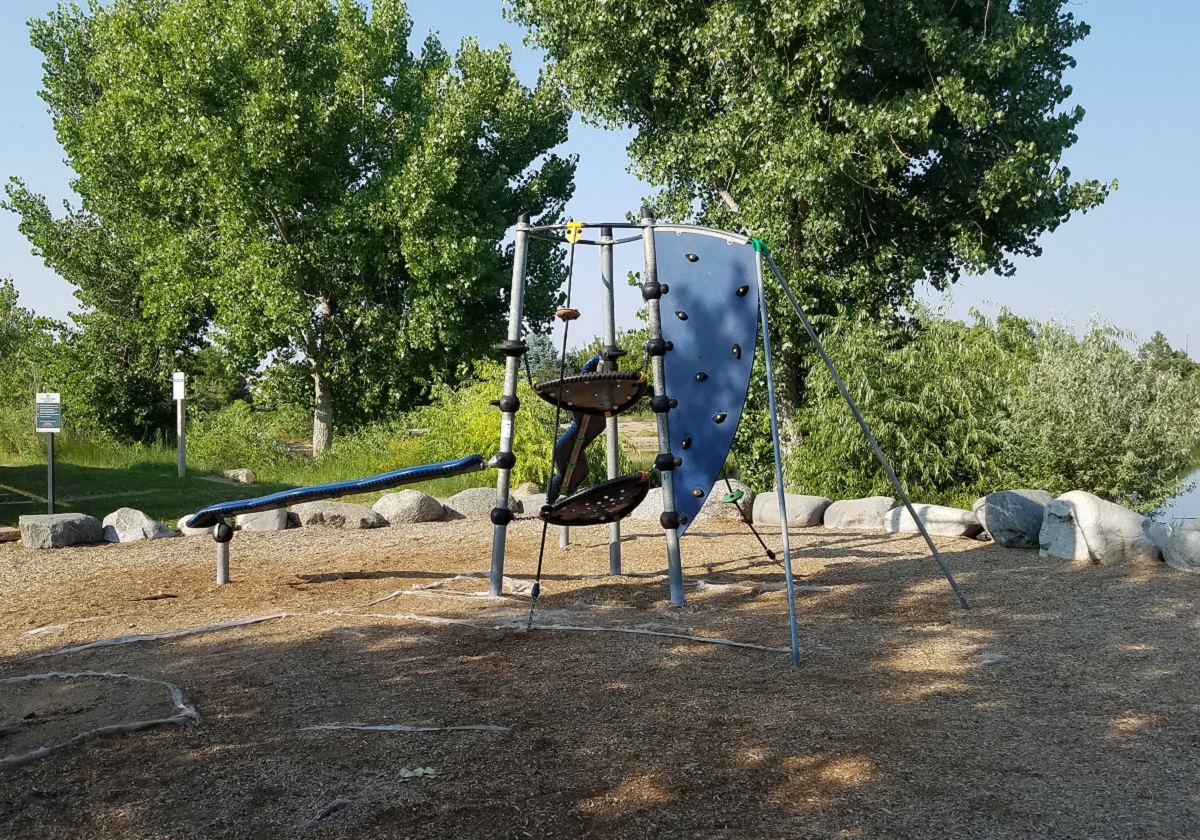 DID YOU KNOW? The Metro District's Picnic Packs are outdoor games that vary from volleyball to horseshoes, with fun for even the youngest crowd in mind. You can reserve Picnic Packs from the Highlands Ranch Metro District to enhance your party's entertainment.
Next to the playground is Paul's Pond. The landscaping is gorgeous. A small bridge leads the way to a shelter with a wheelchair-accessible fishing pier. Fishing is currently unavailable here; however, I've heard that the pond is usually stocked in April with bluegill, channel catfish, grass carp, and largemouth bass. Check their website or call before heading out to fish.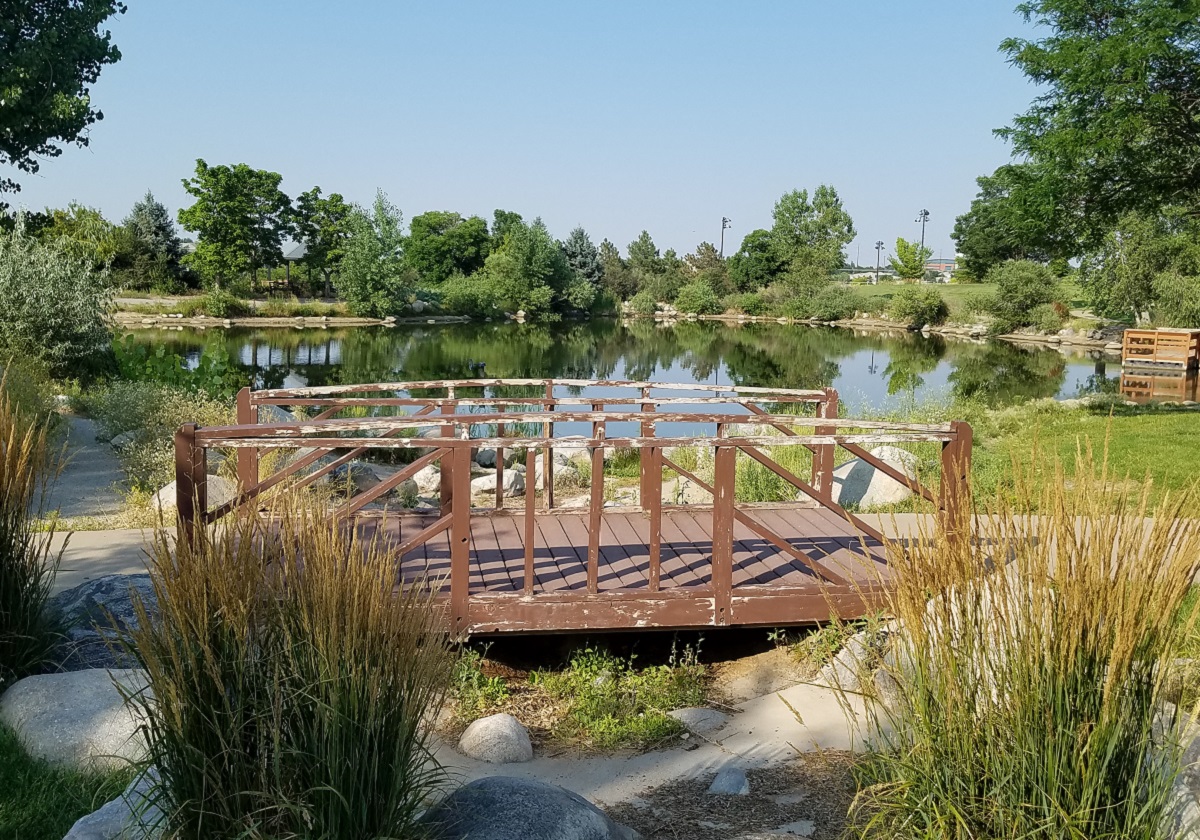 Before heading to the car to go home, we decided to take a detour to check out the skate park. It is a 22,000-square-foot fenced-in concrete park that features a beginner's bowl, street skating, and a curvy snake run with an 8′ vertical bowl. People were on skateboards, scooters, and even BMX bikes (without pegs per the rules), all riding around enjoying the bowls. It is one of the cleaner skate parks I've seen.
My children reluctantly got in the car to drive home. I had to promise to bring them again soon — with their scooters!
FEATURES
SEATING
AMENITIES
Drinking fountain with bottle fill station
Electrical outlets
Public restrooms
BBQ grills
Bike racks
Stroller friendly paths
NEARBY SWEETS AND TREATS
Gelato & Co. Cremeria Italiana is just a mile and a half up the road for a sweet treat. Check out Honey B's Macarons, about 2.5 miles from the park, for something more delicate.
Get outside and play more! Visit the Parks and Playgrounds section of our directory to learn about other Douglas County parks.
---
Want more local family-friendly info like this?