Bayou Gulch Regional Park
4815 Fox Sparrow Rd., Parker
Hours: Sunrise – Sunset
I have wanted to check Bayou Gulch Regional Park out for a while. I have heard about the large donation of land for trails, the dog park, and the mountain biking skills area. It was time to take a trip to the park to see it ourselves!
Bayou Regional Park is located about five miles south of downtown Parker near Ponderosa High School and Sagewood Middle School. This 205-acre park is owned and managed by Douglas County Parks.
On the way there, I couldn't help but notice the gorgeous scenery — the trees, open space, hills, and natural grasses were breathtaking. Photos don't do it justice; even the parking lot was beautifully landscaped.
DID YOU KNOW? In 2007 Bayou Gulch Regional Park received the Award of Excellence for Landscape Construction from Associated Landscape Contractors of Colorado. It also received the Gold Hard Hat for Outstanding Landscape Project from ENR Mountain States.
After we pulled in, the boys ran straight to the standing teeter-totter. Even though Sammy is twice Christian's weight, they could rock it fairly evenly and laughed as they went up and down.
The playground is surprisingly small for such a large park, but it does include all the features you'll find at most playgrounds: slides, climbing areas, swings, and the teeter-totter, as mentioned earlier. It has a contemporary ranch theme, with horseshoes, plants, and animals all over. Even the small sand area has hidden horseshoes that you can brush off. Bring some sand toys for added fun.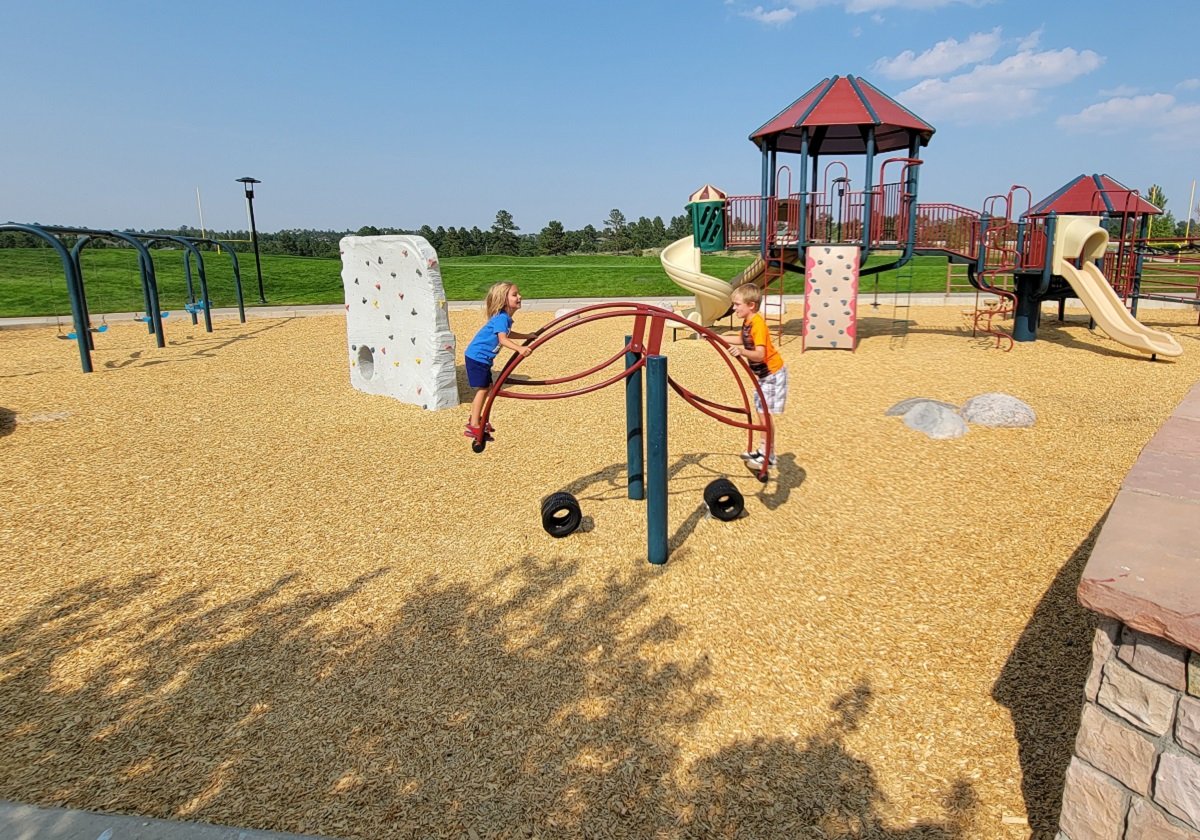 Next to the playground is a bouldering area with small boulders to climb over, including a lizard and a dog that look like they were carved out of the rocks.
On one side of the rock play area is a rippled sidewalk. The boys enjoyed riding over the ripples with their scooters and bikes.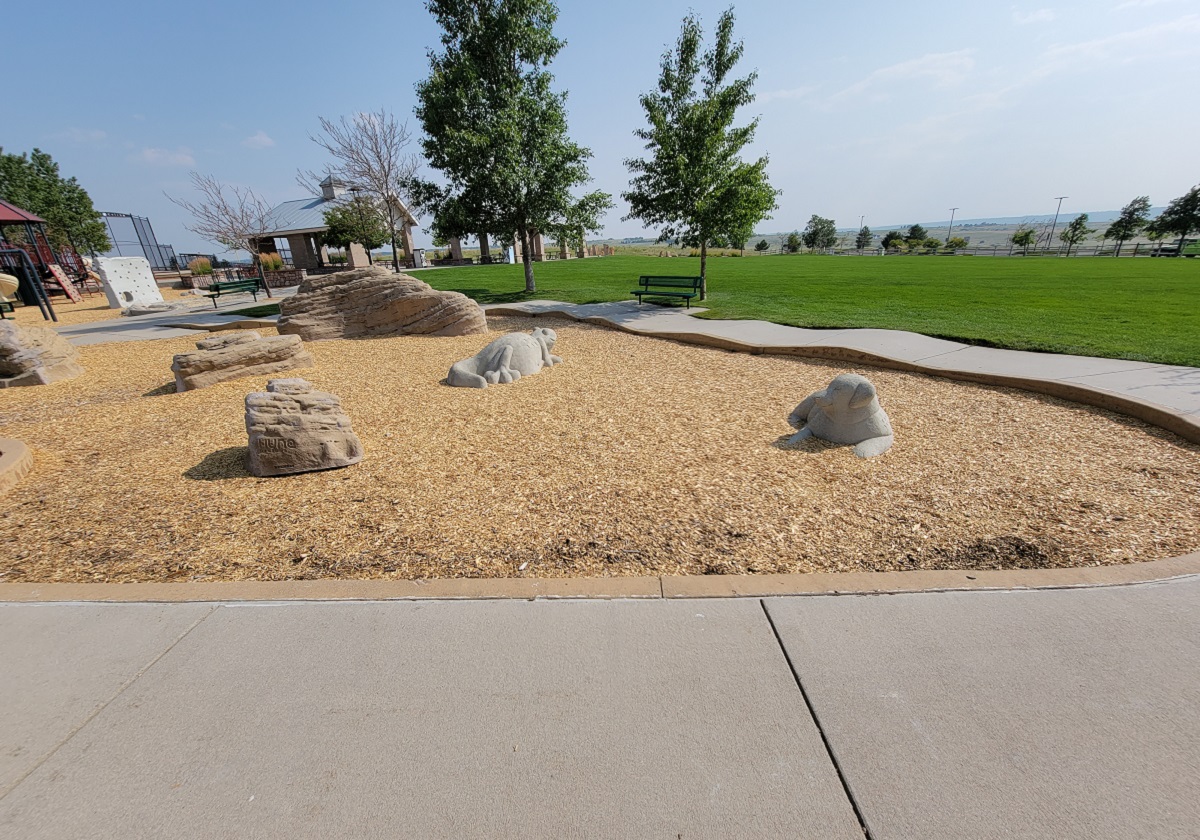 In addition to the playground, Bayou Gulch features an open grassy area, baseball field, football field, basketball court, two large pavilions, and steps that would be fun to skateboard on.
The east end of the park houses an off-leash, fenced-in dog park. There are two fenced-in areas to this dog park that they rotate through, letting the grass regrow on the side that is not in use. There are shade shelters between the fields where owners can keep cool while the dogs run.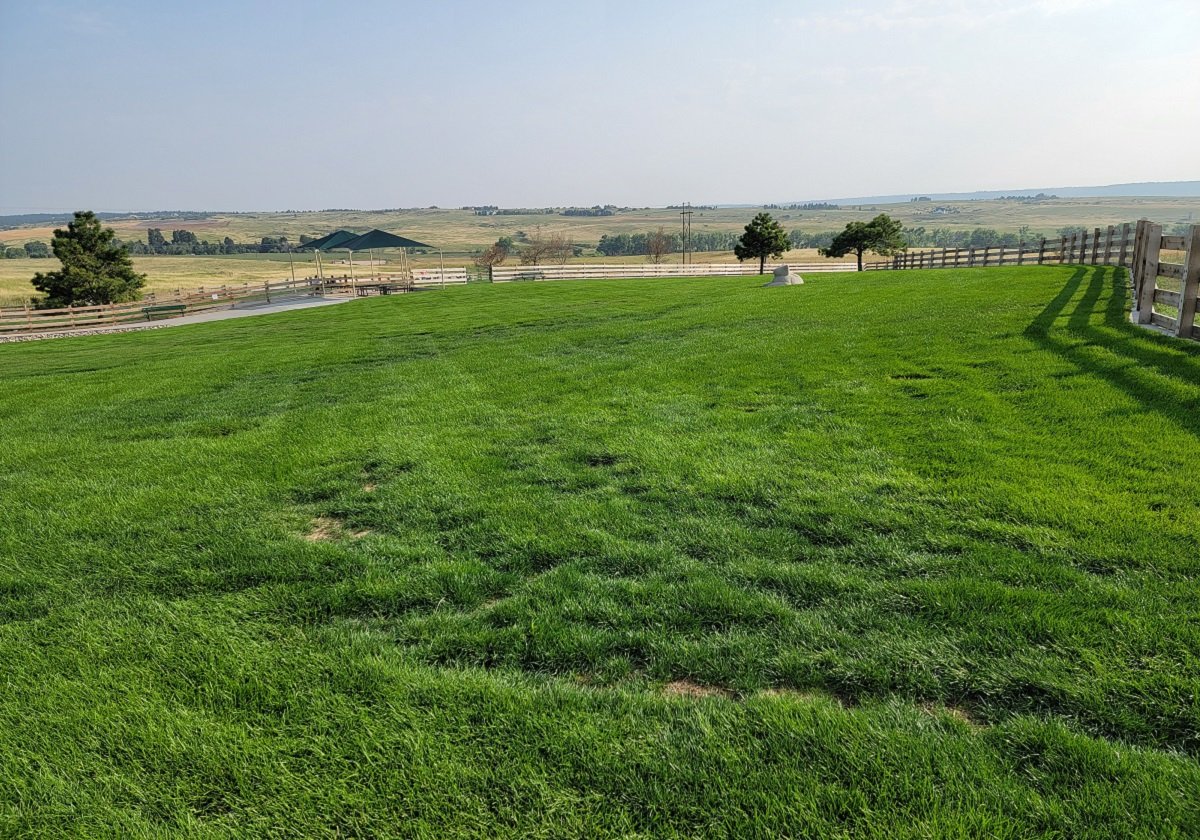 The mountain biking skills park is next to the dog park with beginner and intermediate loops and three intermediate flow trails. The boys enjoyed riding and trying their skills out. They said this is a place they would love to come back to over and over.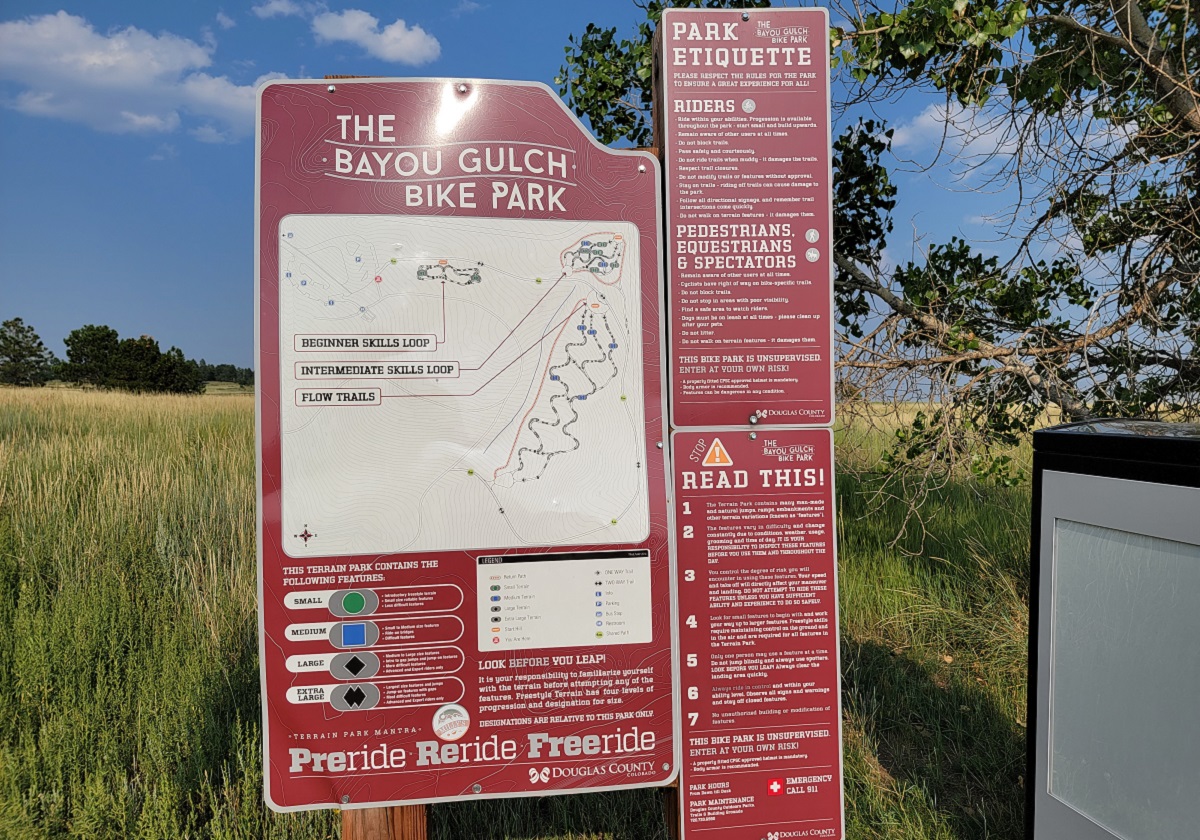 FEATURES
Playground
Ball court (Reservable)
Multi-use field (Reservable)
Multi-use ball field (Reservable)
4 miles of Mountain-Bike Skills Area
1.48 miles of concrete stroller-friendly trails
4.68 miles of natural soft-surface equestrian-friendly trails
2-acre dog off-leash park
SEATING
Pavilions (Reservable)
Picnic tables
Benches
Boulders
AMENITIES
Restrooms (Portable)
Drinking fountain
Three gravel equestrian stalls
Three parking lots
Electricity
NEARBY SWEETS AND TREATS
The closest restaurants are about five miles away in most directions. Go south to Franktown, east to Elizabeth, or north to Parker, and you can find something delicious. We ended up driving north to Butterfield's Ice Cream. It is peach season, and we were able to try out their freshly homemade Peach Crisp made with Palisade Peaches and waffle cone crisps. Yum!
Get outside and play more! Visit the Parks and Playgrounds section of our directory to learn about other Douglas County parks.
---
Want more local family-friendly info like this?