Dad Clark Park
3385 Astorbrook Cir., Highlands Ranch
Hours: 5:00 AM–11:00 PM
It has been so hot lately that we have been trying to go outside earlier and hide in the house through the afternoon heat. Earlier this week, I dropped off my older kid at school and took my little one to the next park on our list.
Dad Clark Park is hidden in the middle of a neighborhood. I would not have seen it if I had not been searching for it specifically. It's beautiful and lush with trees everywhere. There is a creek nearby, making it easier for plants to grow in the area.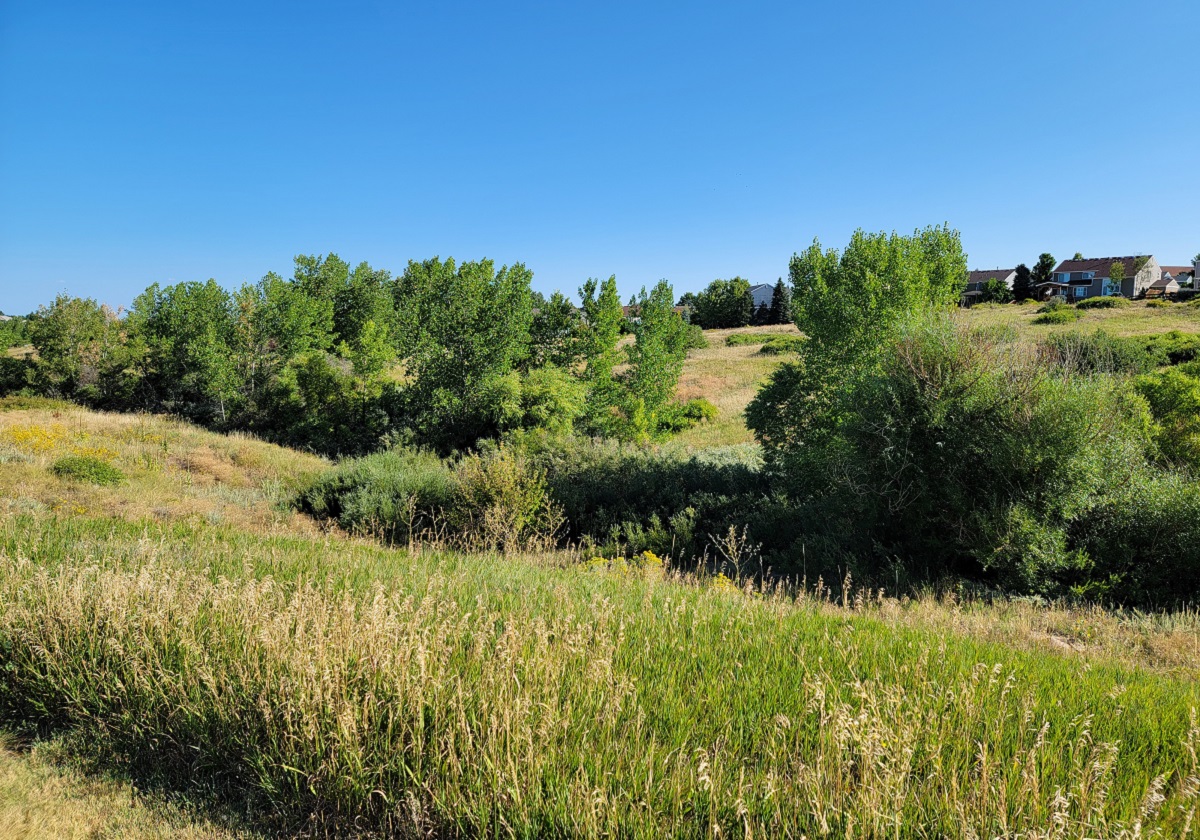 I knew that I wouldn't get Christian to go anywhere else once we went to the playground, so I decided to take us on a walk first. There is a paved trail that goes from the playground out to The Potato Patch organic community garden. If you continue on the path, it will lead you to the dog off-leash area about 1200 feet from the parking lot.
The door to the garden is locked so that the garden isn't disturbed. That didn't keep us from walking outside the garden, looking at the beautiful veggies, fruits, and flowers within. We saw bumblebees pollinating the flowers, and we even spied a hummingbird having lunch in the marigolds.
---
DID YOU KNOW? Dad Clark Park was named after Rufus Clark, one of Highlands Ranch's original homesteaders. He was nicknamed "Potato King" after a large haul of potatoes in 1859, which is where the community garden got its name.
---
After enjoying the sights in the garden, we headed to the playground. This playground was redesigned and renovated at the end of 2019 with input from the community and reopened at the beginning of 2020. The playground upgrades incorporated more shade, more slides, more climbing equipment, and more color.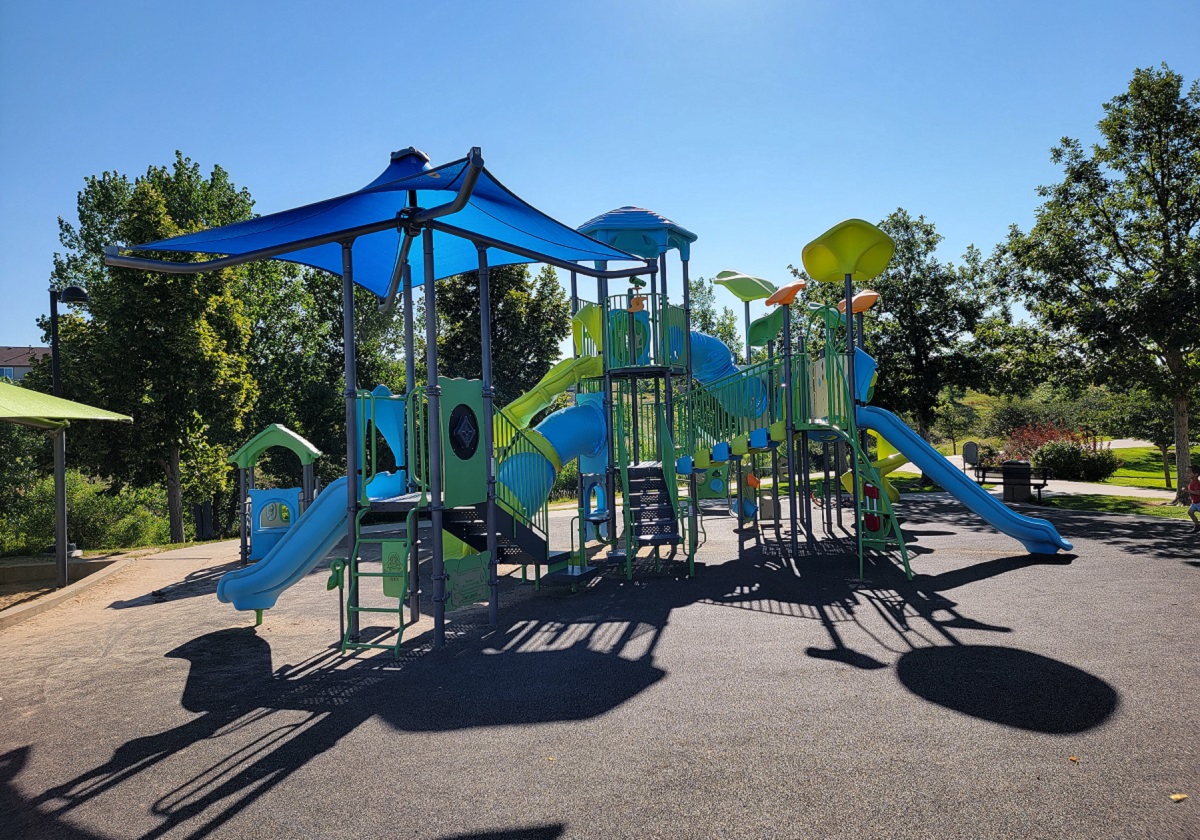 Our first stop was the sand/water area. There were some communal sand toys as well as toys that friends brought to share. We took off our shoes and started scooping and pouring. It's a nice large sand area with a table to play on. The water (seasonal) helps to build sandcastles.
Next, we went to the rope merry-go-round. If your child is looking for friends to play with, this is the best one to try first. As soon as we got to it, children came running from all over. I pushed the ropes around a few times until all the kids were dizzy and ready to get down. It was time to check out the large play structure.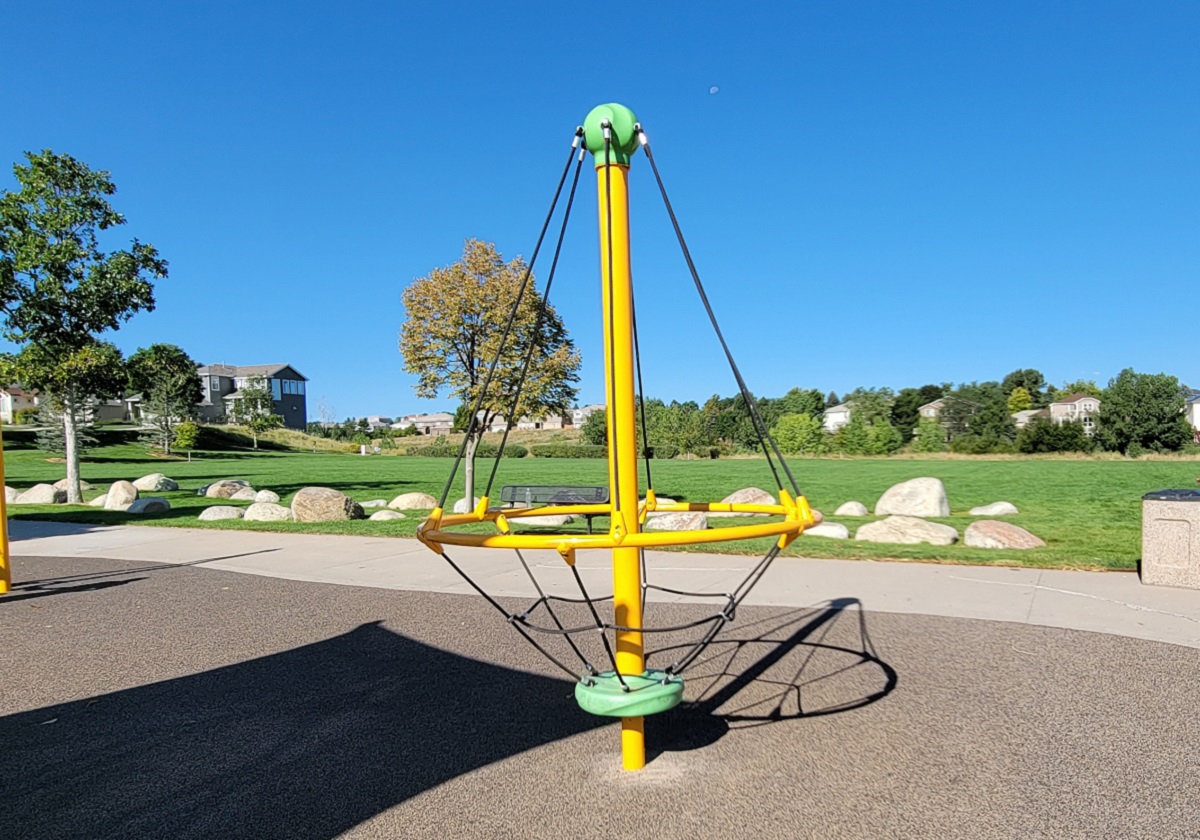 There are two smaller play areas for younger children where you can find sensory panels for toddlers to play with. The larger play structure also has sensory panels throughout, which act like gears, a piano, wind chimes, and a drum.
One of my son's favorite features was the scavenger hunt. There is a panel under the playset with ten different items to find that are hidden on poles throughout the playground. It was fun to climb all over searching for these. He was very excited each time he found a new one.
This playset can be fun for hours, with numerous ways to climb, travel, and slide down. It's a great place to play hide and seek. Parents can keep an eye on the children from under the shade of the trees while the kids hide from each other in and behind tunnels, slides, and more.
There is a large basketball court next to the playground. The court was full of mulch when we visited, so we couldn't play a game, though we still had room to practice our shots. Neighborhood kids were riding their bikes over the mulch piles, using them as ramps.
FEATURES
SEATING
AMENITIES
Restrooms
Electricity
BBQ Grills
Water fountain
Fully ADA-Accessible
Paved trails
NEARBY SWEETS AND TREATS
One of my favorite pizza places, Parry's Pizzaria and Taphouse (2020 Macaroni Kid Gold Daisy Award for Best Pizza), is about a mile north of the park. I am a huge fan of their calzones, especially the Pearl Pizza in calzone form. What's even better is that Rocket Fizz is right next door! Grab your favorite candy, and try one of their hundreds of different fun flavors of soda.
Get outside and play more! Visit the Parks and Playgrounds section of our directory to learn about other Douglas County parks.
---
Want more local family-friendly info like this?