Apple-picking adventures and the smell of autumn in the air. Sunny days and cooler nights. Ever-changing landscapes full of beauty. September gives us plenty of reasons to celebrate!
If you need a few more, we've got some special holidays on this month's printable calendar. Place it wherever you'll see it as a reminder to celebrate both the serious and the silly this month.
Simply click on the image or CLICK HERE to download and print!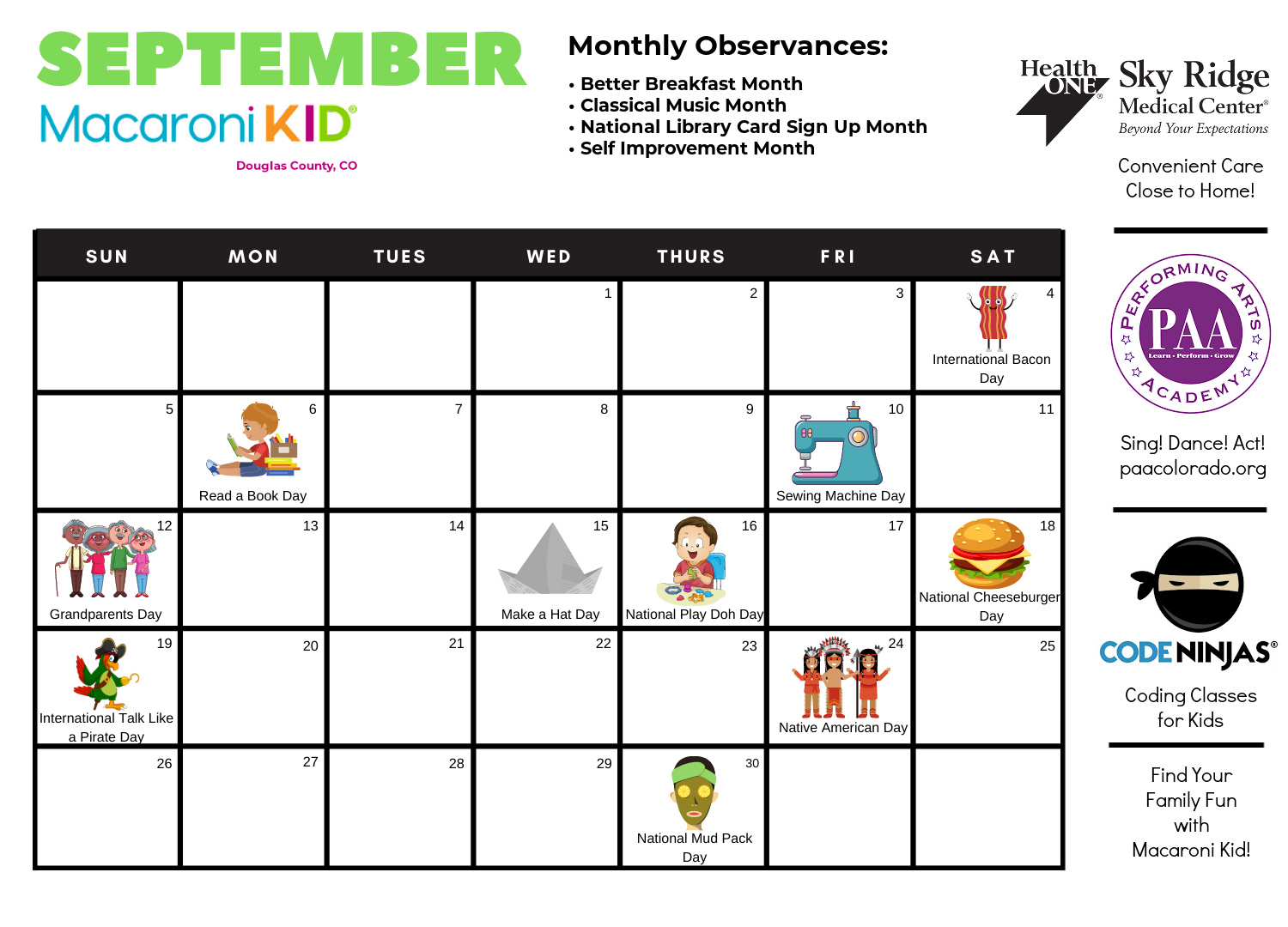 ---
MONTHLY OBSERVANCES
BETTER BREAKFAST MONTH
If you've heard it once, you've heard it a hundred times: Breakfast is the most important meal of the day. But it isn't always easy to put a nutritious breakfast on the table and still get everyone out of the house on time. We have 10 breakfast ideas that are low in added sugar, high in fiber and protein, and have at least one serving of fruit or veggies... and can be prepared in five minutes or less!
CLASSICAL MUSIC MONTH
Tchaikovsky. Mozart. Brahms. Beethoven. Each fall, the Highlands Ranch Cultural Affairs Association presents a three-part series of classical music, held at the Highlands Ranch Mansion. Bring more music into your life
NATIONAL LIBRARY CARD SIGN UP MONTH
Does your child have a library card? If not, now is the perfect time to get one. It will save you money, expand your child's horizons, and teach them responsibility. Register here for a DCL library card.
---
DID YOU KNOW? Hennen's American Public Library Ratings voted Douglas County No. 1 for libraries that serve populations between 250,000 to 499,000.
---
SELF IMPROVEMENT MONTH
In my experience, self-improvement begins with self-care. We mothers are great at taking care of everyone else but often neglect ourselves. Our Self-Care Gift Guide has ten ideas you can implement this week.
---
SEPTEMBER HOLIDAYS AND WAYS TO CELEBRATE
SEPTEMBER 4: INTERNATIONAL BACON DAY
Bacon, bacon, how do I love thee, bacon? Let me count the ways! If you're heating up the barbecue this weekend, try our Grilled Bacon-Wrapped Meatballs.
SEPTEMBER 6: READ A BOOK DAY
I used to be a voracious reader but parenthood and all the rest of life's demands sometimes gets in the way of my reading time. Our Busy Parents' Guide to Reading has five tips to help you find more time to read.
SEPTEMBER 10: SEWING MACHINE DAY
Do you have a sewing machine? Do you use it? Most people don't have to know how to sew their own clothes but everyone should at least know how to sew a button back onto an item of clothing. Here's a great tutorial for a variety of button styles.
SEPTEMBER 12: GRANDPARENTS DAY
Is there anyone better than a grandparent? They provide us with unconditional love, comfort, wisdom, and virtually infinite amounts of sugar! Whether the grandparents are down the street, on the other side of the country, or across an ocean, we've got 10 ways for grandparents to bond with their grandkids.
SEPTEMBER 15: MAKE A HAT DAY
With Halloween around the corner, now's a great time to make a DIY Witch Hat. Want to make a tissue paper hat for Día de Los Muertos? Check out this fun video and start practicing!
SEPTEMBER 16: NATIONAL PLAY-DOH DAY
Did you know that Play-Doh was originally sold to clean wallpaper? It didn't become a popular item for kids until Captain Kangaroo promoted it on his show in the 1960s. The product was inducted into the Toy Hall of Fame in 1998. If you don't have any Play-Doh in stock, it's easy to make your own. Try one of our "recipes" and then play the day away.
SEPTEMBER 18: NATIONAL CHEESEBURGER DAY
Visit your favorite burger place and celebrate! Bonus points if it's locally owned!
SEPTEMBER 19: INTERNATIONAL TALK LIKE A PIRATE DAY
Avast, me hearties! Aaargghh you a pirate at heart? We've got 10 great ideas to help you celebrate International Talk Like a Pirate Day that you can do with hardly any planning at all!
SEPTEMBER 24: NATIVE AMERICAN DAY
Native Americans are an incredibly important part of our country's heritage. Learn more about the significant contributions that the first Americans made to the establishment and growth of the United States, and more specifically, where we live in Colorado. This article from one of my sister publishers, How to Teach Our Kids About Native Americans, is a good place to start.
SEPTEMBER 30: NATIONAL MUD PACK DAY
If you need a reason to book a day at a spa, here you go! If you don't have the time, money, or desire for a spa, you can make your own face mask using oatmeal instead of mud:
Process 4 tablespoons of old-fashioned oats in your coffee grinder or food processor until they have turned to powder.
Mix with 4 tablespoons hot water and 1 tablespoon milk; let stand for a few minutes.
Wash your face and then massage the paste onto your damp face.
Leave on for 10 minutes, and then remove with lukewarm water and a washcloth.
---
---
Get a FREE kid-friendly event calendar for Douglas County, CO full of festivals, fairs, activities, events, and more!
Sign up by
CLICKING HERE
!
---