Tallman Meadows Park
12335 Canterberry Pkwy., Parker
Hours: 6:00 AM–11:00 PM
Tallman Meadow Park is a 12-acre park in Parker near Legend High School (it's a favorite location for high schoolers to visit during lunch). Tallman Meadows lives up to its name; several acres in the park are natural meadows. The different grasses and wildflowers make an excellent shelter for insects and other animals.
You can look down over most of the park as you walk in from the parking lot. Christian glanced down the path and excitedly said, "I want to drive the car! You can sit in the back."
He ran straight to a metal outline of a car with a back seat and steering wheels. It is large enough — and sturdy enough — for parents and kids to sit on comfortably. His imagination took us on a safari where we saw elephants, giraffes, and rhinos.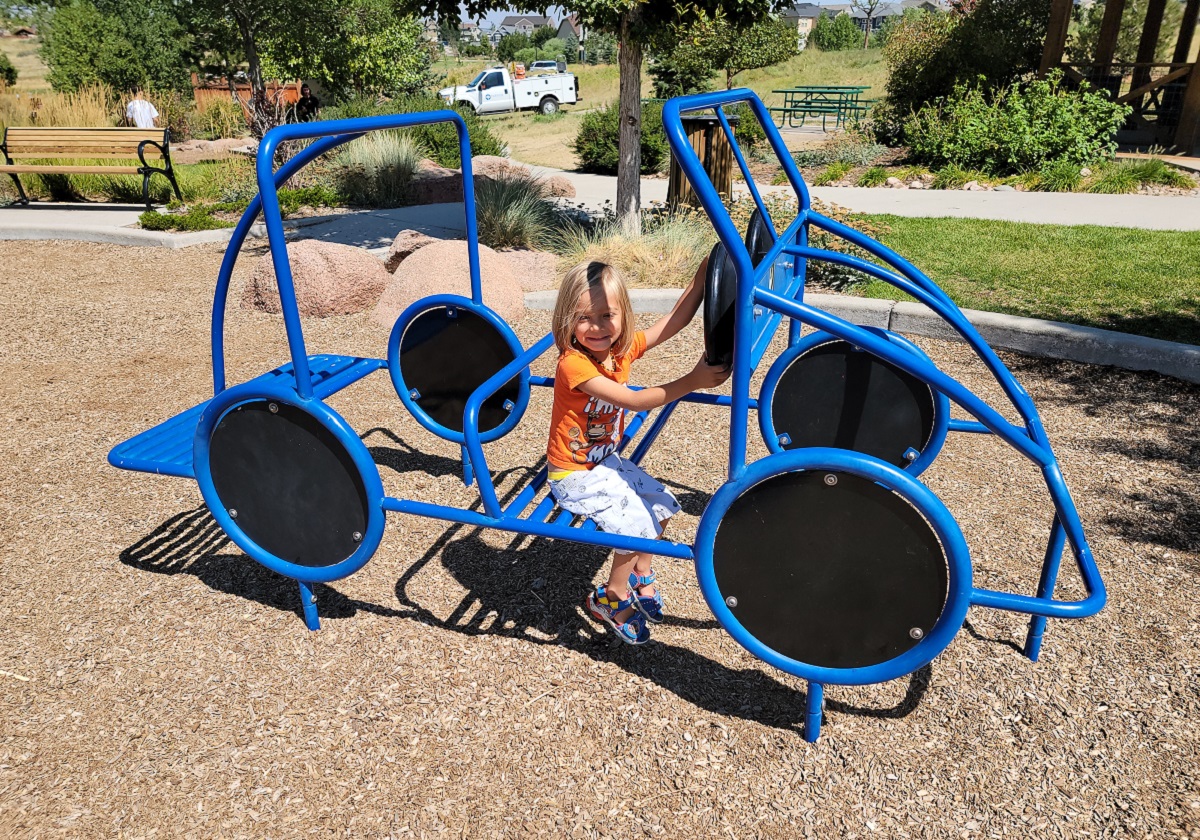 Once we were safely back in the USA, it was time to check out the slides. There are two playsets for younger children. One has three slides, more car-steering features, and multiple ways to climb up. The other is smaller with only a rolling slide. It is nice to know that if the playground is busy, your kids can still spread out while enjoying it.
There is also a swing set here and a pavilion off to the side where parents can sit in the shade while keeping watch over their little ones.
The playground designed for older children has a steep slide, curly slide, and a rock wall — all very tall. Since Christian is only 3, we didn't utilize the entire playset, but my oldest would be in heaven here... the higher, the better.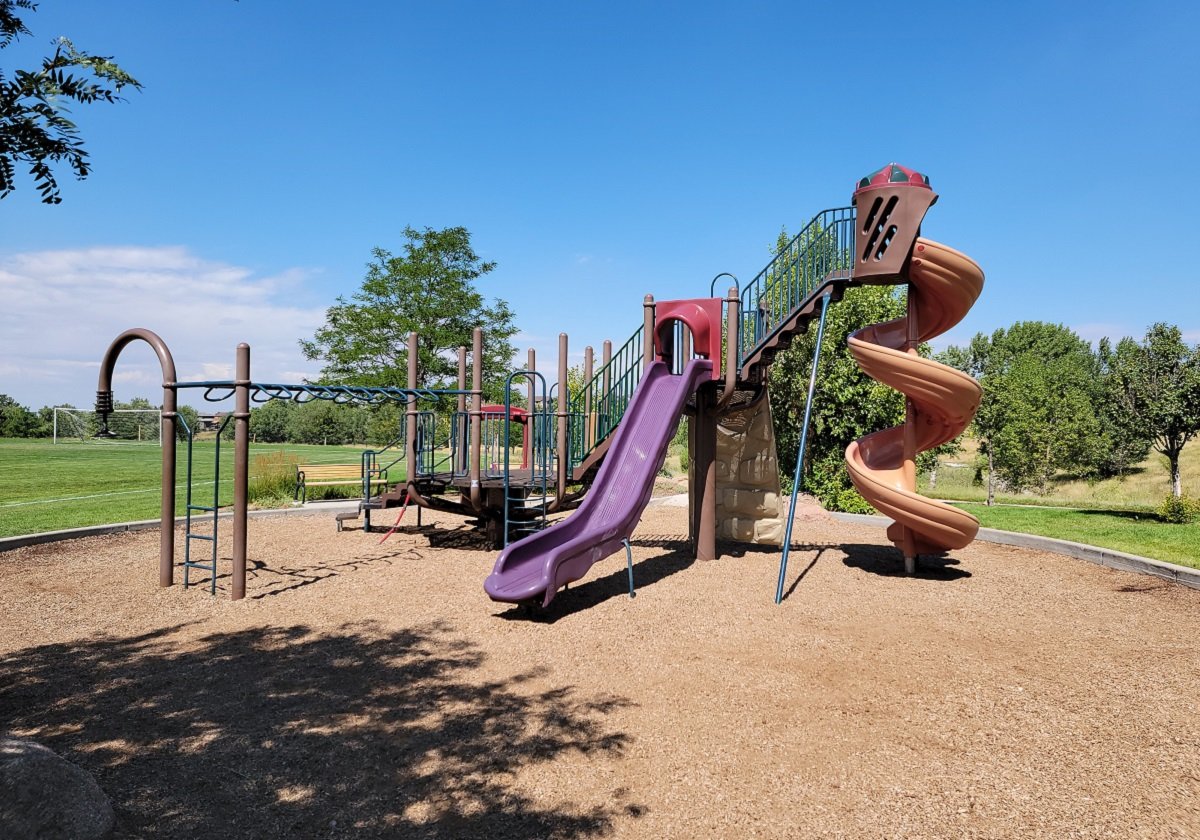 The playground is clean and well-kept. We ran into maintenance from Parker Parks and Recreation. The gentleman was picking up trash, mowing the bluegrass fields, and taking pride in the park. We thanked him and his team for keeping the parks so lovely.
He pointed out the trailhead down the path and suggested that we check that out. So, of course, we did. It took us down a path through a beautiful meadow where we saw black-eyed Susans, grasshoppers, bees, and even goldfinches! We hopped like grasshoppers, buzzed like bees, and crossed a pedestrian bridge that turned onto the Tallman Gulch Trail.
The trail was lined by a creek filled with cattails, or "hotdog flowers," as my child calls them. There is a small tunnel where the path goes under Canterberry Pkwy. We discovered a small pond where we saw multiple dragonflies and damselflies. They moved so fast that it was hard to capture a photo, but Christian was delighted to watch them.
After watching the dragonflies, we decided to fly like them on the path back to the car. It had been a fun-filled morning, but it was time to go.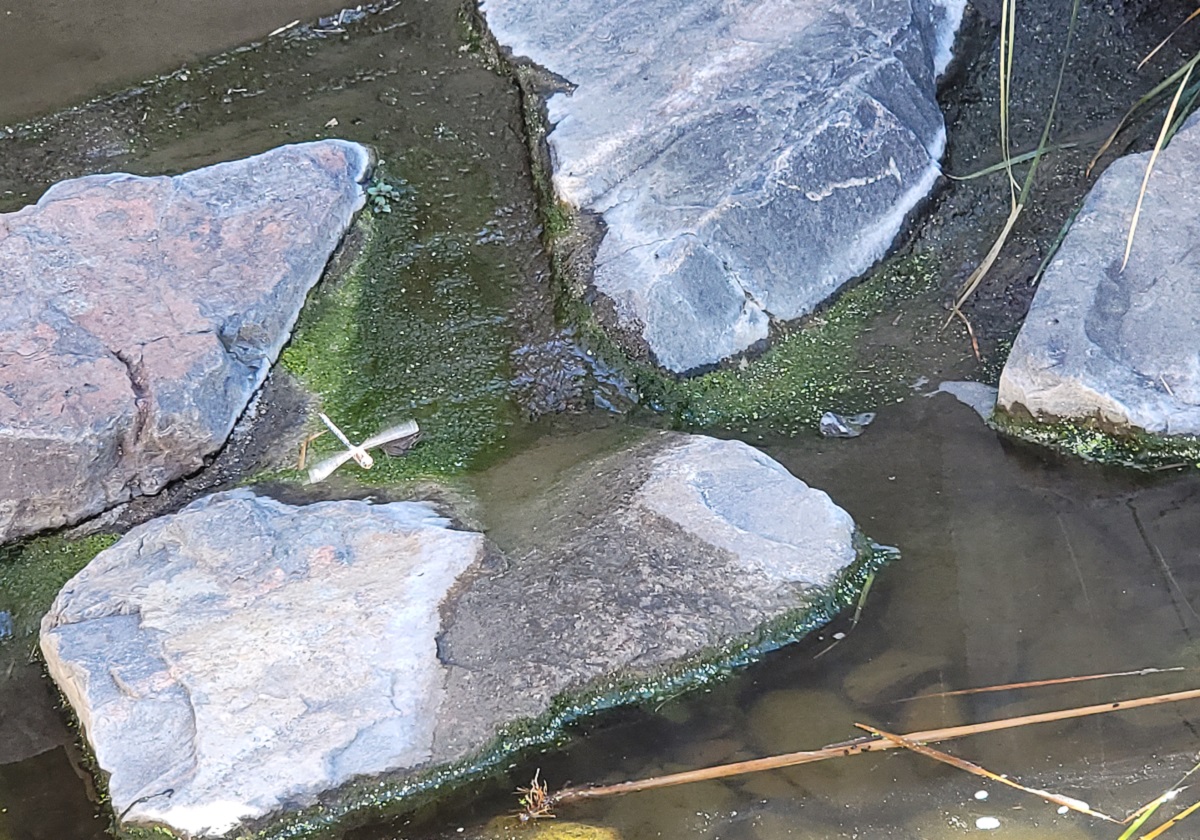 FEATURES
SEATING
Pavilion/Shelter (Reservable)
Benches
Picnic Tables
Boulders
AMENITIES
Restrooms (Portable)
BBQ Grills
Bike Racks
Educational/Historical Panels
Pedestrian Bridge
Trailhead Access
ADA-accessible and stroller-friendly
NEARBY SWEETS AND TREATS
Stop by Artisan Pizza for a personal pizza made to your specifications with as many toppings as you'd like. Next door is Hurts Donuts, where you can get a cotton candy donut with real cotton candy on top!
Get outside and play more! Visit the Parks and Playgrounds section of our directory to learn about other Douglas County parks.
---
Want more local family-friendly info like this?