Highland Heritage Regional Park
9651 S. Quebec St., Littleton
Hours: Sunrise-Sunset
This 92-acre park is located just to the South of the Post office in Highlands Ranch. There's a fun playground with lots of slides and obstacles, and a hidden playground that is just awesome! But what really drew me to it is the workout areas.
There are three separate areas to work out. One is between the dog park and the soccer fields. This one seems newer and is great if you want to workout in peace. It's a quieter area that you can be alone in nature.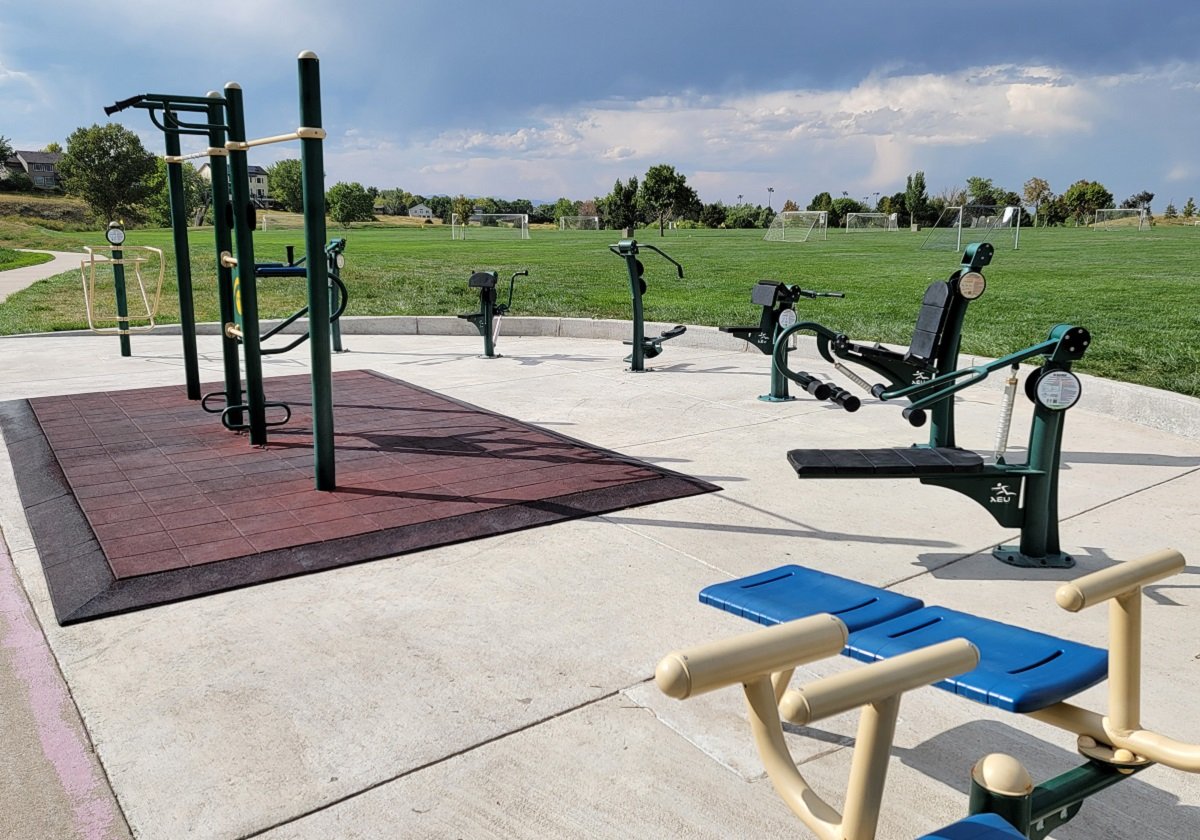 The 2nd area is a bit older and more worn. It's right next to the playground, which is good for two reasons. The first reason is so that you can workout while keeping an eye on your children while they play. The second reason is so you can introduce your children to workout equipment early in life, which can lead to healthy practices later in life.
Many of the stations use body weight for resistance, therefore it's good for all ages. Children should not play on these equipment, so make sure to supervise them and help them to figure out proper ways to use them.
The playground here looks like it has been well used. It is quite large with two separate play structures, one for smaller children and one for older children, connected by uneven monkey bars. The playground can get pretty busy, but as it's so large it's not noticeable.
The third workout area, hidden between the soccer fields and the West Fields, feels to me like it's a place to workout as a group. A smaller area with multiple seats on each structure brings people together to push each other and keep each other accountable.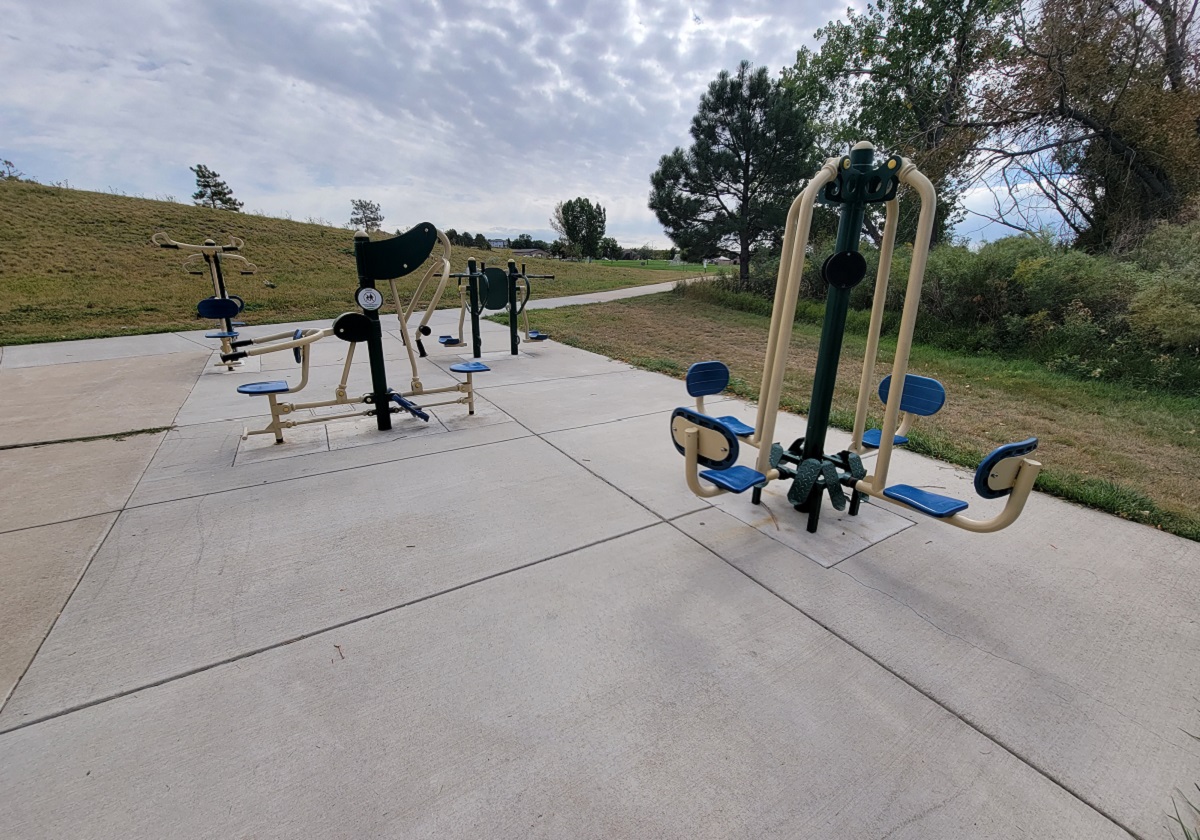 I've been to this park many times before and I've never been too impressed with the play area for kids, it was large but typical of any other park, then I found the park between the West Field and soccer fields.
This playground is definitely smaller, but it's brighter, cleaner, and has a couple pieces I've never seen before. The stand up swivel thing was fun, even for me to try. I also really liked the tree trunk to climb, it is a fun way to introduce your little ones to climbing in nature. There is a medium sized rock on the playground that is also conducive to climbing. It's shaded in the morning and very peaceful.
Next to this playground is a sand volleyball court (make sure to bring sand toys), a basketball court, and a large pavilion separated into 3 sections for multiple groups. I could see a family outing or birthday party being thrown here.
Last but not least, there is a ball field in front of a beautiful amphitheater. This two million dollar project was finished in June 2020. It is a beautiful setting for concerts and other community activities.
I can't wait to attend the FREE concerts in the park on Thursday nights in June and July. It will be fun for the whole family!
FEATURES
Playgrounds
Exercise grounds
Multi-use synthetic fields
Multi-use natural fields
Basketball court
Sand volleyball court
Amphitheater
Dog off-leash park
SEATING
Shelters/Pavilions (Reservable)
Picnic tables
Benches
AMENITIES
Concessions
Flush restrooms
Waterless restrooms
Drinking Fountains
Electricity
Stroller friendly
NEARBY SWEETS AND TREATS
Right up the road is the delicious Tamale Kitchen. I'm a sucker for fresh tamales, but they also have traditional fair like tacos, burritos, and quesadillas. About two miles west is Rocket Fizz, one of my favorite sweet shops. They have brown paper bags with surprise candy and toys inside. I like to grab one for each of my boys as a treat and then watch them open it. It's like Christmas.
Want more local family-friendly info like this?