Momentum Athletic Center has been keeping a new project under wraps for several months: MyMomentum.Fit, a mobile fitness app and instructional cheer program designed by Momentum's All Star cheer coach and developmental program director, Seth Colliver.
The app was created for two purposes:
1.) Create an engaging cheer-based fitness program for anyone looking for a fun way to get FIT and
2.) Provide a coaching resource with an easy-to-follow skills library for stunt work and tumbling.
The idea originated from Seth's own experience, growing up in a small town where spirit is plentiful but stunt training and resources are limited. Combined with his years of coaching internationally, Seth has witnessed many preventable injuries due to incorrect form.
"Cheerleading has seen a recent explosion in popularity," Seth explains. "In a society centered around social media and pressure that kids put on themselves to be the best, many are trying skills they aren't trained for and the injuries that can result can haunt them the rest of their lives. I'm trying to change that."
At first glance, Seth isn't what you expect a cheerleader to look like. More Liam Neeson than Zac Efron, Seth Colliver cheered for the University of Missouri for four years before teaching International Cheer in Korea, China, and Nigeria.
A 10-year UCA staff alum, Seth is also the Events Manager, All Star cheer and tumbling coach, and Developmental Department Lead for Momentum Athletic Center in Parker, Colorado.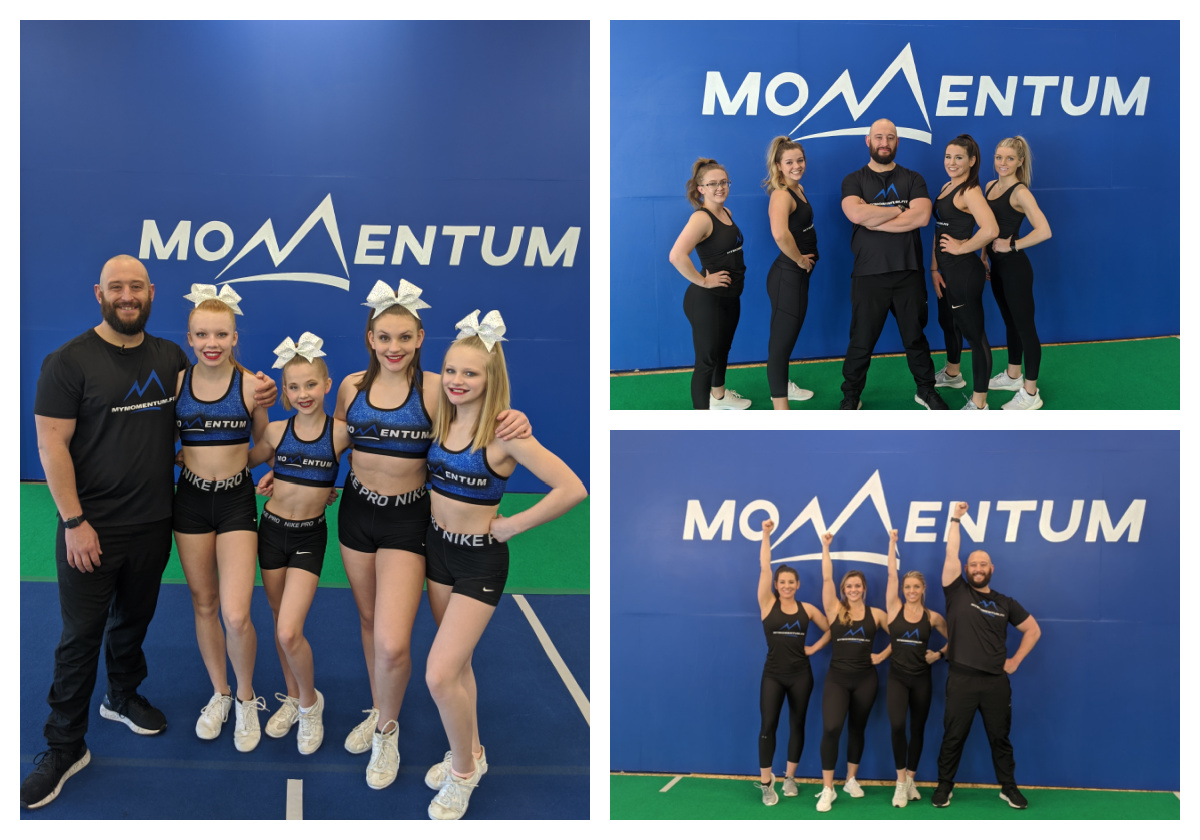 Seth may not look like a cheerleader but he's hopeful that his spirit is contagious and helps others realize that cheer is not just a girls' sport.
"The thing with cheering," he continues, "is that once you have cheered, you always crave that rush, so we've developed a program for that client — the mom or dad who wants to have fun, get an incredible workout, and relive their glory days."
A completely mobile experience all synced with your Fitbit or Apple watch!
DID YOU KNOW? Samuel L. Jackson, George W. Bush, and Michael Douglas were all cheerleaders during their college years.
MyMomentumFit demonstrates correct practice techniques, common pitfalls, and key performance elements. The program is designed to assist cheer coaches with correct stunting techniques, an integrated messaging app for their team, customizable training including full-body strength and flexibility workouts, cheer-based cardio workouts, and even remote video coaching sessions with Seth.
Seth hopes this app will become a resource used throughout schools nationwide.
MyMomentumFit is available to download on Google and Apple's play stores.
Its official launch is October 23rd as part of Momentum Athletic Center's 5-year anniversary party at O'Brien Park in Parker. This free event is open to the public. Enjoy a free workout from 3:00-4:00 PM and score a free trial plan on the new app!
---
Momentum Athletic Center
10831 S. Crossroads Dr., Parker
(720) 745-6656