Once November hits, the family starts talking about Thanksgiving. All the aunts start arguing (I mean talking) about who's hosting, who's bringing what, and what's going to be in the recipe.
I feel so lucky that my mom, Winnie, is the one who makes the stuffing every Thanksgiving. She makes it ahead of time, and the house smells so delicious. We are not allowed to eat it before the big Turkey Day. But who are you kiddin'? We are all elbow deep in that deliciousness when she's not looking. Thus the reason she always doubles the recipe!
She shared the recipe with me, and now I'm sharing it with you! Enjoy, and have a great Thanksgiving!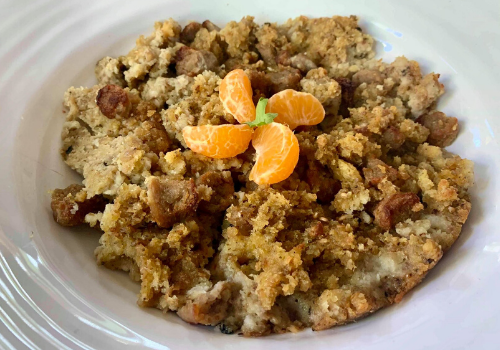 Grand Marnier Stuffing
2 cups Grand Marnier, divided
1 large orange
2 sticks butter (1 cup)
1.5 pounds ground pork sausage
2 pounds herb stuffing mix (or save your sliced bread and freeze it!)
2 cups chicken broth
2 cups celery finely chopped
1 large onion finely chopped
1 teaspoon dried thyme
1 teaspoon oregano
Salt & freshly ground black pepper
1. Place the orange and 1 cup of the Grand Marnier in a small saucepan. Heat to boiling. Remove from heat and set aside.
2. Melt one stick of butter in a large skillet over medium heat. Add the celery and onion and saute for 10 minutes. Add the sausage, breaking it up as it cooks. Cook the onion, celery, and sausage until the sausage is browned.
3. Add the stuffing mix to the orange with the liquid. Stir to combine.
4. In a separate saucepan, heat the remaining stick of butter and chicken stock just until the butter melts. Pour over the stuffing mixture and add the remaining 1 cup of Grand Marnier. Stir well to moisten the stuffing, adding the thyme, oregano, salt, and pepper to taste.
5. Bake stuffing in a large buttered casserole at 325˚F for 30-35 minutes.
6. Use the stuffing to stuff your turkey. You should have enough left over for a small side dish.
---
Erika Veduccio is the co-editor of Macaroni KID EATS.