Healthy eating and physical activity are important ways to support your child's growth and development. Parents can help their children make necessary changes to ensure they are eating healthier and staying active by making mindful choices each day.
The healthy habits your child learns now can last a lifetime.
---
Choosing the right snack
Parents have busy schedules and kids are equally as busy, which makes reaching for a bag of chips an easy on-the-go snack. However, those bags of chips, cookies, or pastries are low in nutrients and won't fuel your child for his or her active schedule.
Building a snack that will provide the nutrients they need should include fiber and protein.
Snacks with protein and fiber:
Peanut Butter & Banana Roll-up – Spread 1-2 tablespoons of peanut or nut butter on a whole-wheat tortilla and roll it up with banana or apple slices.
Trail Mix – Have your child build their own trail mix with dried fruit, nuts, and popcorn in a snack-sized bag.
Dairy & Veggies – Try a single-sized yogurt or cottage cheese paired with baby carrots, cucumbers, sliced peppers, or tomatoes.
---
Ordering In and Eating Out
There are nights when you need a night off from cooking or maybe you only have time to grab an easy dinner out after a long day. Meal delivery services have become more popular over the past couple of years and make for a convenient alternative. Making healthy choices based on online menus can prove challenging.
Tips when ordering in or eating out:
Rethink your drink choices – Opt for water, unsweetened tea, or low-fat milk instead of sugary soft drinks.
Choose better sides – Consider steamed vegetables or fruit.
Watch for certain words – "Crunchy," "crispy," "battered" and "breaded," as well as "creamy" and "cheesy" often mean these foods are higher in fat or calories.
Set your own portions – Ask for a "to-go" box as soon as your meal is delivered and save half of it for lunch the next day. When ordering in, plate your food rather than eating directly from the container. This will allow for a more appropriate portion size so you can avoid over-eating.
---
Exercising Together
It's never too soon or too late to start exercising. By creating a family culture of activity and seeing parents who value fitness and wellness, children are more active and healthier. Your child will model their lifestyle choices after your own, so live your life like you want your children to live theirs at your age!
Additionally, exercise will reduce stress, illness, and other health diseases including depression. It will increase your quality of sleep, energy level, and life longevity.
Strategies to increase activity:
Set a minimum amount of time for physical activity each day.
Limit screen time and sedentary time.
Adapt fitness to your children's personalities and motivations.
Take a family walk around the block. Bonus: make it a scavenger hunt.
If your children are learning from home/online learning, consider a standing desk or take stretch breaks throughout the day.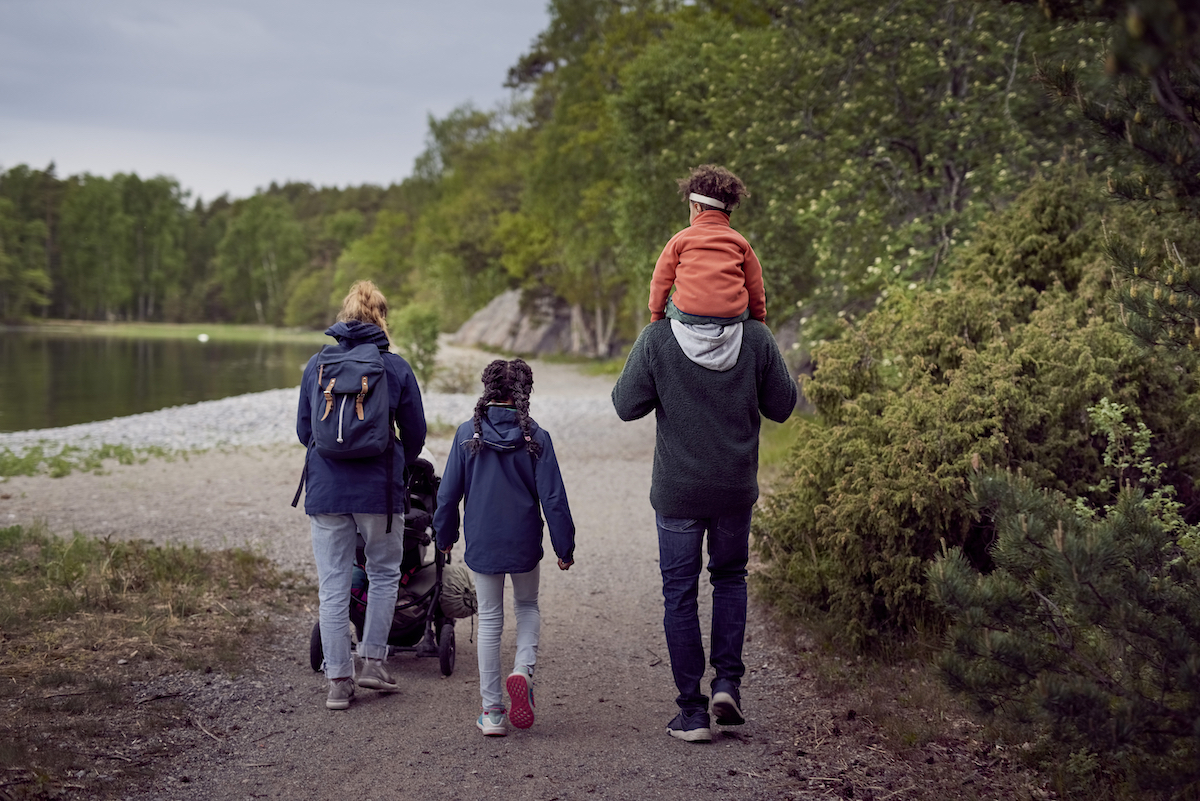 Start small by incorporating these lifestyle tips for nutrition and activity in small doses. Try swapping in a new snack one day and going for a family walk on another day. Remember children imitate adults, start adding healthy habits into your daily routine and encourage your child to join you.
---
Sky Ridge Medical Center is Here for You
Since its opening in 2003, Sky Ridge has grown to become a 284-bed destination hospital with a reputation for clinical excellence and world-class service. Sky Ridge offers compassionate care through patient-centered programs such as a comprehensive Cancer Center, adult and pediatric ERs, an award-winning Birth Place, and a state-of-the-art Spine and Total Joint Center.
For more information about pediatric care at Sky Ridge Medical Center, please visit healthonecares.com/specialties/pediatrics or call (720) 225-KIDZ (5439).
---
Sky Ridge Medical Center
10101 RidgeGate Parkway

Lone Tree, CO 80124
WEBSITE • FACEBOOK • TWITTER • YOUTUBE