The Beijing 2022 Olympic Winter Games have begun and we are "snow" excited to cheer on all our favorite athletes on Team USA!
This year's Winter Olympics include a record 109 events and feature 224 Team USA Athletes ... and it is all being streamed in real-time from Beijing. See the full schedule here.
Want to get the kids pumped up for all the excitement? Go for gold and inspire their love of the Winter Olympics with these five easy crafts and activities.
---
| | | |
| --- | --- | --- |
| | Serhii Yevdokymov via Canva | |
Choose a country
Have everyone in your house choose a country to follow. Research each country and have everyone share five facts about it. Keep track of their medal count throughout the Winter Games.
Go the extra mile: Create a dinner menu with some traditional foods from each country for a special family night!
---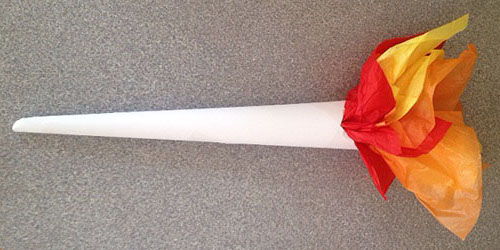 Light that spirit with your very own torch
No opening ceremony is complete without a torch! The Olympic flame represents purity and a quest for perfection.
What You Need:
11x17 piece of white paper (other sizes work too!)
Clear tape
1 sheet each of yellow, red, and orange tissue paper
Glue
What You Do:
Roll the white piece of paper into a cone shape and tape it closed.
Layer sheets of tissue paper flat on the floor. Grab and gather the sheets in the center.
Place the bouquet of tissue sheets into the cone opening. You can apply glue around the inside of the opening before tucking in the sheets. Once dry, the glue will hold the sheets in place. Children can choose to decorate the cone to their liking to make the torch their own!
---
| | | |
| --- | --- | --- |
| | Getty Images via Canva | |
Figure skating competition
Clear a smooth-surfaced floor and have everyone don their favorite socks. Then crank up your child's favorite tunes and let them choreograph a "figure skating" routine that Scott Hamilton would love. Double points for launching off the couch.
It's not just the skaters that matter here: You'll also need an enthusiastic play-by-play announcer and at least one straight-faced judge.
---
| | | |
| --- | --- | --- |
| | Getty Images Signature via Canva | |
Host a biathlon
The Olympics biathlon combines cross country skiing with rifle shooting. Host an at-home version by creating an outdoor obstacle course with targets. Kids can run around your yard (or around the block) and hit the targets with snowballs or Nerf guns!
The first one to hit all the targets and make it to the finish line wins!
---
DIY salt dough medals
After all this competition, you're going to need to host a medal ceremony, of course. DIY your own salt dough medals to mark the special occasion.
What You Need:
1 cup salt
1 cup flour
¾ cup water
Acrylic Paints (gold, silver, and bronze)
Paintbrushes
Ribbon
What You Do:

Make your salt dough by combining the flour and salt and adding water gradually. Knead it until it gets a dough-like consistency. (If it's too sticky, add more flour. If it won't hold together, add more water 1 teaspoon at a time.)
Shape your salt dough into three circles about one centimeter thick. We used a mason jar lid to help shape ours, but cookie cutters or other household items work great too!
Using a straw, poke a hole at the top (this is where the ribbon will go through).
Press a 1, 2, or 3 into each shape. I used molds from a Play-Doh® kit. You can also use cookie cutters or a butter knife to make your own!
Place the finished "medals" onto a baking sheet lined with parchment paper and bake for about 2 hours at 200 degrees, turning once.
Cool.
Paint your medals — you can use the traditional gold, silver, or bronze or let your kids paint them in whatever colors they love.
Thread the ribbon through the hole and tie a knot at the ends.