It can be challenging for parents of children with disabilities to find a park with play equipment that their kids can enjoy. Accessible play equipment gives all children the opportunity to be active, socialize, and make new friends. Every child has a right to engage in play.
Additionally, inclusive play spaces provide opportunities for children without disabilities to meet their peers with disabilities, which can lead to greater empathy and understanding. Ultimately, inclusive playgrounds bring communities together and help every member of that community feel valued and understood.
"Play is often talked about as if it were a relief from serious learning. But for children, play is serious learning." –Fred Rogers
LuBird's Light Playground, located on the west side of Stanley Marketplace in Aurora, is a one-of-a-kind state-of-the-art inclusive playground that allows for accessibility to all children and parents.
Created by the LuBird's Light Foundation team, this vibrantly-colored park includes all types of accessible swings, slides, and spinners. They have also included sensory play equipment and smooth barrier-free surfacing. It was like nothing we'd ever experienced before.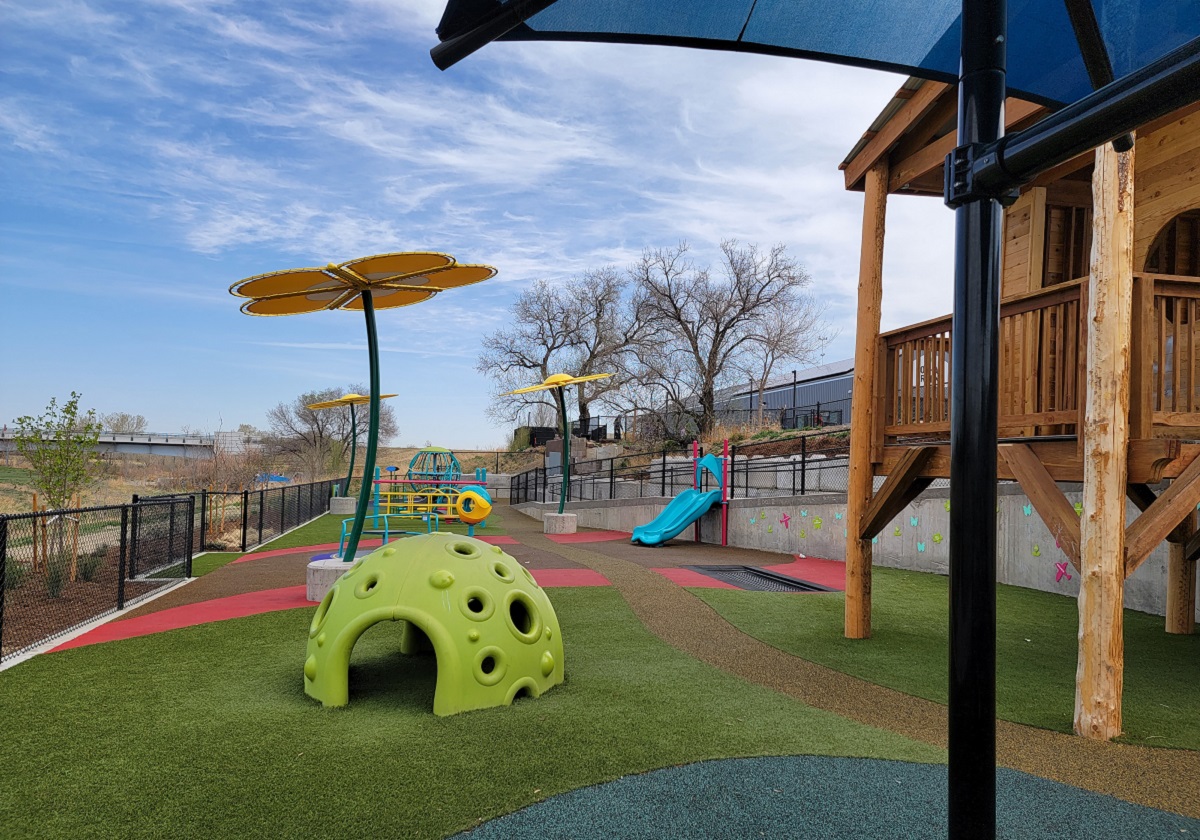 You'll find monkey bars that are bright and low to the ground for easy access. There is an amazing wheelchair-friendly swing where parents or kids in wheelchairs can swing and enjoy an activity that is not available in most other playgrounds.
There is also a merry-go-round built into the ground so people in wheelchairs can easily glide right on! One of the most interesting finds was a built-in trampoline area where there can be a wheelchair placed and a person jumps behind the wheelchair to give the effect of being on a trampoline.
| | | |
| --- | --- | --- |
| | | |
| | | |
| | | |
This playground is wonderful for all levels of ages and capabilities, and we highly recommend a visit! There is so much to do from climbing bars to roller slides and a wooden treehouse that is accessible to all, via a ramp that lines the playground and leads right into the treehouse as well as to the slides.
FEATURES
Slides
Spinners
Treehouse
Musical Sensory Play Equipment
Climbing Bars
Swings
SEATING
Picnic Tables
Concrete Slabs
AMENITIES
Restrooms (Inside Stanley Marketplace)
Bike Racks
Completely ADA-accessible and stroller-friendly
Stream with Multiple Bridges
Food Options (Inside Stanley Marketplace)
NEARBY SWEETS AND TREATS
Stanley Marketplace has a wide range of unique shops and eateries, including Sweet Cow Ice Cream!
Tattered Cover Kids offers storytimes on Wednesdays at 11:00 AM and on Sundays at 2:00 PM.
---
Want more local family-friendly info like this?