Gemstone Park
6145 Sapphire Pointe Blvd., Castle Rock
Hours: 5:00 AM–11:00 PM
Gemstone Park is a cute little park in the Sapphire Point neighborhood of Castle Rock.
From the parking lot, a large rock-climbing wall with gem-shaped stones hides the view of the playground. The kids hopped out of the car and ran up the stairs, eager to see what was on the other side.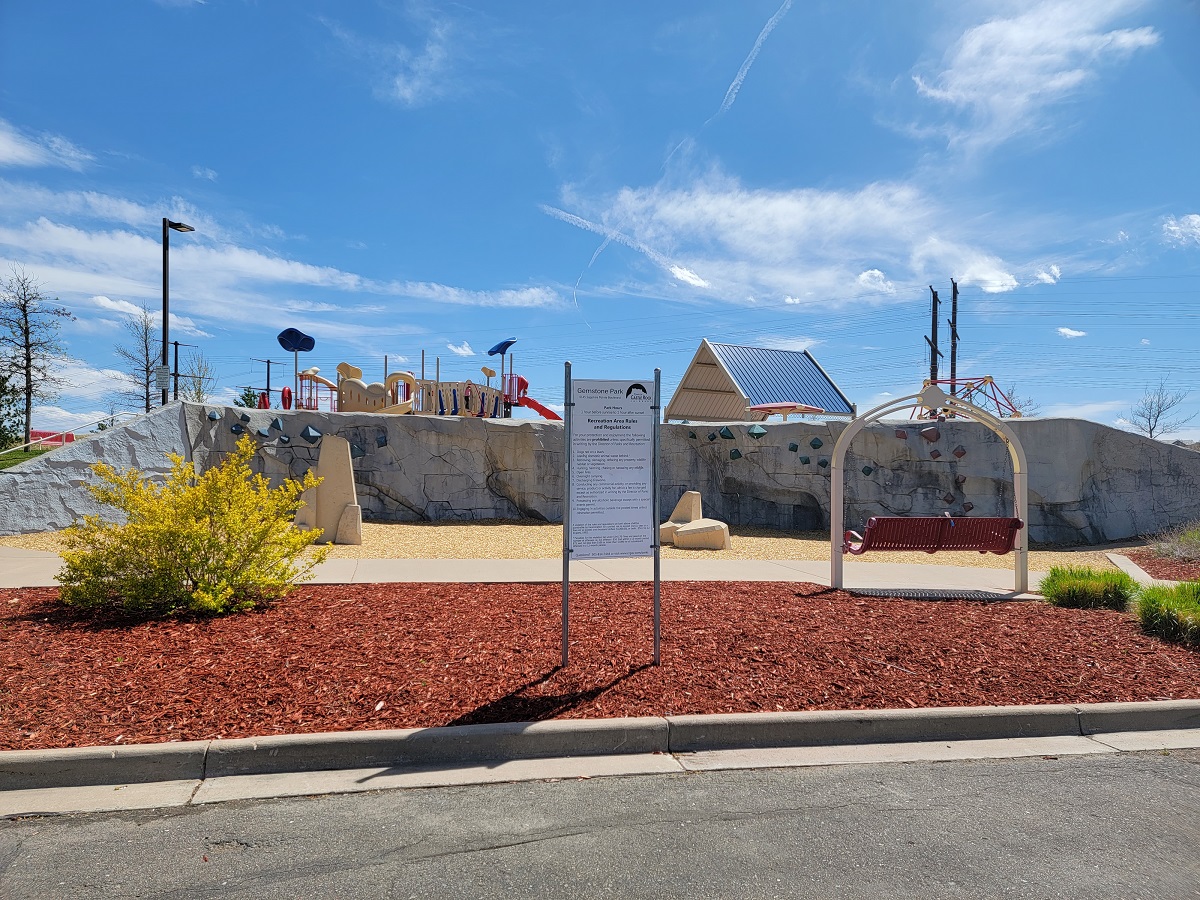 The playset is brightly colored, not yet faded from the sunlight, and the park is very well maintained.
The structure has several slides, including a tall one, a twisty one, and three side-by-sides. The bridge doubles as monkey bars with built-in handholds underneath. A small sensory play area with a table and benches is near the playset.
The park is great for kiddos who love to climb. Not only can they climb the rock wall, but the playset also has multiple climbing features, including a small rock wall. A geometric jungle gym with webbing is just outside the playground area.
There are several shaded picnic tables around the park and under the pavilion and a couple of porch swings where you can relax while your kids play. A large grassy area separates the playground from a fenced-in court with a tennis net and two basketball hoops, so bring your sports equipment for a quick game or match.
FEATURES
Playground
Rock climbing wall
Basketball and tennis courts
Multi-purpose turf field
Paved bike path and walking trail
SEATING
Shelter/Pavilion
Picnic tables
Benches
Porch swings
AMENITIES
Portable toilets
ADA-accessible and stroller-friendly
NEARBY SWEETS AND TREATS
Moo-ve on over to Smart Cow Frozen Yogurt Bar for a sweet frozen treat! With more than a dozen yogurt flavors and over 50 toppings — including vegan and gluten-free options — the combinations are practically endless!
---
Get outside and play more! Visit the Parks and Playgrounds section of our directory to learn about other Douglas County parks.
---
Want more local family-friendly info like this?