Northridge Park
8800 S. Broadway, Highlands Ranch
Hours: 5:00 AM–11:00 PM
Hidden behind Northridge Rec Center is a grove of tall trees surrounding a burgundy and beige playground for all ages. This well-shaded park with rolling grassy hills reminds me of a playground I used to go to as a child. Although it is not brand new, it is well maintained.
The park has all of the whimsical features of a playground that children look for. The monkey bars are plentiful! There are many entrances to get onto the treehouse-like play structure and reach the curly slide. This park also includes a sandpit with a built-in sand table and toys.
As for the older kids, there is a basketball court and a full-size baseball diamond complete with bases, a fence, and lighting. Bring soccer balls, lacrosse equipment, or any other fun outdoor sports equipment for the multipurpose fields on either side of the park.
The grassy area is sprinkled with picnic tables, and there is also a large covered pavilion that is reservable. When we visited, there was a graduation party that must have had more than 30 people, and everyone fit comfortably.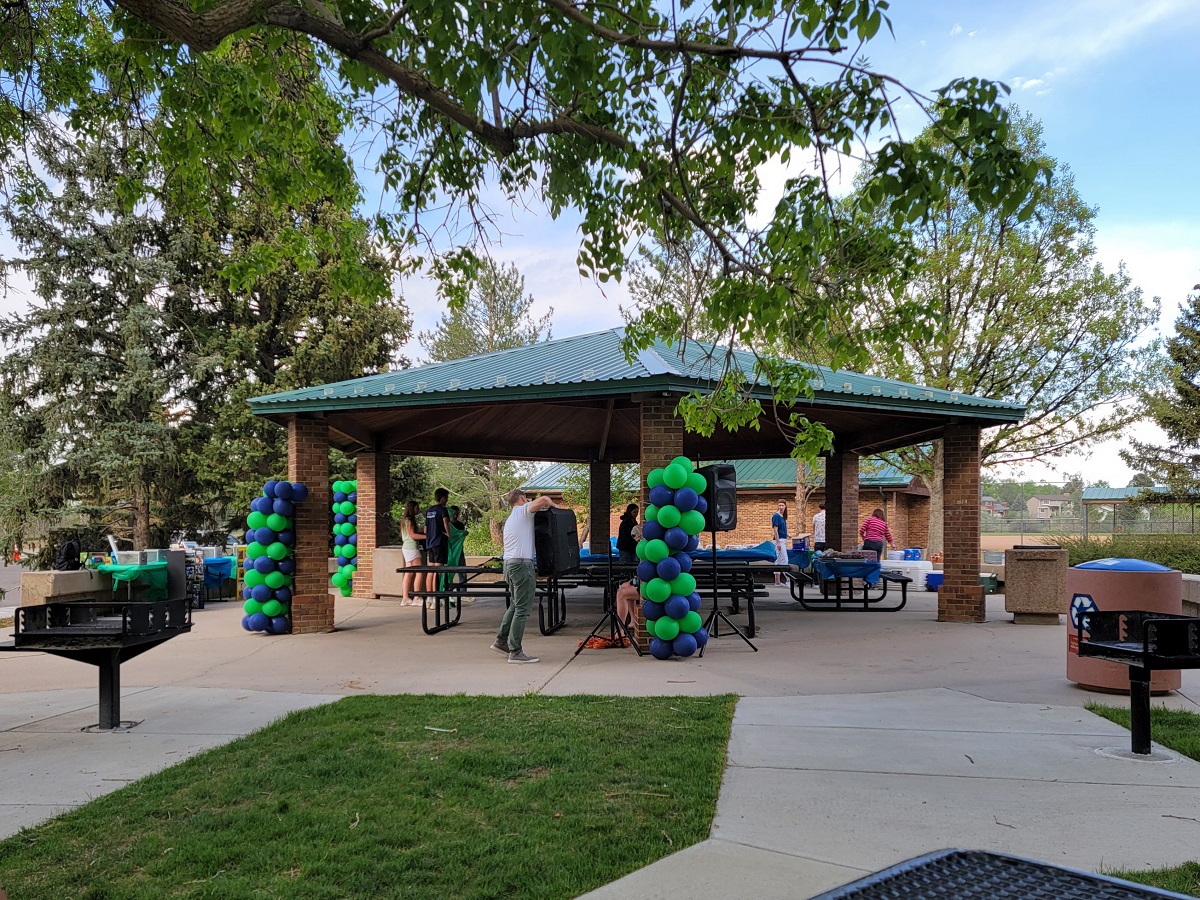 All in all, Northridge Park is a well-shaded park just perfect for a warm summer day. If you get too warm, the Northridge Rec Center has an outdoor pool where you can take a dip for a small fee.
FEATURES
Playground
Sandpit
Basketball court
Bocce ball court (equipment available for rent)
Table tennis
Multipurpose grass fields
Full-sized baseball diamond
Paved bike path and walking trail
SEATING
Shelter/Pavilion
Picnic tables
Benches
Bleachers
Retaining Walls
AMENITIES
Flush toilets
Electricity
Water fountains
BBQs
Stroller-friendly
NEARBY SWEETS AND TREATS
There are plenty of eateries to choose from in the surrounding area. Red Robin, one of our personal favorites for the bottomless steak fries and strawberry lemonade, is less than a mile away near the AMC Highlands Ranch.
---
Get outside and play more! Visit the Parks and Playgrounds section of our directory to learn about other Douglas County parks.
---
Want more local family-friendly info like this?