Sweetwater Park
13170 Mercury Dr., Lone Tree
Hours: 6:00 AM–11:00 PM
Nestled behind a neighborhood off Yosemite St. and Maximus Dr. is the expansive and beautiful Sweetwater Park. If you've ever been to an outdoor event in Lone Tree, chances are you have already visited. Sweetwater Park holds various summer events, including outdoor concerts and Fourth of July fireworks.
This beautiful park features trails, a creek, and a playground for all ages. While there, we found squirrels, wildflowers, and a running brook alongside the path to the playground.
Although there is no parking near the playground, enjoy the beautiful scenery and fun walking trails on the way from the Lone Tree Hub parking lot. Park on a neighborhood street to find a closer walking path to the playground.
Once you get to the playground, you'll find multiple picnic tables and seating options for summertime fun. There is also a basketball court right next to the playground where older kids can enjoy a game of one-on-one. The multi-purpose fields have full-sized soccer nets and a baseball field.
We discovered a fire engine-themed playset on the playground, fully equipped with ladders, fireman poles, and super-fun twisty slides. The kids had an absolute blast on all of the monkey bar options, there were straight ones, round ones, and even ones to do flips on!
The kids could climb about 10 feet high up a monkey bar tower to a landing with great views of the entire park. From there, kids can go down two slides or climb back down a stairway.
There is a whimsical tree trunk in the middle of the playground just ready for climbing and sitting on the large branch.
Even though there are plenty of tall trees surrounding the outside of the park, there are not any above the playground, so shade is minimal. Make sure you pack a hat and sunglasses and don't forget the sunscreen!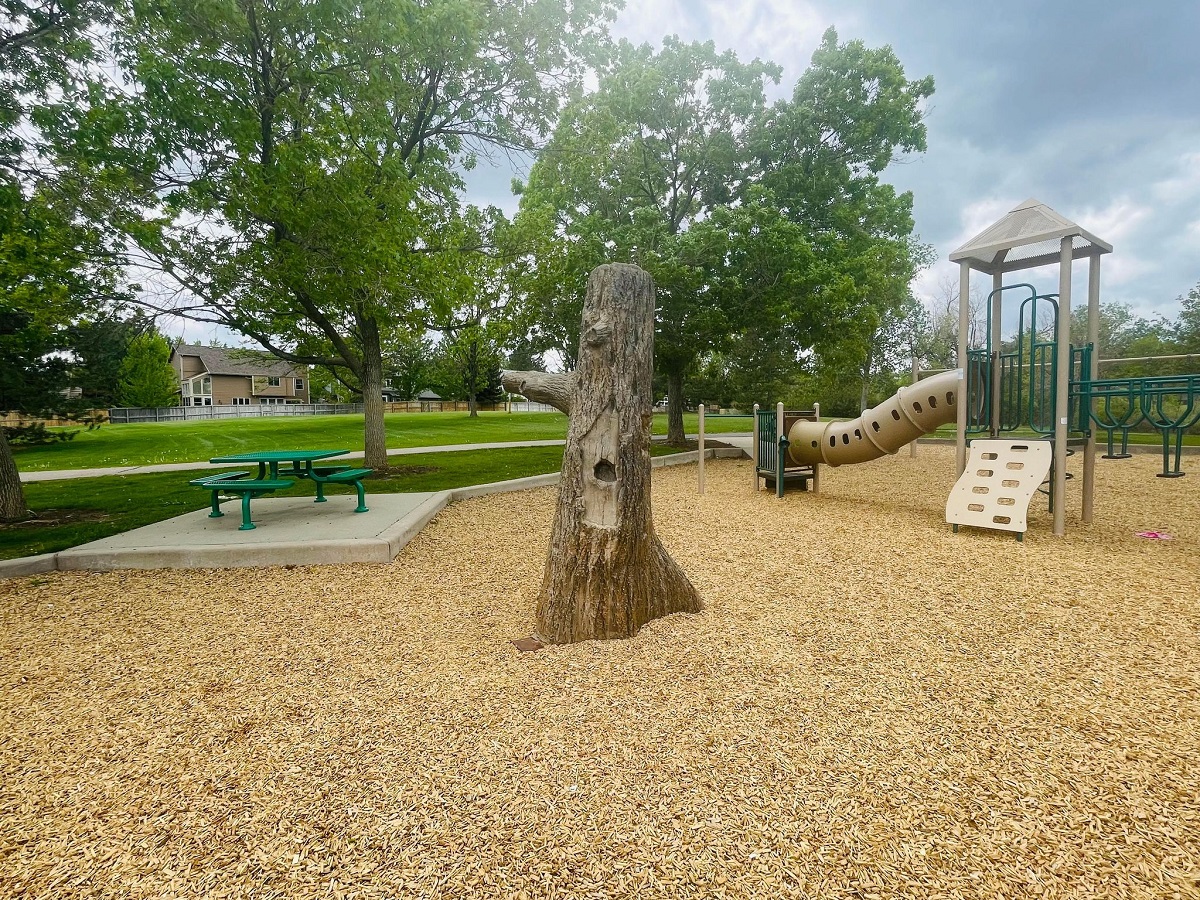 Once summer arrives, you can pack a swimsuit and visit Cook Creek Pool before or after your park visit.
FEATURES
Playground
Basketball court
Baseball field
Multi-purpose field
Open space
Creek
SEATING
Shelters/Pavilions
Benches
Picnic tables
AMENITIES
Portable restroom
Drinking fountains
Stroller friendly trails
NEARBY SWEETS AND TREATS
Head over to Cranelli's Italian Restaurant after the park and thrill your children with a pineapple sorbet served in the most adorable baby pineapple. They also have a coconut version served in a baby coconut.
Get outside and play more! Visit the Parks and Playgrounds section of our directory to learn about other Douglas County parks.
---
Want more local family-friendly info like this?