Bison Park
1390 Clear Sky Way, Castle Rock
Hours: 5:00 AM–11:00 PM
Have you ever seen a rock carved to look like a bison? At Bison Park in Castle Rock, you will see two!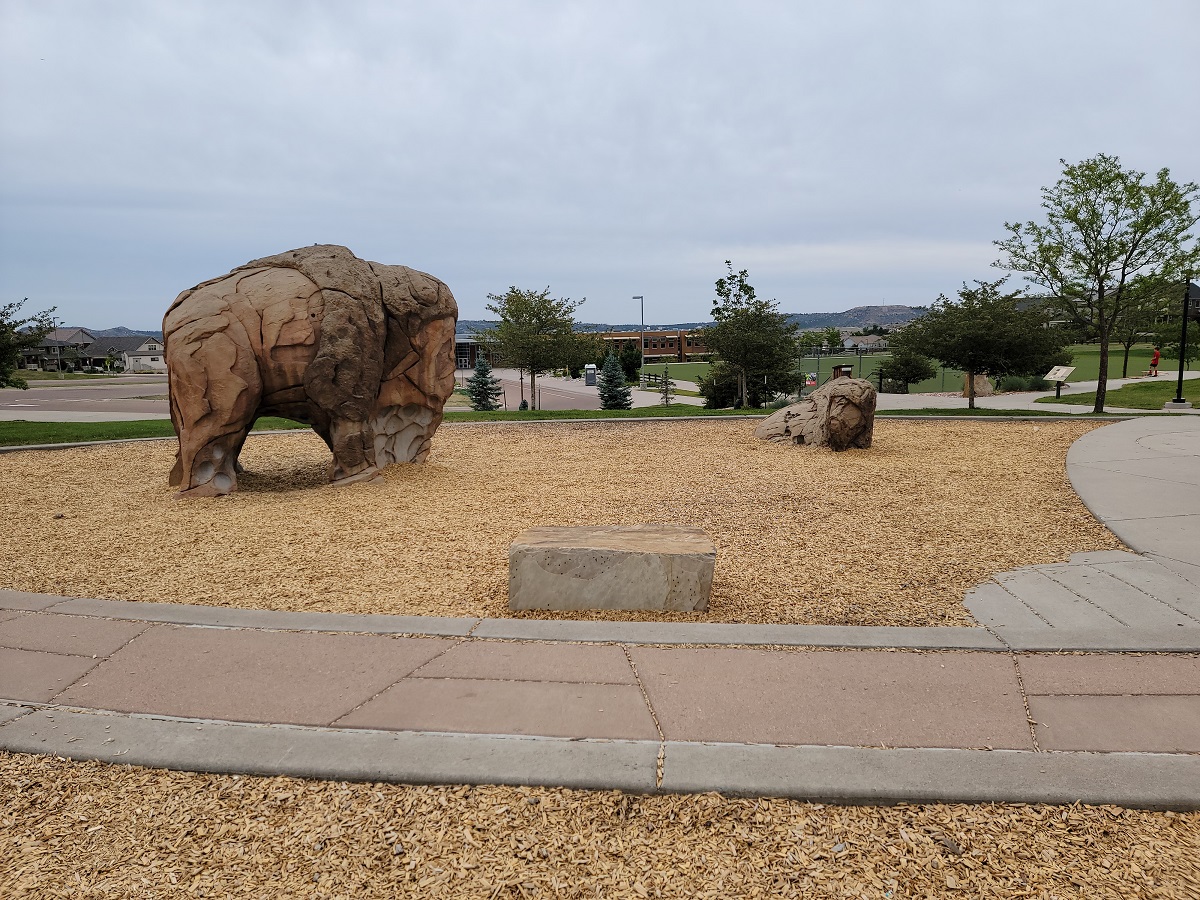 Located in the Meadows area of Castle Rock, this park is home to a variety of annual events such as egg hunts, 4th of July celebrations, and much more.
I was surprised by how large the playground itself is. There is a cute sand area with multiple structures where children can use their imaginations to build and play with sand.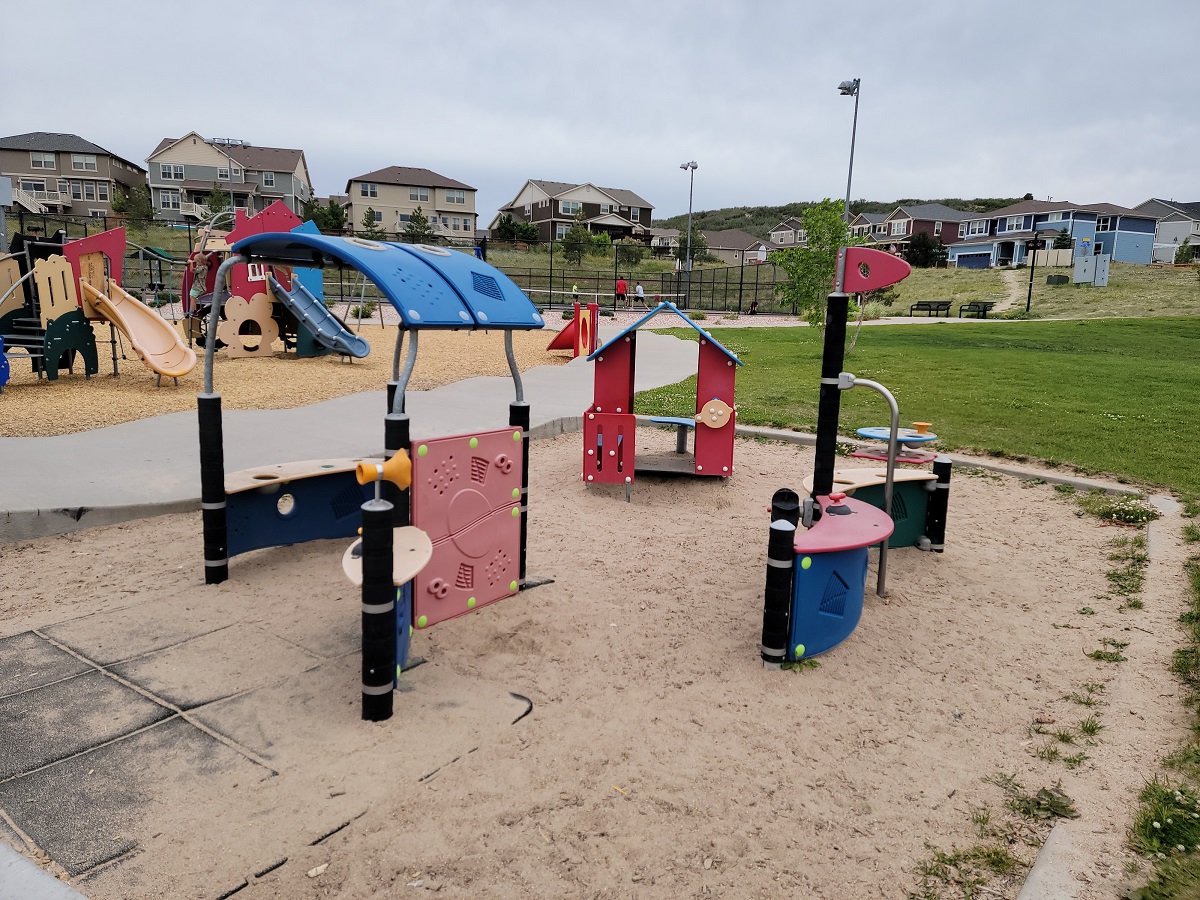 The playset for younger kids has a firetruck and firehouse theme. My 4-year-old loved crawling through the tires, climbing up the spiral ladder, and sliding down the slides. The rope net is the perfect height for children to learn to climb without the fear of falling too far.
In the same area are the baby swings, a four-person teeter-totter, and a rather large teeter-totter with sharks and dolphins on it.
The playground for older children has a modern playset with rock walls, a tube slide, and reclined swinging lounge chairs. A jungle gym with multiple ways to climb and maneuver is up the hill.
My eight-year-old son was fascinated by the surf/skateboard bar. He skated back and forth on that for a long time, trying to figure out his balance and how to go faster and farther without falling off.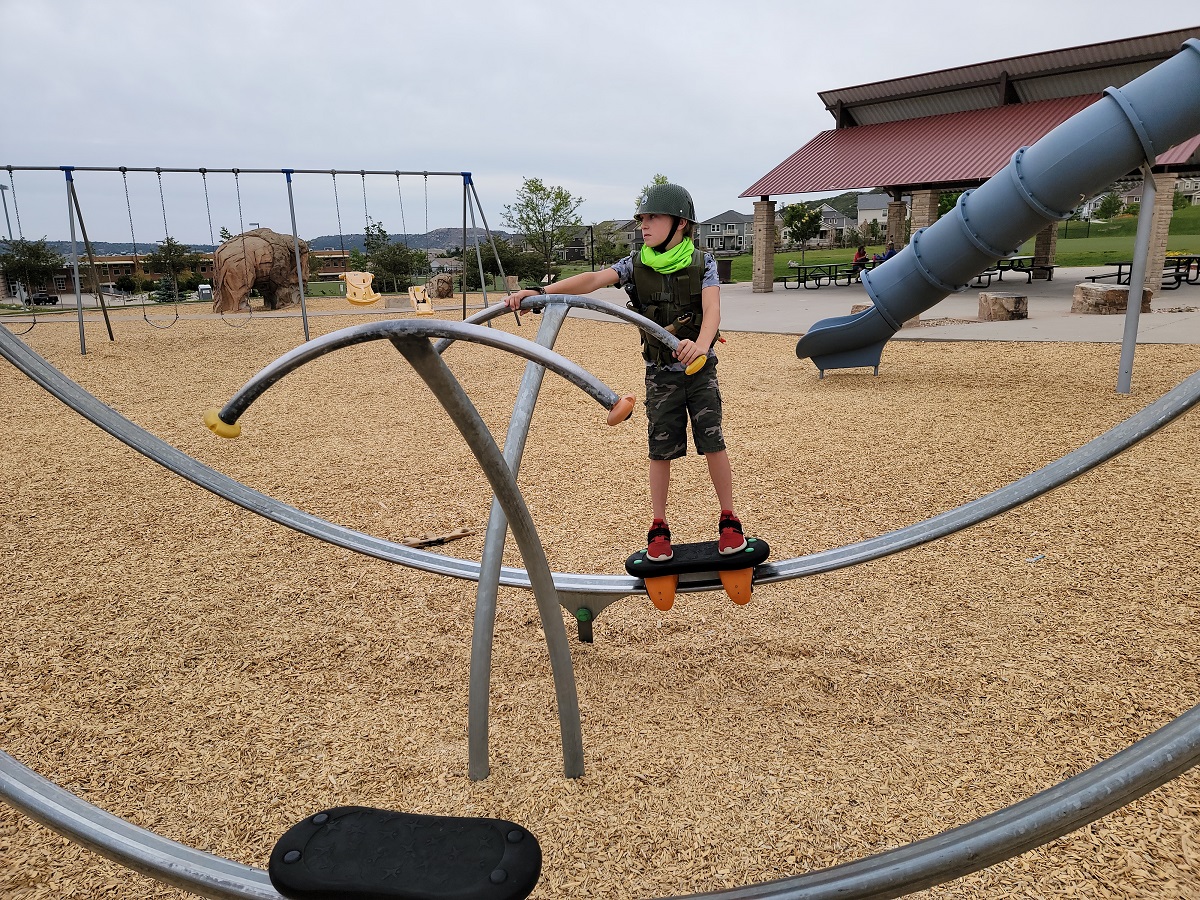 Paved sidewalks surround the park... great for riding a scooter or bike. One section is wavy, making it especially fun! The kids rode around and around in circles riding the waves up and down, laughing and calling out "Watch this, watch this!"
Next to the playground is a nice-sized tennis court that looked well cared for.
Bison Park is not too far from I-25 and the Castle Rock outlets. It will surely be added to our list of parks to visit again.
FEATURES
Playground
Multi-purpose court
Basketball and tennis courts
Multi-purpose turf fields
Baseball diamonds
SEATING
Shelters/Pavilions
Picnic tables
Benches
Boulders
AMENITIES
Portable toilets
ADA-accessible and stroller-friendly
NEARBY SWEETS AND TREATS
After you work up an appetite playing, head to Crave Real Burgers (located near the AMC Theatre) and try one of their unique gourmet burgers. I'm partial to The Krusty with a peppercorn-crusted patty, BBQ sauce, bacon, cheddar, and onion rings. Adventurous eaters can try The Luther, which uses two glazed donuts for the bun! Or skip the burgers altogether and get a handcrafted shake (mmmm... Karmal Chameleon)!
---
Get outside and play more! Visit the Parks and Playgrounds section of our directory to learn about other Douglas County parks.
---
Want more local family-friendly info like this?