My husband's birthday is at the end of October, and my oldest's is in early January. In between, my family celebrates three major holidays plus I still have to handle all the regular life admin of bill-paying, cleaning, shopping, laundry, and meal-planning.
Is it any wonder I usually start the New Year feeling exhausted instead of refreshed? That's why I was thrilled to discover Simply Savor, a woman-owned local catering company that also provides weekly meal delivery and charcuterie!
---
I received a sampling of meals to facilitate the writing of this article. All thoughts and opinions expressed are my own.
---
I learned about Simply Savor through the annual Macaroni KID Douglas County Family Spotlight Awards, when they won the "Best Party Services" category for their amazing charcuterie boards. When I visited their website, it was their weekly meal delivery that really piqued my interest!
Owners Angie Sasz and Lindsay Lineberry are professional chefs. Angie is a Culinary Arts graduate from Kendall College in Chicago and worked as a director of catering for a number of companies. Lindsay graduated from the Culinary Institute of Virginia and has since worked in a variety of culinary roles.
After they became moms, they began teaching cooking classes to children and their business has expanded to include catering, private dinner parties, and a weekly meal delivery service with a seasonal menu that changes every two weeks!
Here are my favorite things about the meal delivery service from Simply Savor:
Everything is fully cooked, then delivered to my home on Tuesday, so all I have to do is reheat it. I've ordered from some of the national meal delivery services that send you a box of ingredients. Although I didn't have to do meal planning or shopping, I still had to do the cooking. Some of the meals took 30 minutes (or more) to prepare.
The portions are generous. I have teen boys and a very active husband, all with hearty appetites. There have been times that they have immediately followed dinner with microwave burritos, a bowl of cereal, or a Cup o' Noodles. The Simply Savor servings are large enough that no one left the table needing a second dinner!
The meals are individually packaged. As my kids have gotten older, having a night where we are all available to enjoy a meal together has become a challenge. Individual portions mean that everyone can have a healthy, home-cooked meal when it works in their schedule.
There is a great variety of gourmet options. Some of the meals we tried were Taco Salad, Creamy Lobster Mac & Cheese (it was amazing!), Beef & Broccoli with Ginger Brown Rice, and Sausage and Spinach Stuffed Portabello Mushroom. There is even a "Chef's Choice," which is a meal that Angie and Lindsay decide on when they go shopping. Our Chef's Choice was Pistachio Pesto Chicken with Basil Risotto. Yes, it was as delicious as it sounds!
I'm supporting a local business. Not only is my life easier, but I am happy to know that I am supporting two other local moms!
Ready to give Simply Savor a try? Visit www.simplysavormeals.com/order-meals-gifts to see the meal options for January Week 3 & 4, and make your mealtime a little bit easier this month!
How it works:
You pick: You share the number of weekly meals you'd like and choose your favorite dishes from the menu.
They cook: They cook together in a restaurant-style kitchen, using our culinary skills to create delicious dishes with fresh ingredients just for you!
You enjoy: All meals are fresh, never frozen, delivered to you ready to be heated, and simply savored when you are ready!
---
Simply Savor also makes the most beautiful charcuterie boards for any occasion. Whether you just need a small plate for a moms' night in or are hosting a party with 50 guests, they can create something that fits your needs and can practically double as decorations!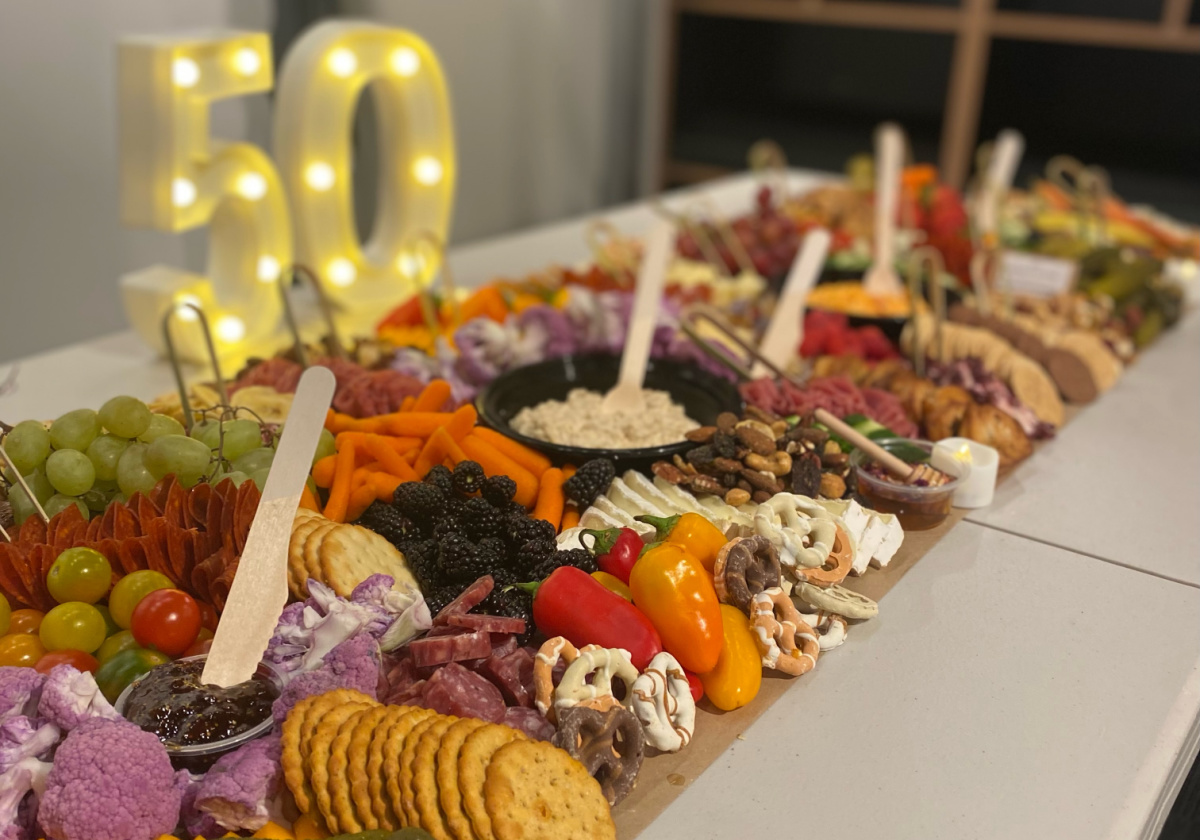 Their Charcuterie Boards, Boxes, and Grazing Tables include artisan cheeses, charcuterie meats, fresh/dried fruits, assorted crackers, olives, nuts, cornichons, jams, honeys, vegetables, and their crafted gourmet spreads.
---
WEBSITE • EMAIL • FACEBOOK • INSTAGRAM