Did you know that the corn we eat and the corn we pop are not the same types of corn? The variety of corn that becomes popcorn is called Zea mays everta. It has small ears, and water in the kernels causes them to pop when exposed to dry heat.
In 1948, Zea mays everta ears were discovered in the Bat Cave of New Mexico. The oldest ears were about 4,000 years old, and several individually popped kernels were determined (by carbon dating) to be approximately 5,600 years old!
It wasn't until the 1900s that popcorn became a widespread snack in the United States. The first commercial popcorn machine was invented in 1885, making it easier to pop large quantities of popcorn. The first batch of Cracker Jack was produced in 1896. Once it was written into the song "Take Me Out to the Ball Game" in 1908, it would be forever connected to America's favorite pastime.
Today, popcorn is not just a popular treat but is generally considered a healthy one too! It has folate, niacin, riboflavin, and vitamins A, B6, E, and K. It is naturally GMO-free and gluten-free. Three cups of air-popped popcorn have less than 100 calories and nearly 4 grams of fiber. Of course, adding butter, salt, and other toppings will reduce its health benefits.
Plain, buttered, coated with caramel, or sprinkled with white cheddar seasoning — we think ANY day is a great day for popcorn, but especially on National Popcorn Day! Here are five fun ways to help you celebrate.
---
1. Have a good laugh!
This silly joke might make you burst out laughing.
Q: How did the popcorn get an A+ in math?
A: By passing the pop quiz!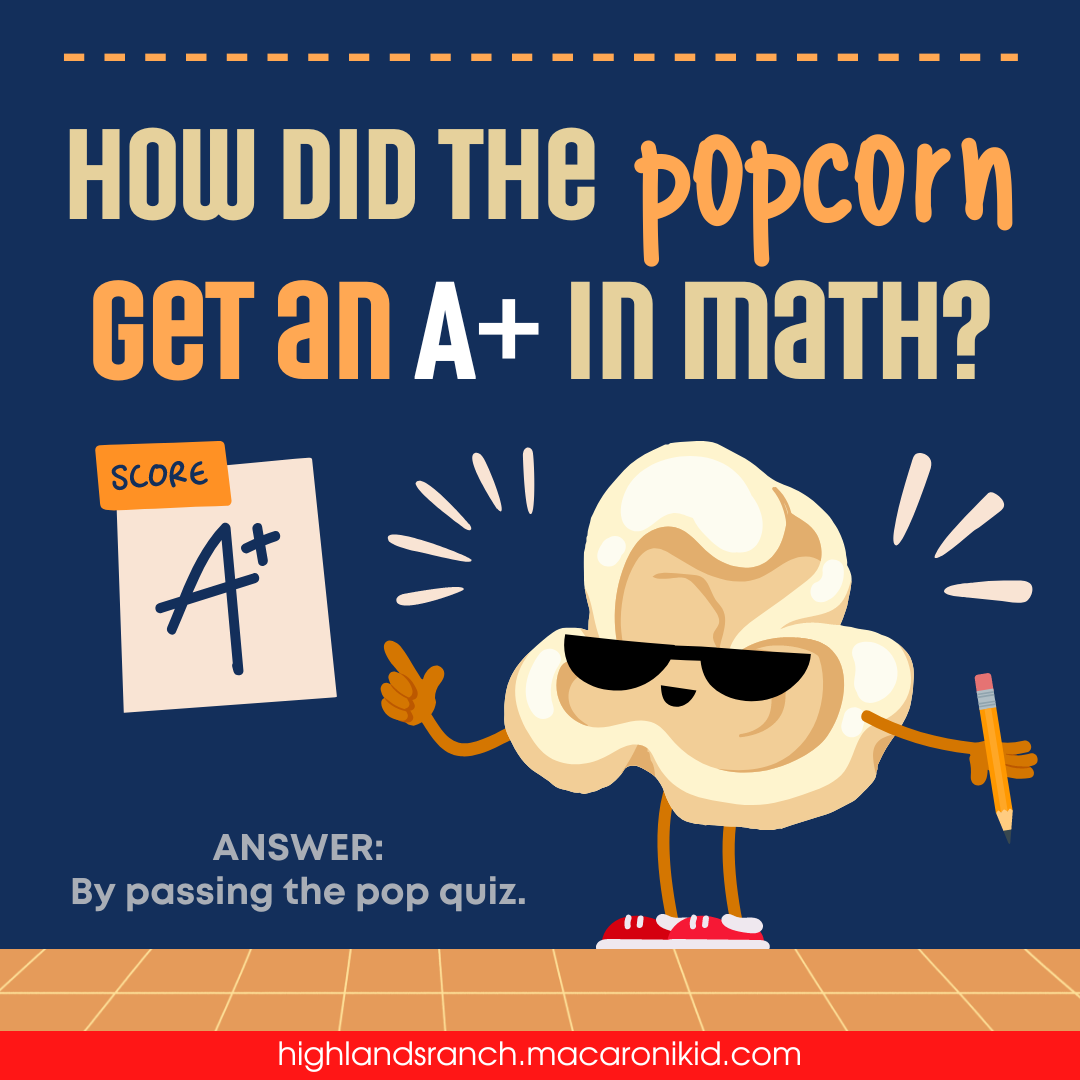 ---
2. Experiment with science!
Show your kids some science with items you probably have in your kitchen. All you need for this science experiment are a tall clear container like a glass or mason jar, water, baking soda, popcorn kernels, and white vinegar.
Fill your glass or jar halfway with water and add a small handful of popcorn kernels. Notice that the popcorn kernels sink to the bottom of the container. Then pour in about half a cup of white vinegar. Give the liquid a stir, and add a tablespoon of baking soda.
NOTE: Do this near or over the sink, as your container may overflow.
A chemical reaction occurs between the baking soda and vinegar: they create tiny bubbles of carbon dioxide. These bubbles cling to the popcorn kernels and lift them up to the top of the water. When they reach the top of the water, the bubbles pop and the kernels begin to sink back down to the bottom.
As the process repeats over and over, your popcorn kernels will look like they are dancing!
---
3. Make popcorn balls!
The World's Largest Popcorn Ball, built in 2016, weighs 9,370 pounds and stands taller than eight feet. It is on display at the Sac City Museum in Iowa.
We aren't suggesting you go to such extremes, but popcorn balls are fun to make — and then eat — with your kids. The ingredients are staples that you probably already have on hand, such as sugar, corn syrup, butter, salt, vanilla, and popcorn!
If you don't already have a favorite popcorn ball recipe, give ours a try!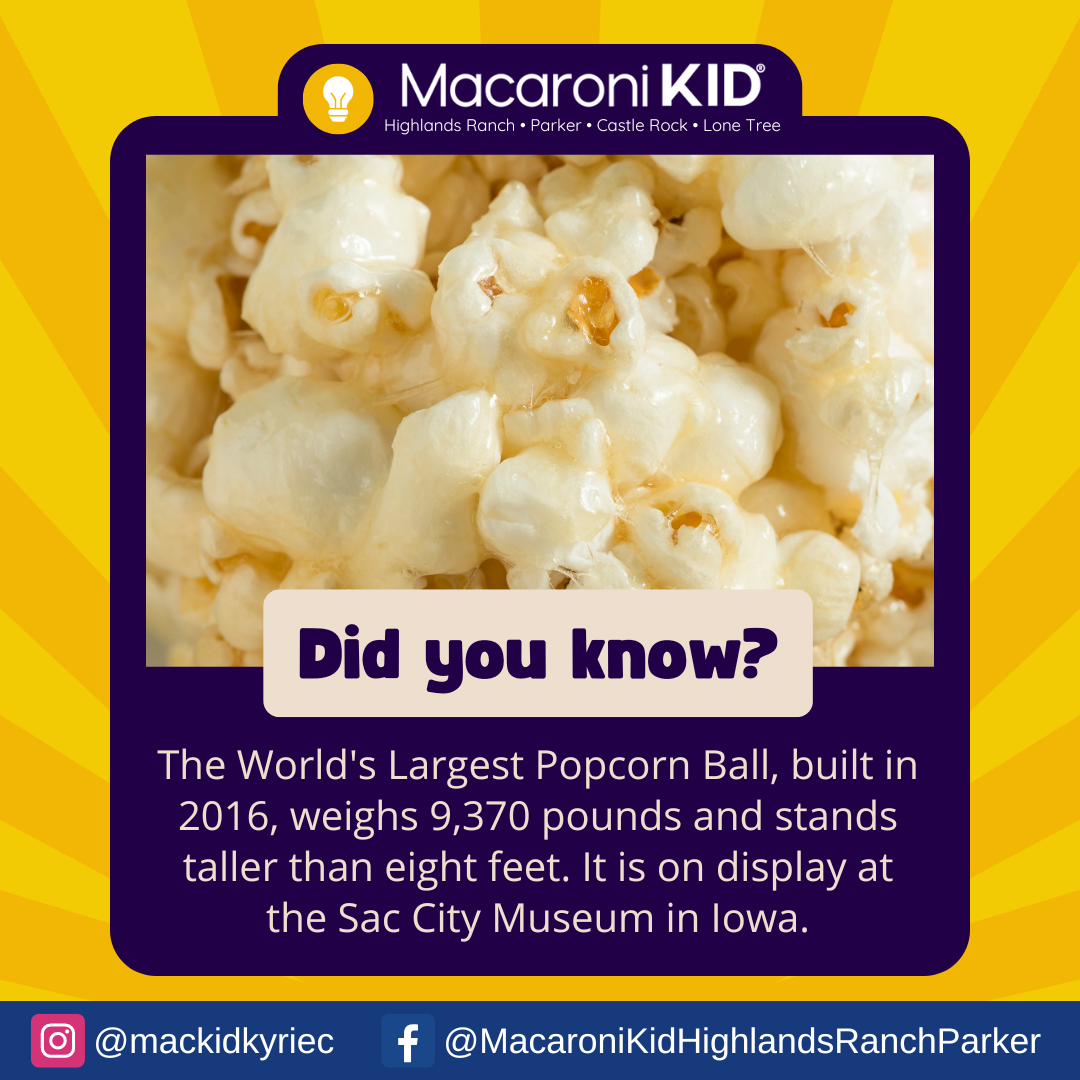 ---
4. Play with your food!
While researching games the whole family could play during our New Year's Eve Family Fun Night, we came across a game that we decided to call Chopcorn, or Chopsticks + Popcorn!
Pop up a big batch of popcorn. Set two bowls in front of each person, one filled with popcorn and the other empty. Give everyone a set of chopsticks, then set a timer for 1-5 minutes (depending on how long you want to play). Use the chopsticks to move the popcorn from one bowl to the other. When the timer goes off, whoever has the most pieces of popcorn in their previously empty bowl wins!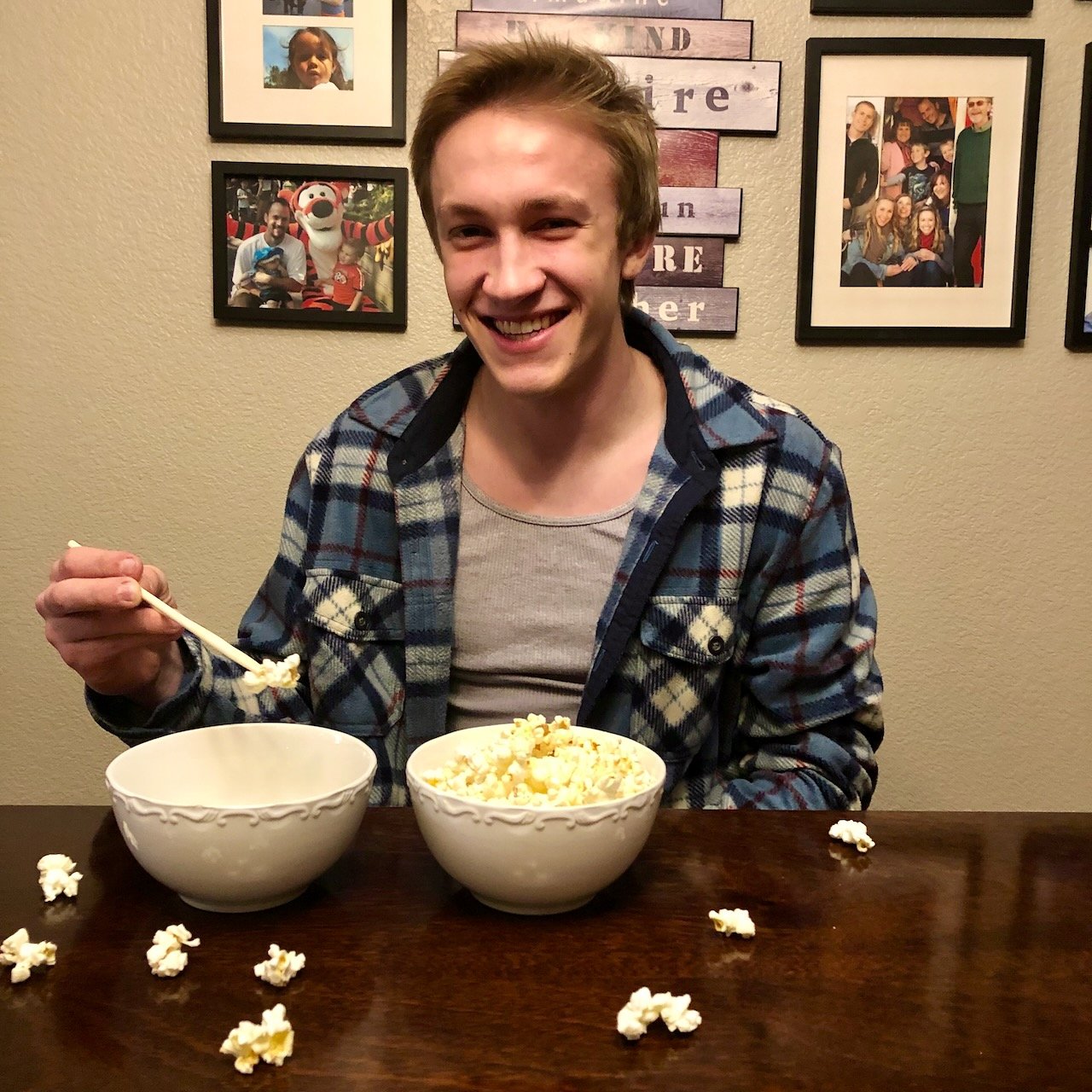 ---
5. Make it a movie night!
Movie theaters are joining the fun by offering free or discounted popcorn on January 19:
You can also do a movie night at home. Up the fun with our simple Snowman Popcorn Cups!