Discover joy through music at Musical Minds Music Studio!
---
Musical Minds Music Studio offers one-on-one and group lessons for Piano, Voice, Guitar, and Ukulele. All ages and skill levels are welcome!
At Musical Minds Music Studio, students discover music in a way that is fun and tangible while gaining all the fundamentals needed to learn songs from Mozart to Maroon 5.
Students pick their instrument of choice (Piano, Voice, Guitar, or Ukulele), and lessons are tailored to their skill level and interests. All Musical Mind Music Studio students receive:
Year Round Music Lessons
Highly qualified and highly passionate Colorado Music Teacher!
Annual recitals for performance experience!
Online lessons are offered at any time needed!
Motivating studio challenges with PRIZES!
150+ musical games to enhance learning!
Massive library of FUN music for students to play!
Apps & technology to keep students engaged and incorporate varied learning styles!
Extra support is offered via text and videos!
Specialties: Beginner Students, Songwriting, Pop Music, Theatre/Voice Auditions, Preschool/Elementary Piano
---
---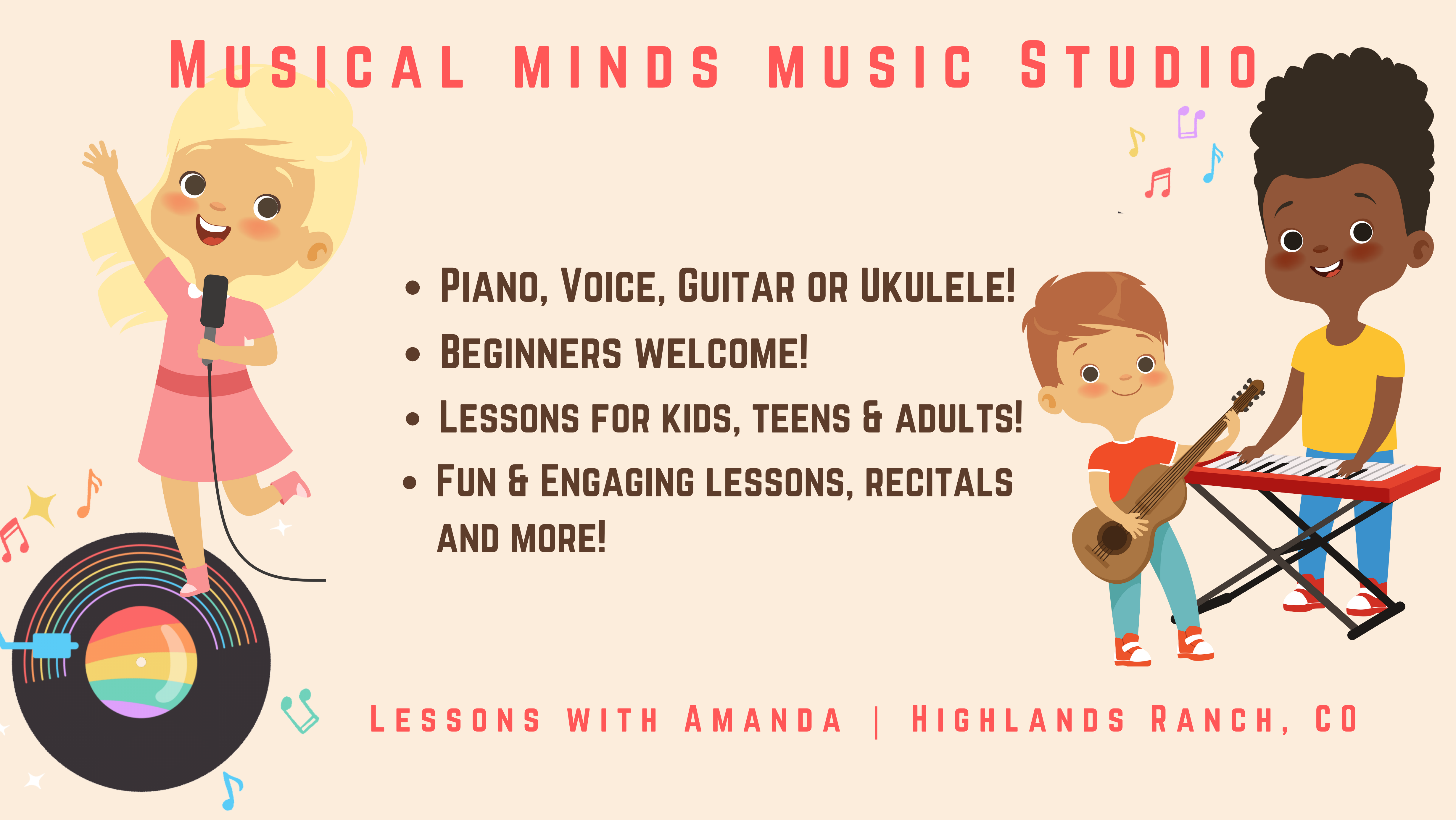 Business Review
"My teen daughter began taking piano lessons for the first time and absolutely loves it. Amanda with Musical Minds is amazing and my daughter looks forward to going to lessons each week. The music that she plays is music that she enjoys and songs that are familiar to her, so it doesn't feel like basics. Amanda even teaches her ukulele along with piano. The lessons are all tailored to exactly what my daughter needs and is interested in."
"We were lucky enough to get piano classes at Musical Minds Music Studio. Our daughter is thriving due to Amanda's kind, gentle, and engaging personal style. Musically, she breaks things down into easy, kid-friendly, and fun lessons. Our daughter loves Amanda's 'Hedgehog Missions!'"
"Our son loves Musical Minds and his ukulele teacher, Ms. Amanda. She is wonderful, and her teaching techniques are great. She is very nice with kids. She is very good at comprehending her students' strengths and the areas of improvement."