Some area pools will be open with restrictions in place, including limited attendance. Please review each venue's policies carefully.
Get our FREE Printable at bit.ly/MKDCPoolsPrintable or click the image below.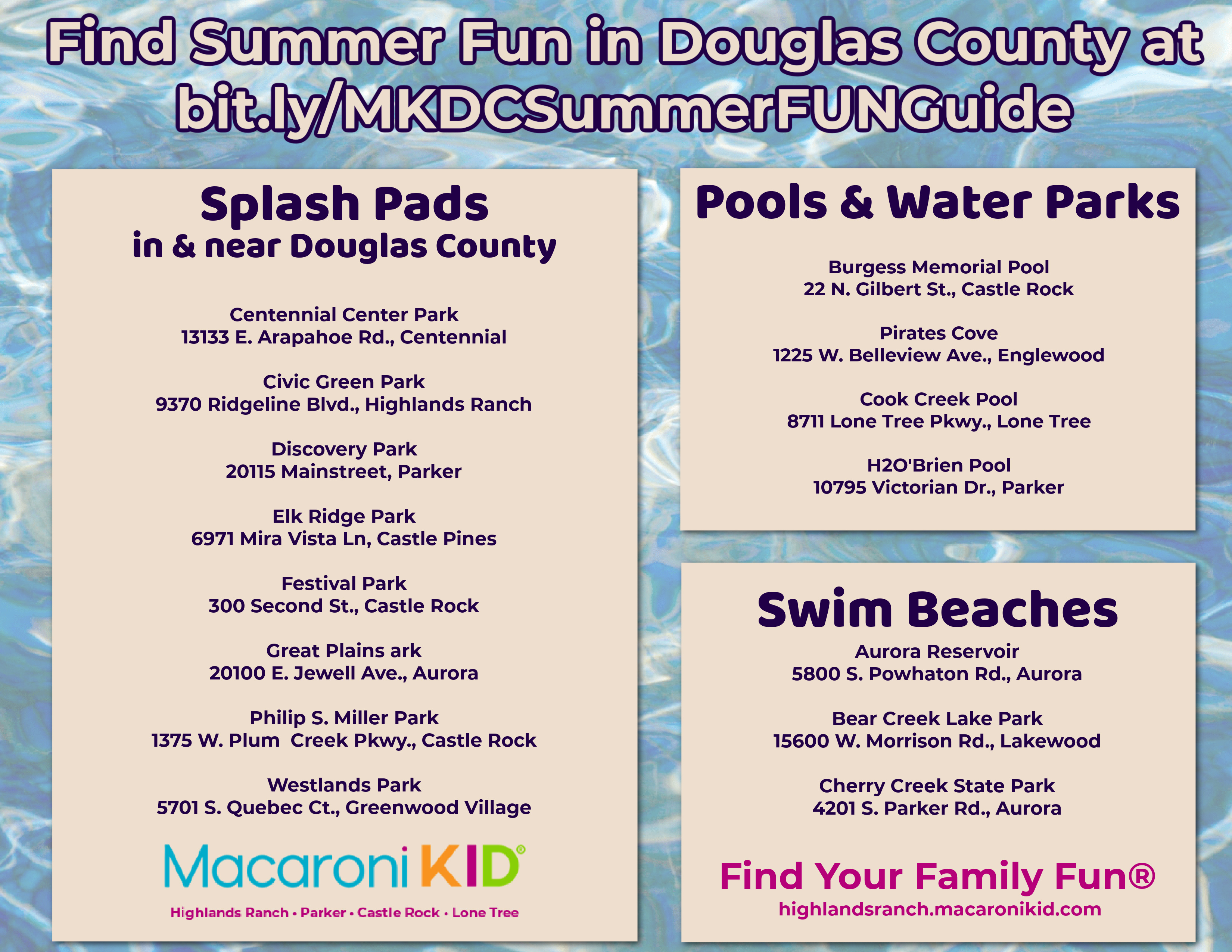 Outdoor Pools and Water Parks 💦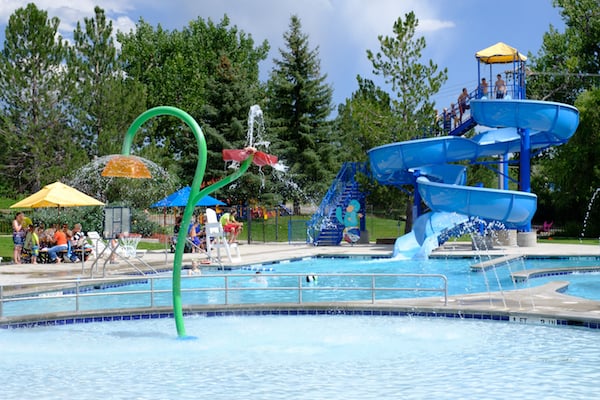 Burgess Memorial Pool
22 N. Gilbert St., Castle Rock
(720) 724-2082
2021 Open Date: May 29
Mon-Fri: 10:00 AM–6:30 PM
Sat: 10:00 AM–6:00 PM
Sun: 11:00 AM–4:00 PM
Resident Admission: $6-$7
Non-Resident Admission: $7-$8
Features at Burgess Memorial Pool: Zero-Depth Entry, Water Basketball, Lazy River, Toddler Slide, 20' Water Slide, Picnic Areas, Locker Rooms, Wheelchair Accessible
---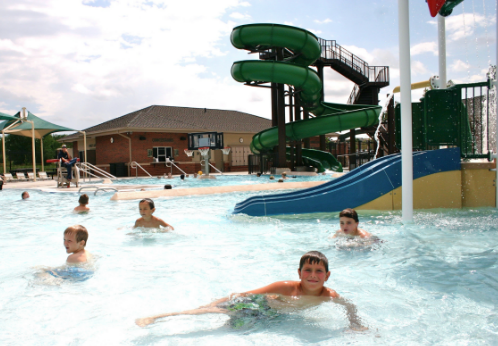 Cook Creek Pool
8711 Lone Tree Pkwy., Lone Tree
(303) 790-7665
2021 Open Date: May 29
Mon-Thu: 11:00 AM–5:00 PM
Fri: 11:00 AM–6:00 PM
Weekend: 10:00 AM–6:00 PM
Resident Admission: $4.50-$5
Non-Resident Admission: $6-$7
Household Admission: $16-$23.50
Features at Cook Creek Pool: Zero-Depth Entry, Water Slide, Lap Pool, Water Basketball, Leisure Pool, Dumping Bucket
---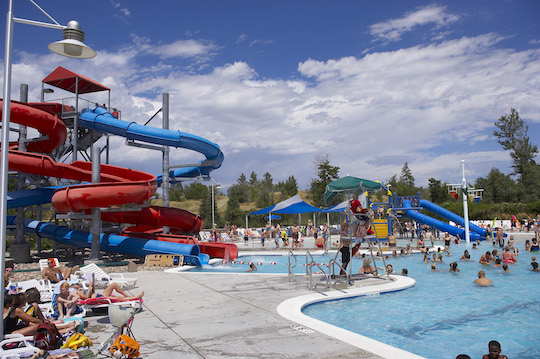 H2O'Brien Pool
10795 Victorian Dr., Parker
(720) 851-5873
2021 Open Date: May 29
Daily: 10:00 AM–6:00 PM
Resident Admission: $5-$6
Non-Resident Admission: $5.50-$6.50
Features at H2O'Brien Pool: Zero-Depth Entry, Large Water Play Structure, Dumping Buckets, Two 182' Water Slides, Circulation & Lap Pool, Spray Garden, Concession Area, Shade Pavilion
Important Information for 2021: All guests must check-in with a valid ACTIVENet (ParkerRec) account and ID. Sign up for a log-in here.
---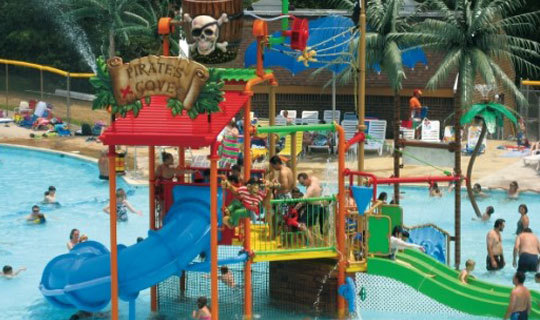 Pirates Cove
1225 W. Belleview Ave., Englewood
(303) 762-2683 (COVE)
2021 Open Date: May 29
Daily: 10:00 AM–6:00 PM
Resident Admission: $9-$10
Non-Resident Admission: $14-$15
Features at Pirates Cove: Zero-Depth (Beach) Entry, Leisure & Lap Pools, 750-Gallon Dump Bucket, Lazy River, Three Water Slides, Sand Play Area, Spray Garden, Barnacle Café, Cabana Rentals, Picnic Tables, Locker Rooms, Lockers (Additional Fee).
Save on Admission with an Exclusive BOGO Deal: The BOGO coupon must be presented at Pirates Cove; CLICK HERE TO PRINT. Limit (1) coupon per transaction. Discount applies to lesser value admission. Any alteration will void this coupon. Offer is valid May 29, 2021, through June 30, 2021.
---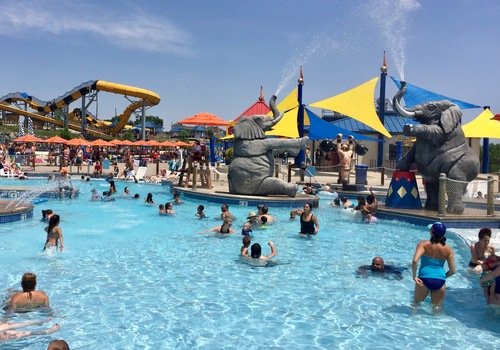 Water World
8801 Pecos St., Denver
(303) 427-7873
2021 Open Date: May 29
Daily: 10:00 AM–5:00 PM
Child Admission: $21.99+
Adult Admission: $26.99+
See the Pricing Page for full details
Features and Attractions at Water World: Thrill Rides, Lazy Rivers, Water Slides, Wave Pools, Family-Friendly Rides, Concessions, Family Locker Rooms, Tube rentals, Bungalow/Cabana Rentals, Lockers (additional fee)
This Denver legend has been named one of USA Today's 10 Best Outdoor Water Parks for several years. With scores of attractions on 64 acres, it is one of the largest water parks in America. Every member of our family has a blast when we visit. 'Nuff said.
Important Information for 2021: You'll find the best values and the convenience of selecting your visit date by purchasing your tickets online.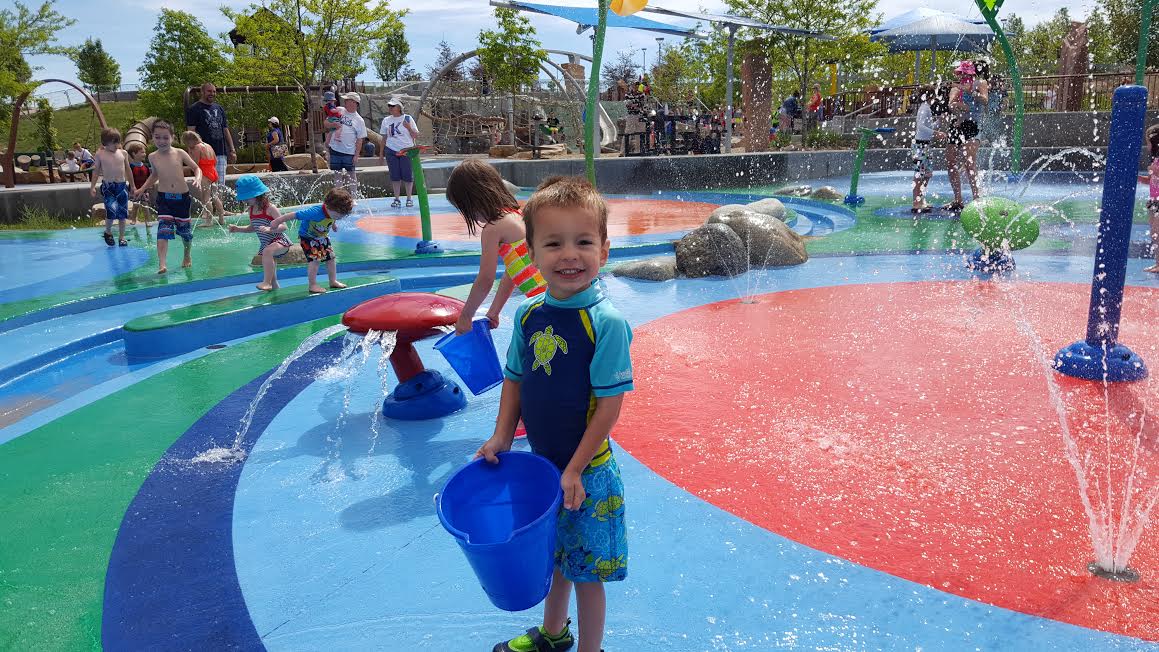 Centennial Center Park
13133 E. Arapahoe Rd., Centennial
Why we love to splash at Centennial Center Park: Adjacent to the Civic Center, Centennial Center Park has several playgrounds for children of all ages, educational and historical information about the state of Colorado, a large grassy field, two covered picnicking areas, and a really, really big splash pad.
Since the park opened, it has been one of the most popular in the area, and the different levels can make it a little hard to keep track of more than one child. Just play together and stay together and you will have a great time! This one consistently makes USA Today's 10 Best Splash Pads!
---
Civic Green Park
9370 Ridgeline Blvd., Highlands Ranch
Why we love to splash at Civic Green Park: Located next to the library and steps away from the Highlands Ranch Town Center, Civic Green Park hosts a wide variety of events throughout the summer (which will always be listed on our events calendar, of course).
Features include a fabulous playground with a shallow creek, a large grassy open area, and a stage with fountains in front of it (usually turned off during the events). The fountains are expected to be turned on the week of May 17 and will run throughout the summer from 10:00 AM–8:00 PM. Fountains may be shut off during special events.
---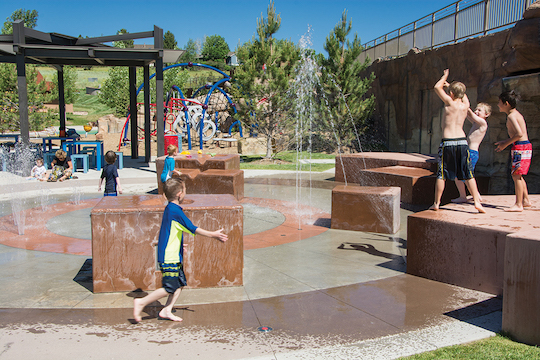 Elk Ridge Park
6971 Mira Vista Ln., Castle Pines
Why we love to splash at Elk Ridge Park: This hidden gem has interactive water features, a climbing wall, and an awesome playground with some unusual structures, including a slide from the upper level into the playground.
The 11-acre park also offers 360-degree views of the plains, foothills, and mountains and an ADA-accessible trail network with educational features teaching the early history of Colorado.
Important Information for 2021: Up to 50 people at a time may use the Splash Pad.
---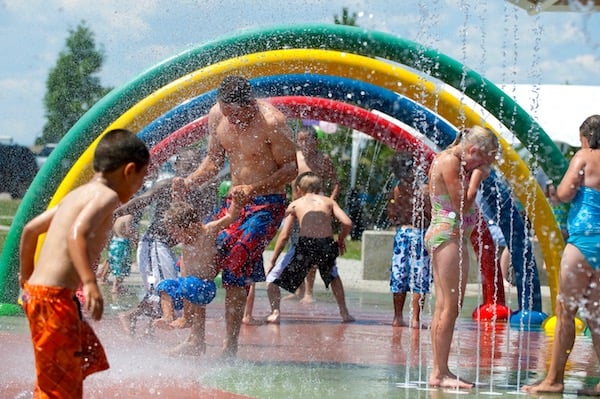 Great Plains Park
20100 E. Jewell Ave., Aurora
Why we love to splash at Great Plains Park: Great Plains is a 50-acre park with a baseball field, paved walking/biking trails, separate playgrounds for younger and older children, and a wonderful splash pad! The only drawback to this park is that the bathrooms are pit toilets (which can be especially troublesome during potty training), but everything else is great!
---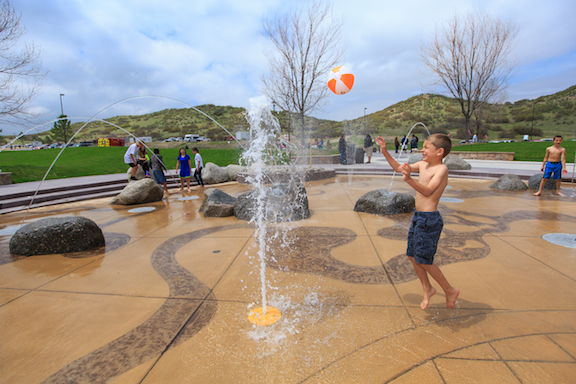 Philip S. Miller Park
1375 W. Plum Creek Pkwy., Castle Rock
Why we love to splash at Philip S. Miller Park: This 300-acre park has something for EVERYONE... great hiking trails, a large playground, the Challenge Hill outdoor staircase, and more. We can (and have) spent an entire day at this park.
If the weather turns sour or it gets too hot, we head inside to the Miller Activity Complex (the MAC) to jump on the trampolines or swim indoors. For a big adventure, The Edge Ziplines, Sky Trek, Adventure Tower, and Ninja Course are also on site.
---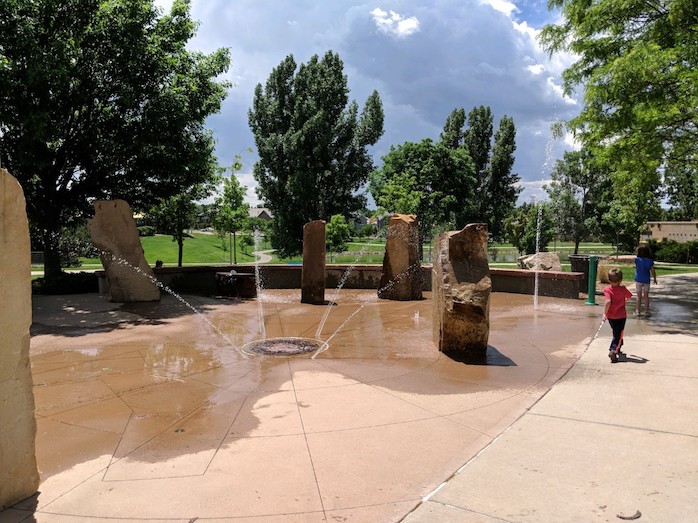 Westlands Park
5701 S. Quebec St., Greenwood Village
Why we love to splash at Westlands Park: One of our all-time favorite parks and winner of numerous awards, Westlands Park has an amazing playground for kids of all sizes, a two-story treehouse, an inline skating rink, walking paths that are wide enough for two strollers side by side, and a good-sized splash pad (plus the cleanest bathrooms of any park we've visited).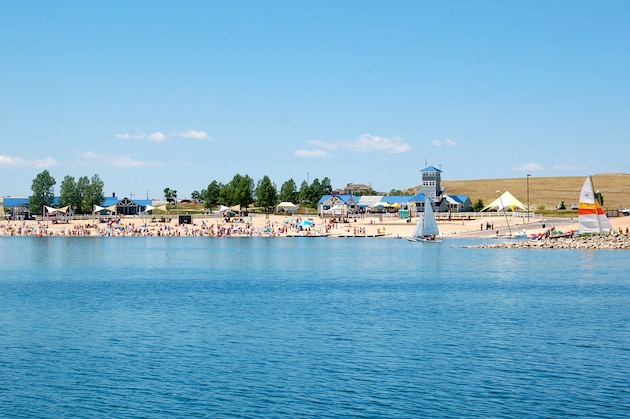 Aurora Reservoir
5800 S. Powhaton Rd., Aurora
(303) 326-8425
2021 Open Date: May 29
Swim Beach: 10:00 AM–6:00 PM Daily
Park Hours Vary by Month
$10 per vehicle
Why we love Aurora Reservoir: This multi-use aquatic recreational facility with an interactive nature center has a swim beach with great beach-y sand, volleyball nets, covered picnic tables, a large playground, watercraft and bike rentals, and so much more! It also has lots of geese, so we recommend wearing water shoes.
---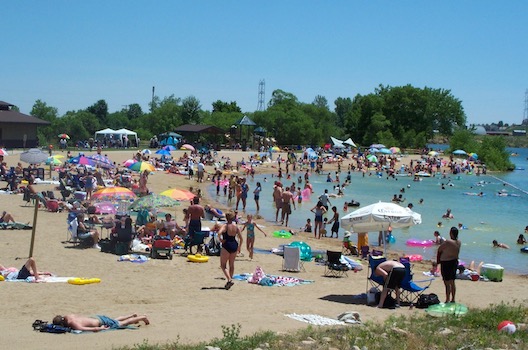 Bear Creek Lake Park
15600 W. Morrison Rd., Lakewood
(303) 697-6159
Swim Beach: 8:00 AM–8:00 PM Daily
Park Hours Vary by Season
$10 per vehicle
Why we love Bear Creek Lake Park: Bear Creek Lake has 2,600 acres of parkland, 15 miles of dirt trails for biking and hiking, yurts that can be rented for overnight camping, and a swim beach at Big Soda Lake. The swimming section is roped off from the rest of the lake, and they don't allow motorized watercraft in this body of water.
The swim beach also has a loaner station with life jackets, a playground, picnic tables, and decent bathrooms. They test the water weekly to make sure it is safe for swimming, so you may want to call ahead to make sure the beach is open.
---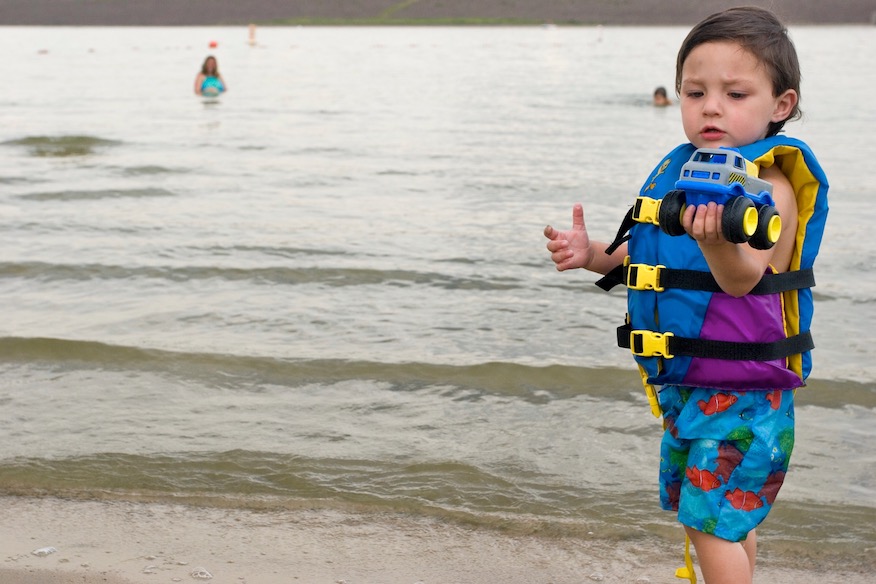 Cherry Creek State Park
4201 S. Parker Rd., Aurora
(303) 690-1166
Swim Beach: 10:00 AM–6:00 PM Daily
Park Hours: 5:00 AM–10:00 PM Daily
$11 per vehicle (includes Aspen Leaf Basin Water Quality Authority fee)
Why we love Cherry Creek State Park: We took our first family camping trip here because it has plenty to keep kids busy and was close enough to get home quickly if our adventure didn't quite work out. Cherry Creek offers campsites, trails for hiking and biking, fishing, and a swim beach with good sand-castle-building sand.
---
We make every effort to ensure the accuracy of event information. However, we recommend checking with the venue to make sure an event is not changed or canceled.
Get a FREE kid-friendly calendar for Douglas County, CO full of festivals, activities, and events delivered right to your inbox when you sign up at highlandsranch.macaronikid.com/subscribe.

---